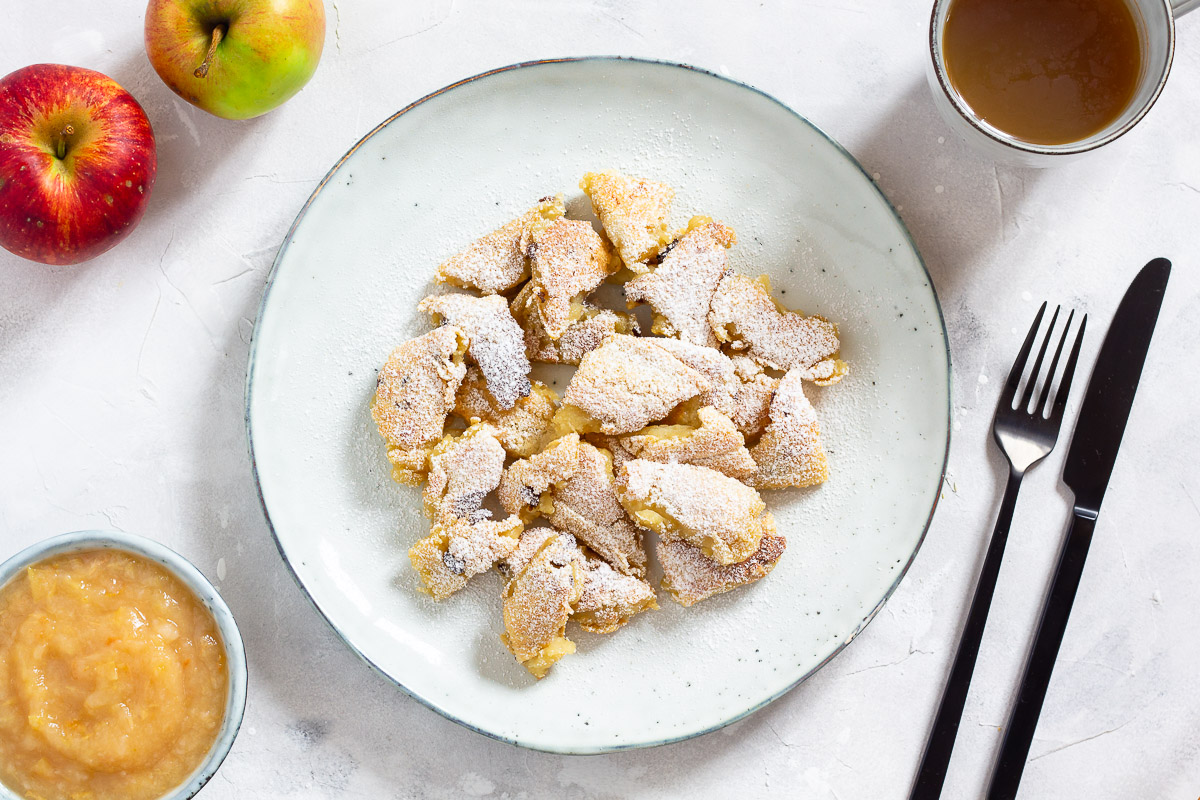 Kaiserschmarrn is one of the most famous sweet dishes in Austria and is also extremely popular with us in Germany. Admittedly, we also love a good portion of Kaiserschmarrn with apple sauce or stewed plums. Is that due to our Bavarian origin, where the cuisine is sometimes very similar to the Austrian one? Or is it simply because Kaiserschmarrn is super delicious?
Regardless, the original recipe for Kaiserschmarrn always contains flour, milk and sugar as well as eggs. Fortunately, for vegan Kaiserschmarrn you don't have to replace them with extravagant substitute products or elaborate techniques. The dough already has enough binding due to the flour. A little baking soda and sparkling mineral water ensure the fluffyness. In addition, raisins soaked in rum are added, which is very classic as well. Of course, you can leave them out if you can't stand the dried grapes. It seems like opinions on raisins differ just as much as on cilantro.
We serve the vegan Kaiserschmarrn with homemade apple sauce. In contrast to plums, for which the season has already ended, apples will also be available regionally in the near future. A slightly sour apple variety such as Boskoop is particularly suitable for apple sauce. But basically every apple works. If necessary, you can then simply adjust the amount of sugar and lemon juice to get the perfect balance of sweetness and acidity. For the wintry flavor of the applesauce, we use vanilla sugar instead of regular sugar and also add a little cinnamon. Tasty!
The preparation of both Kaiserschmarrn and apple sauce is very easy. For the apple sauce, the cores are removed from the apples. Then the apples are boiled until soft and pureed. That's it. For the Kaiserschmarrn, the dough is mixed first. Then it can coagulate in a pan at medium temperature. After that it is turned over, torn apart to pieces and caramelized with some powdered sugar. So it's crispy on the outside, but fluffy on the inside. That's it, too. It doesn't get much easier or faster. So enough words, here is the recipe. Enjoy your meal!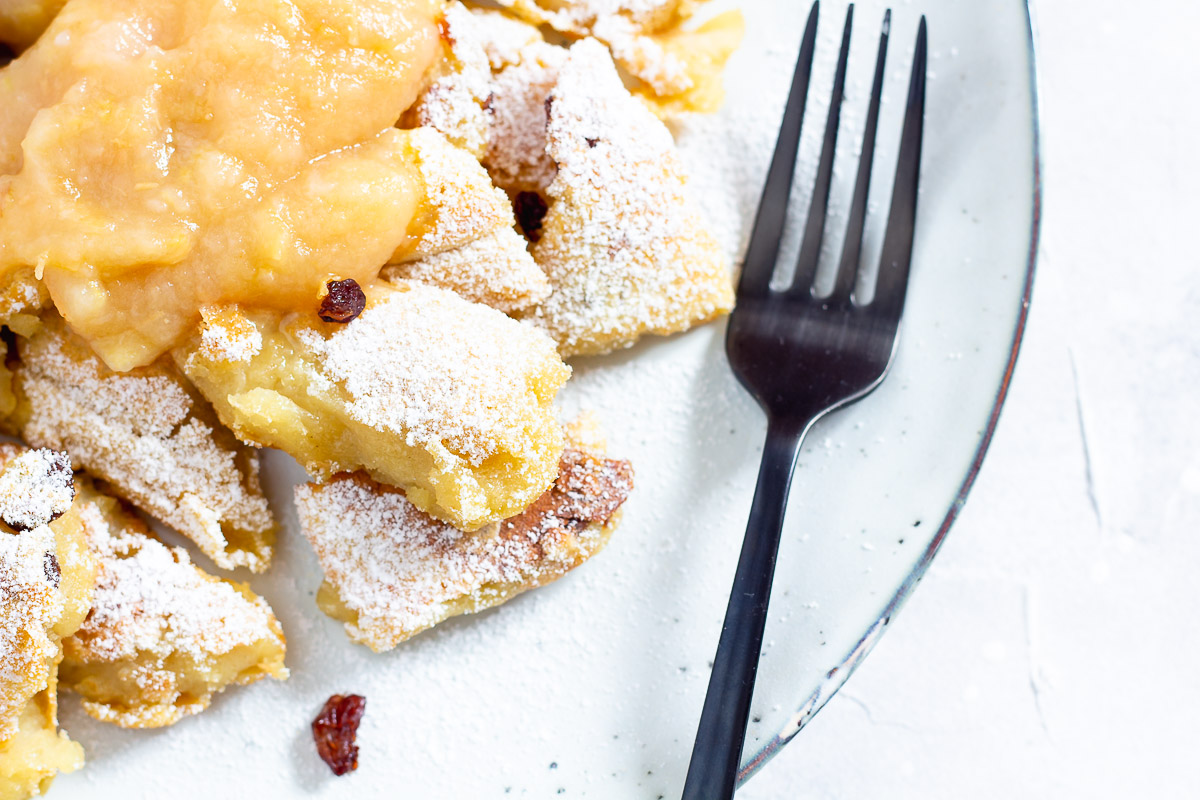 Vegan Kaiserschmarrn with Apple Sauce
Ingredients
Kaiserschmarrn
175

g

wheat flour

300

ml

plant milk

75

ml

sparkling water

3

tbsp

vanilla sugar

1

tsp

baking powder

1

pinch

salt

2

tbsp

raisins

2

tbsp

spiced rum

vegan butter

,

alternatively vegetable oil

powdered sugar
Apple Sauce
500

g

apple

,

preferably a sour variety like Boskoop

1

tbsp

vanilla sugar

1

tsp

cinnamon powder

1/2

lemon
Preparation
Soak the raisins in rum, preferably a few hours in advance so that they can soak up properly.

For the apple sauce, remove the core from the apples. Then dice the apples. Put them together with lemon juice, cinnamon and vanilla sugar in a saucepan and simmer over medium temperature until soft. Then blend coarsely or finely as desired.

Mix the flour, baking powder, vanilla sugar and a small pinch of salt in a bowl. Stir in the vegetable milk so that a smooth dough is formed. Then carefully stir in the sparkling mineral water and raisins.

Preheat a large pan over medium heat with some vegan butter in it. Pour in the dough and slowly let it coagulate and brown on one side. This should take about 5-8 minutes, depending on the temperature. Quarter the dough in the pan and turn it over. Let the second side brown for a very short time. Then tear the dough into pieces, add some powdered sugar to the pan and let it caramelize. If necessary, increase the temperature here slightly.

Serve the Kaiserschmarrn sprinkled with powdered sugar and the apple sauce on side.