Saltimbocca is an Italian classic and means "jumps in the mouth". This dish is originally from Rome and therefore is also known by the name saltimbocca alla romana. For the original recipe thin veal cutlets are topped with prosciutto and sage, fried and deglazed with white wine. We stay true to the dishes' principles but of course had to exchange some ingredients for our vegan version. So instead of prosciutto we used smoked tofu to top the plant based cutlets. As we are in the middle of the wild garlic season, we also exchanged the sage by wild garlic. This resulted in a tasty wild garlic saltimbocca, which is a welcome change if you don't want to make pesto from your wild garlic. And if you make use of store-bought cutlets, the meal will be on the table in a couple of minutes.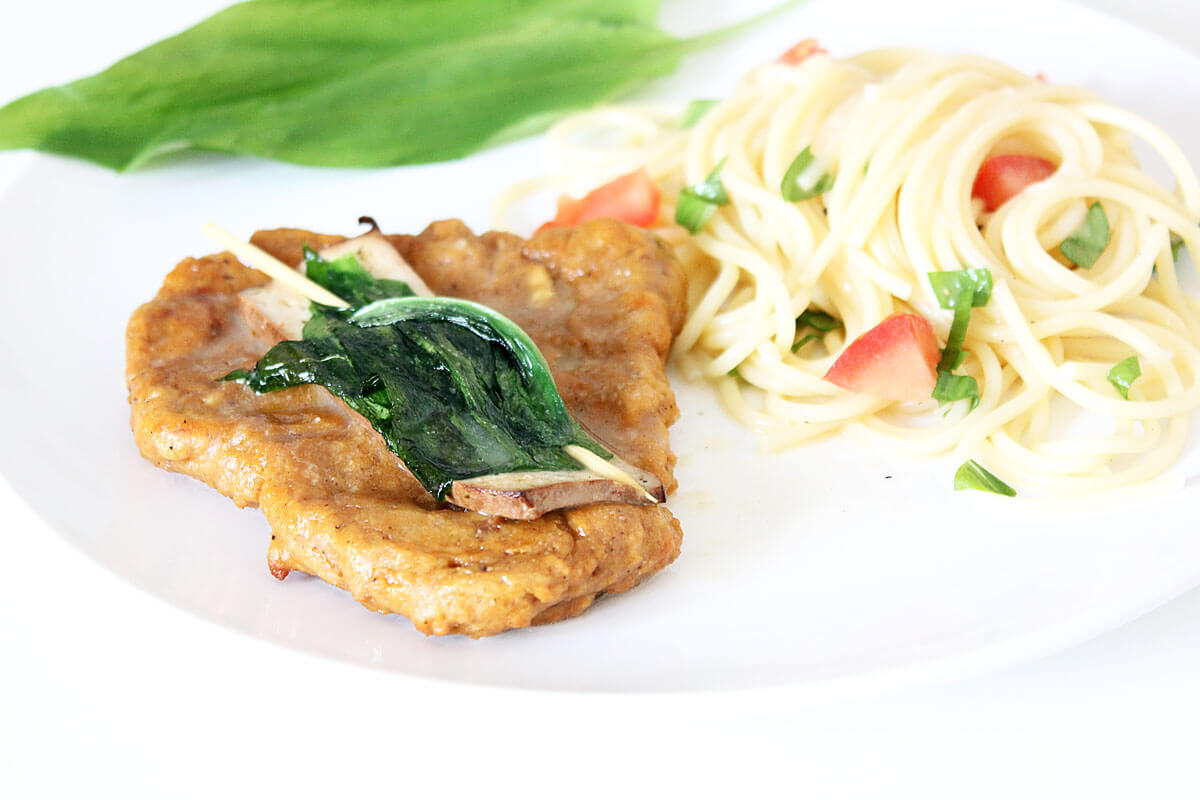 For an Italian inspired side dish we suggest pasta with some tomatoes and wild garlic, as can be seen on the pictures. But we can also imagine that potatoes in every form
are fitting. Just leave a comment with your favourite side dish or with the ideas you have!
WILD GARLIC SALTIMBOCCA (VEGAN)
Ingredients for 4 servings (about 0,90 Euros each):
4 thin vegan cutlets (we used our seitan steak recipe and formed 4 thin cutlets instead of 3 larger steaks)
16 wild garlic leaves
4 slices smoked tofu
2 tbsp vegan butter
150 ml white wine
salt + pepper
possibly some water oder vegetable broth
Preparation
1. Top each vegan cutlet with 2 wild garlic leaves, a slice of smoked tofu and another 2 wild garlic leaves. Fix everything with a toothpick.
2. Heat the vegan butter in a pan on medium high heat. Fry the cutlets with the tofu-side down first for about 1 minute. Flip the cutlets, fry them shortly from the other side and deglaze with white wine. Let it cook for about 1-2 minutes. Season with salt and pepper.
3. If the sauce has thickened down too much by now, just remove the cutlets from the pan and dilute the sauce with some water or vegetable broth. Serve the wild garlic saltimbocca with your desired side dish.