We're right in the middle of the wild garlic season. That means you can not only pick it in half-shaded woods, but you can also find it in many supermarkets. Until May you can enjoy fresh wild garlic. So now is the right time to put a vegan wild garlic quiche with mushrooms on the table.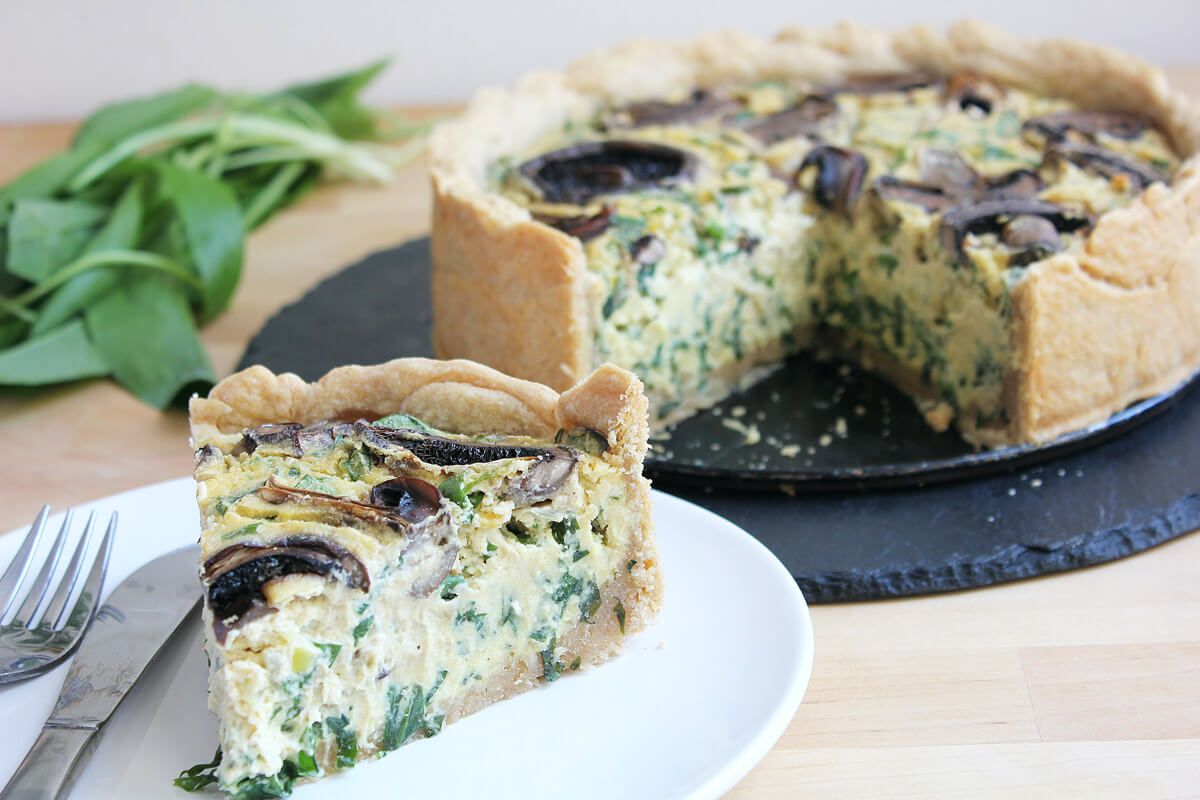 The quiche is based on a simple shortcrust pastry, which is done quite quickly. The vegan filling for the quiche needs no silken tofu and therefore is (like the whole dish) soy-free. Chickpea flour and some corn flour provide the binding of the rich filling made of vegan cream. Wild garlic, mushrooms and some spices ensure the lovely taste.
If you can't get enough of wild garlic, we suggest to try our tasty wild garlic saltimbocca as well. Do you want to enjoy wild garlic also when season is over? Wild garlic pesto is perfectly suited for freezing.
VEGAN WILD GARLIC QUICHE WITH MUSHROOMS
Ingredients for 4-6 servings (about  1,50 Euros each):
PASTRY
350 g spelt flour
200 g vegan butter, cold + some extra for the baking tin
100 ml cold water
1 tsp salt
FILLING
100 g wild garlic
1 onion
2 tbsp olive oil
100 g mushrooms
500 ml vegan heavy cream
100 g chickpea flour
2 tbsp corn flour
2 tbsp nutritional yeast
1/2 tsp salt
1/4 tsp pepper
1/4 tsp kala namak
Preparation
1. Mix flour and salt in a large bowl. Add small cubes or flakes of cold vegan butter. Knead everything until you have a mixture that resembles coarse breadcrumbs, but don't work the dough too long. Now add the cold water and quickly knead until you have a smooth dough. Form a ball, cover it and leave to rest for about 30-60 minutes.
2. Meanwhile cut the wild garlic into thin strips. Finely dice the onion and fry it in some olive oil for a couple of minutes. Cut the mushrooms into slices of about 1 cm. Mix the vegan cream with chickpea flour, corn flour, nutritional yeast, salt, pepper and kala namak with a whisk in a bowl. Add onion and wild garlic.
3. Grease a spring form tin (we used one with a diameter of 21 cm) with some vegan butter or oil. Get the pastry out of the fridge and press it into the tin (bottom and sides). Add the quiche filling. Slightly press the mushrooms into it and brush them with some olive oil.
4. Bake the quiche in the oven at 180 degrees Celsius for about 50 minutes. Take it out of the oven and let it rest for at least 5 minutes before cutting.