It's gonna get sweet again on Cheap & Cheerful Cooking today, because the rhubarb season has started. Yeah! Of course, delicious rhubarb jam will be prepared in the coming weeks to stock up on rhubarb for the rest of the year. But the first rhubarb of the year was used for baking. And it's a down-to-earth sheet cake. A quick dough. Then some rhubarb. Crumbles on top. 60 minutes baking time. And our vegan rhubarb crumble cake is ready. Everyone can do it.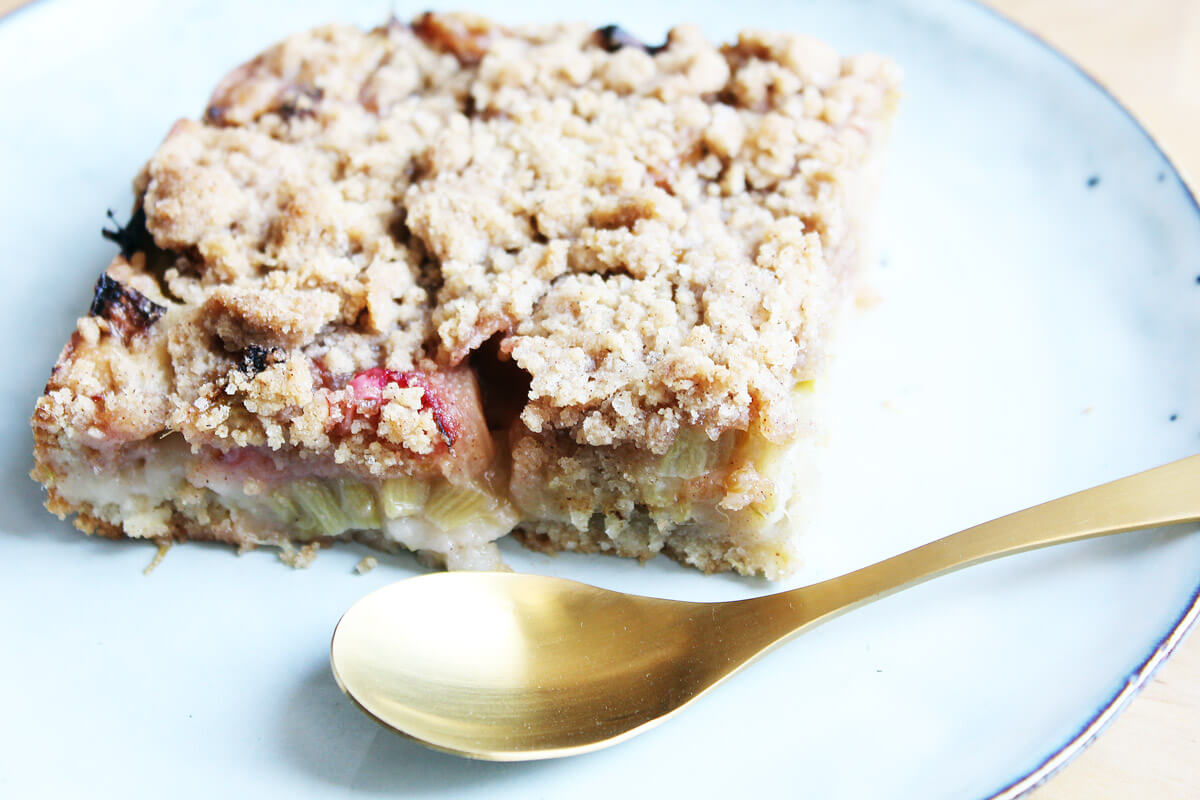 The recipe makes 12 large pieces of cake. In case you now think that the amount in times of corona and social isolation is clearly too much, because you can't invite your dearest friends over to you right now. No problem. The cake can be wonderfully frozen in pieces. So you will also have rhubarb cake in stock in the coming weeks if you get hungry for cake again. And right now such a tasty reward is worth its weight in gold.
Vegan Rhubarb Crumble Cake
Ingredients
DOUGH
500

g

wheat flour

200

g

sugar

1

package

baking powder

150

g

vegan butter

,

melted

200

g

soy yogurt

400

ml

sparkling water

1

pinch

salt
FILLING
1

kg

rhubarb

50

g

sugar

1

package

vanilla sugar

,

equivalent to 8 grams
CRUMBLES
250

g

wheat flour

150

g

vegan butter

,

cold

150

g

sugar

1

tbsp

cinnamon powder

1

pinch

salt
Preparation
Wash, clean and cut the rhubarb into small pieces. Mix the pieces with the sugar and let them sit briefly.

For the crumble mix all ingredients roughly. It is best not to knead the ingredients properly, but rather grate them between the palms.

For the dough mix the flour, sugar and baking powder in a bowl. Stir in the remaining ingredients. Do not stir too much and vigorously. It's ok if there are a few lumps in the dough in the end.

Preheat the oven to 180 degrees. Spread the dough on a greased baking sheet. Put the rhubarb on top. Top everything with the crumbles and bake in the oven for about 60 minutes.

It's best to let the vegan rhubarb crumble cake cool down before cutting and serving.