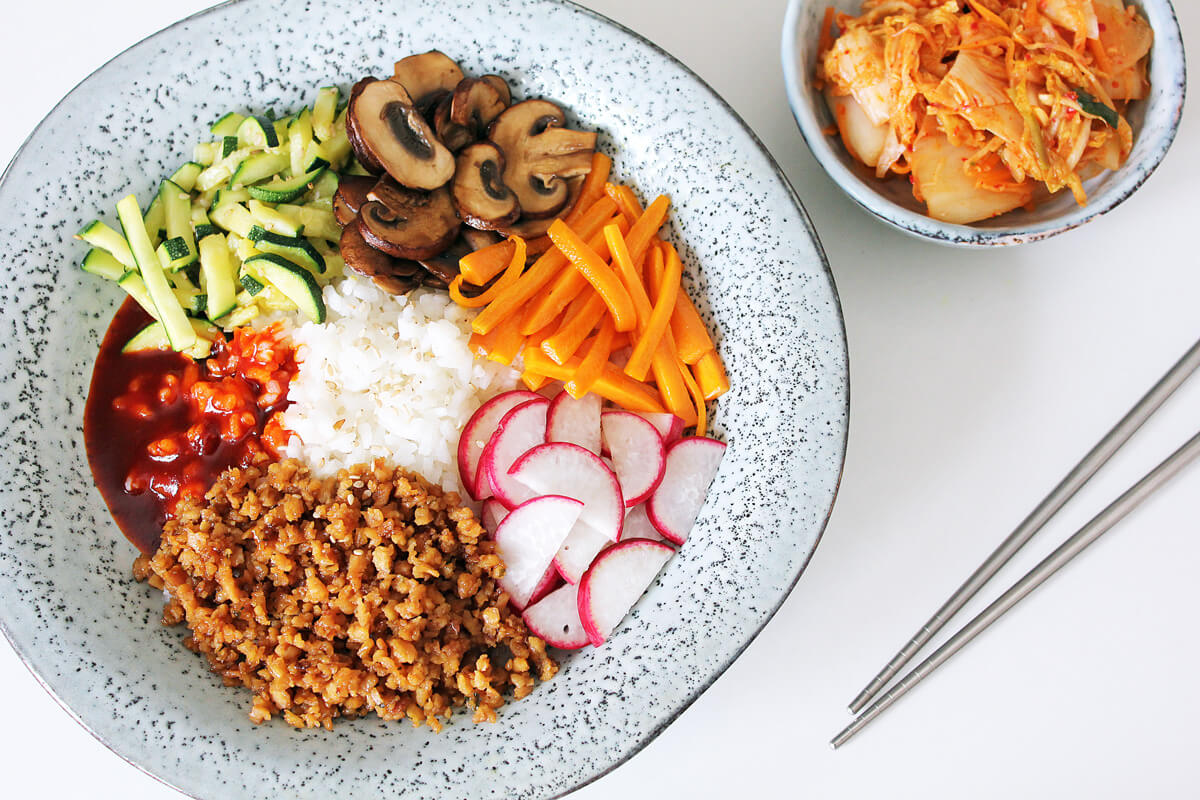 Today we have a new recipe for tasty, healthy and vegan bibimbap for you. Bibimbap is a traditional Korean dish and translated it means something like "mixed rice". The name describes the dish pretty good. Because bibimbap consists of different delicacies served with hot pepper sauce on a fresh portion of rice. Before eating you mix everything well with your spoon.
Even though bibimbap looks often pretty awesome because of the colourful toppings and therefore became a worldwide trend food, it probably was the farmer people's poor man's food. Bibimbap is effectively the one plate or one bowl version of a traditional Korean meal, that consists of many different dishes that are always served with rice and kimchi (fermented Chinese cabbage). Consequently there is not the one true combination of ingredients. Besides different vegetables you can often find meat or in vegetarian versions some egg (raw, fried, porched, …) as a topping. For our bibimbap we of course passed on that and used soya mince as protein source. You can easily substitute the ingredients according to season of the year and personal preferences. A bibimbap with sprouts, spinach, cucumber, radish and tofu would taste great as well. Because the preparation takes not really much time but still some working steps, we wrote down the recipe for 4 servings. Vegan bibimbap also tastes great the next day served cold. So you can easily take the leftovers for next day's office lunch.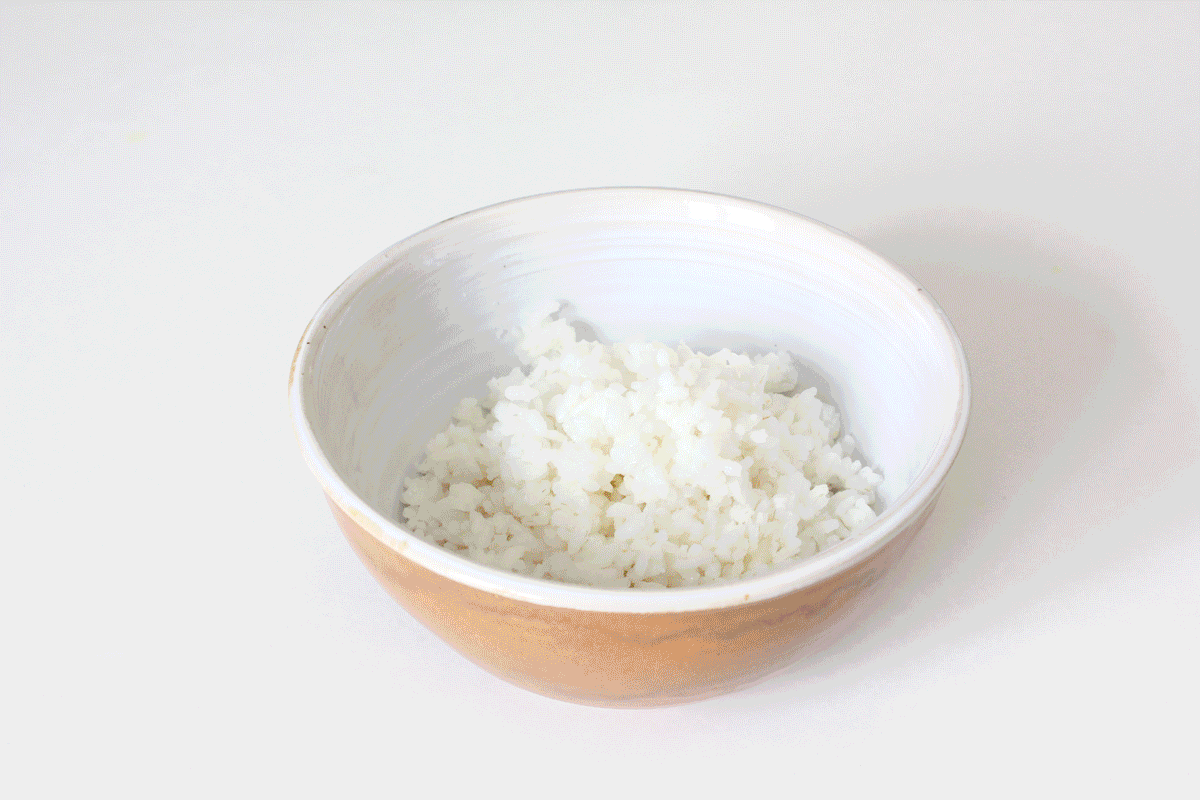 Vegan Bibimbap
Ingredients
Vegetable Toppings
4

radishes

2

carrots

1

zucchini

2

tsp

sesame seeds

300

g

mushrooms

2

tbsp

soy sauce

3-4

tsp

vegetable oil

,

for frying
Soya Mince
100

g

dried soya mince

1

tsp

instant vegetable broth powder

2

tsp

mushroom powder

,

from Asian store or can be omitted

2

tsp

soy sauce

2

tsp

sugar

2

tbsp

sesame oil
Chili Sauce
3

EL

gochujang hot pepper paste

2

tbsp

sugar

2

tbsp

water

2

tsp

sesame oil

2

tsp

soy sauce

2

tsp

rice vinegar
Rice
350

g

sushi rice

,

or any other short-grain rice
Preparation
Cook the rice according to package instructions. For example rinse the sushi rice in a fine-mesh strainer with cold water until the water becomes clear. Then cook the rice in water (ratio 1:1,2 – 1:1,5) on high heat until the water is boiling. Lower the heat to a minimum and cover the pot. Now you can prepare the other ingredients of the vegan bibimbap.

Mix all the ingredients for the sauce well. Also cut the radishes in halves, slice them thinly and put them aside.

Cut the carrots into thin stripes and fry them in a pan with 1-2 tsp of vegetable oil on medium heat until they are soft but still chewy. Take the carrot stripes out of the pan and set them aside.

Next cut the zucchini into thin stripes and fry in another 1-2 tsp of vegetable oil on medium heat in the pan. Season with salt and sesame seeds. Put them aside as well.

Then slice the mushrooms and fry them on high heat. Add soya sauce just before they are done and let it cook away. Take it out of the pan and set them aside, too.

Now fry the dried soya mince in the pan with 2 tbsp sesame oil on medium to high heat until slightly brown. Add instant vegetable stock and mushroom powder, sugar and soya sauce and fill up with 400 ml of water. Let it cook until the liquid has cooked away.

To serve, put the warm rice in a bowl or a soup plate. Put the other ingredients on top and last but not least add the sauce.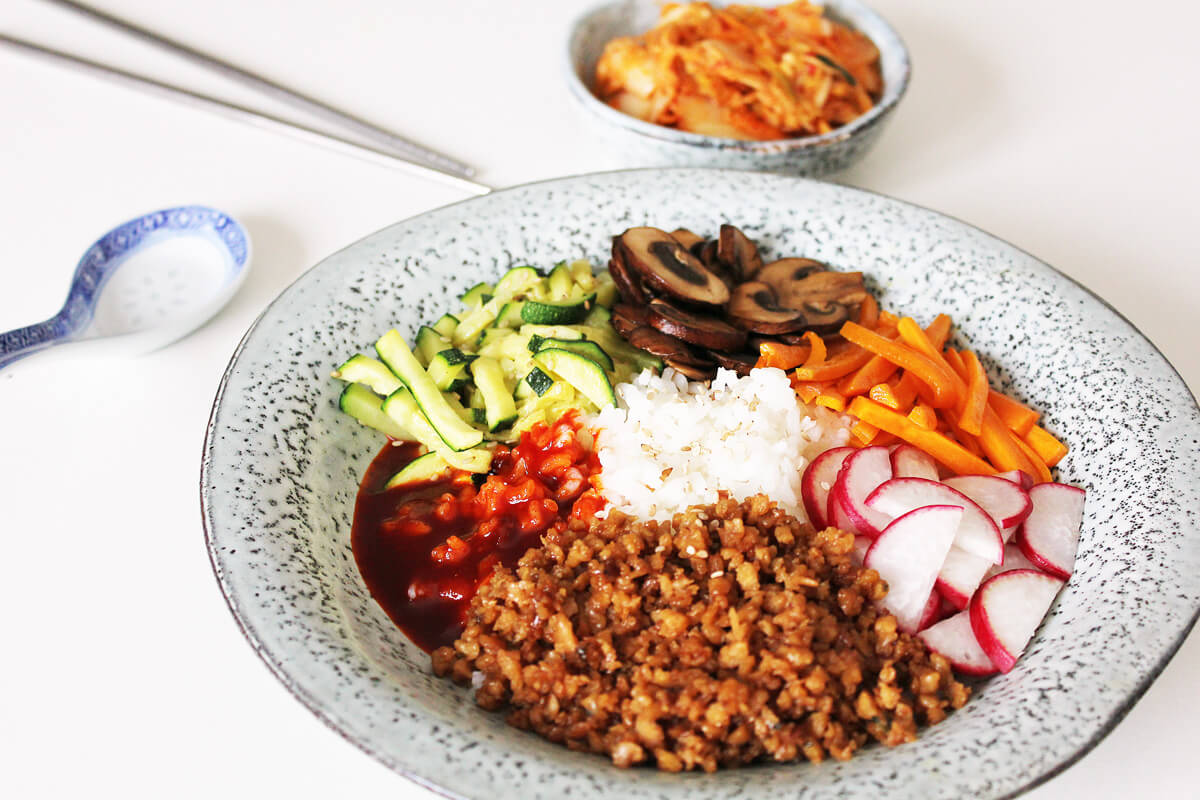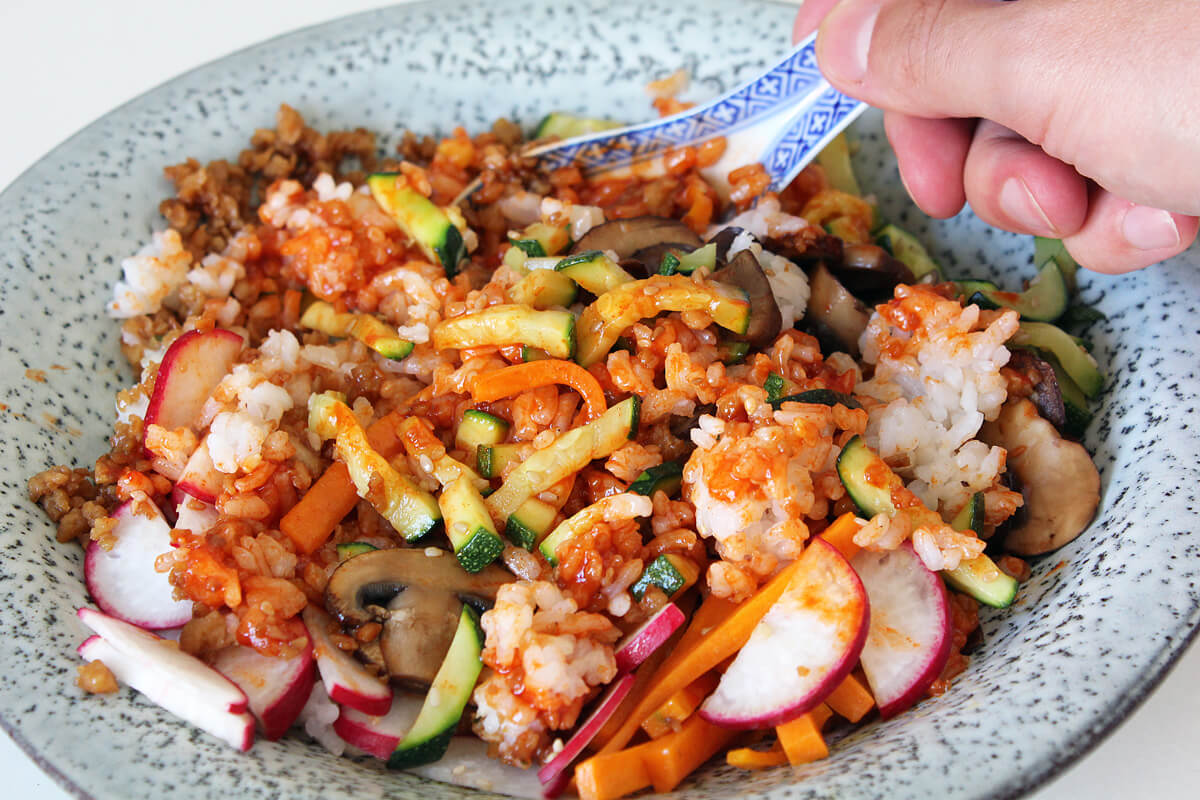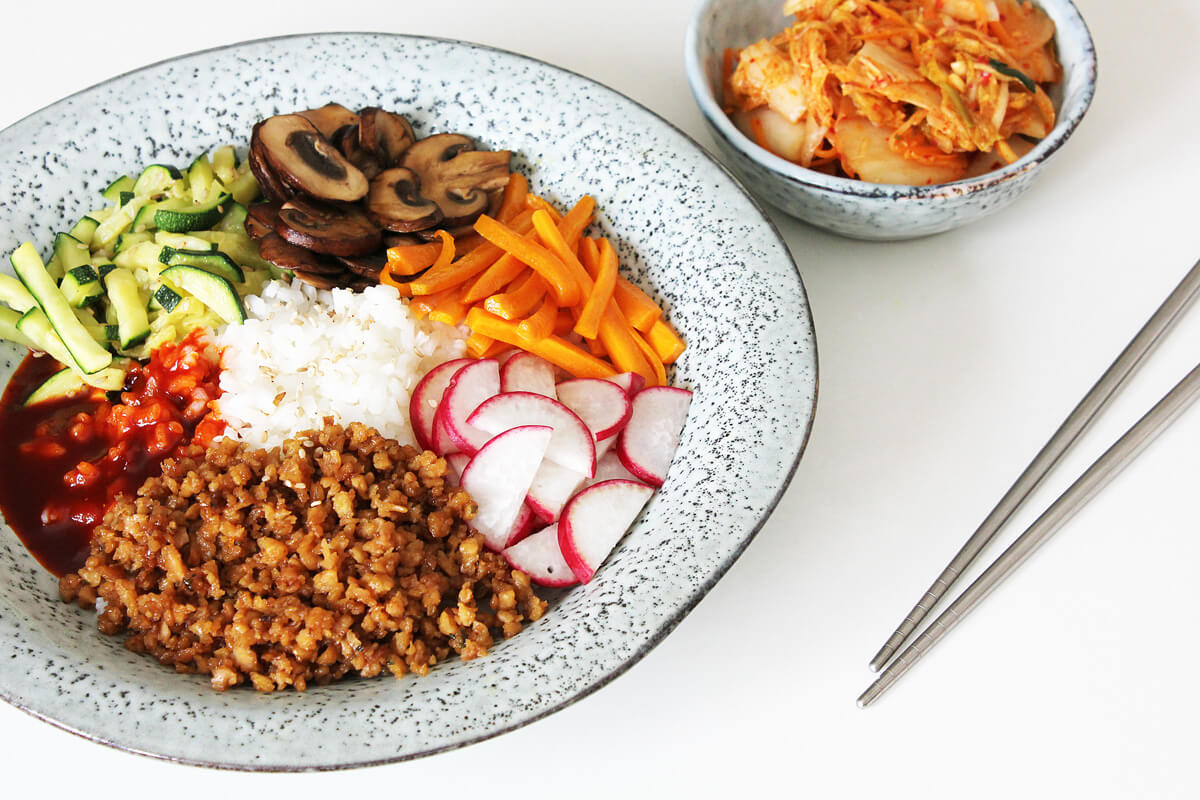 MerkenMerken
MerkenMerken