Fattoush is a dish of the Levantine cuisine, more specifically a Lebanese salad. In addition to lettuce leaves, it usually consists of cucumber, tomatoes, baked flatbread pieces and a lemon dressing, which is seasoned with sumac. Parsley and mint complete the fresh, oriental taste.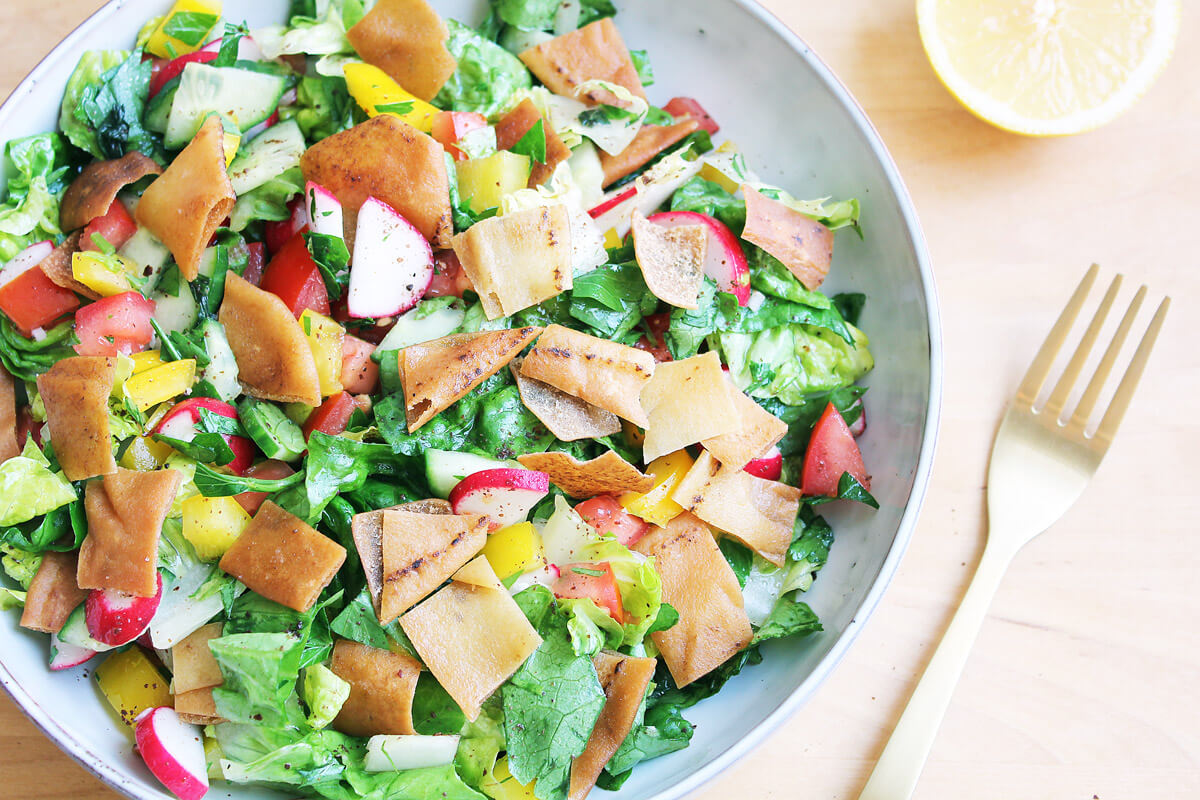 Sumac is the dried and ground fruit of the vinegar tree (staghorn sumac) and is often used as a spice in oriental cuisine. Sumac has a fruity-sour flavour and is found, for example. in Turkish supermarkets or in well-assorted spice shops. If you want to give your dressing the very special touch, can also add some pomegranate syrup. But even without it Fattoush is very delicious.
Funnily enough, I already fell in love with Fattoush before I even knew the dish. Last year, I often got it served as a salad on a hummus plate. I especially liked the fresh dressing and the clever making use of leftover flatbread. Only a few weeks ago, I learned through a colleague that the salad is an independent dish and is called Fattoush. Since then, we make Fattoush quite often for lunch on our Salad Wednesday in the office and all our colleagues are thrilled.
FATTOUSH – LEBANESE SALAD
Ingredients for 2 servings (about  1,75 Euros each):
SALAD
2 romaine lettuce hearts
1/2 cucumber
2 tomatoes
8 radishes
1 yellow bell pepper
1 hand full of mint
1 hand full of parsley
2 thin pita breads
enough olive oil for frying
1 pinch of salt
DRESSING
Juice of half a lemon
5 tbsp olive oil
1 tsp sumac + some extra
1 garlic clove, finely minced
optional: 1 tsp pomegranate syrup
salt + pepper
Preparation
1. Cut the pita bread into bite-sized pieces with a pair of scissors. Heat a good portion of olive oil in a pot and fry the pieces of bread at a relatively high temperature. Drain on some kitchen paper or a kitchen towel and season with a pinch of salt.
2. Mix the ingredients of the dressing. Season well with salt and pepper.
3. Halve the radishes and cut into thin slices. Halve or quarter the cucumber depending on size and cut into thin slices. Dice the tomatoes and bell pepper. Cut the lettuce into bite-sized pieces. Roughly chop the herbs. Mix everything in a large bowl with the dressing.
4. Serve the salad with the pita bread pieces. If you wish, sprinkle with some more sumac.