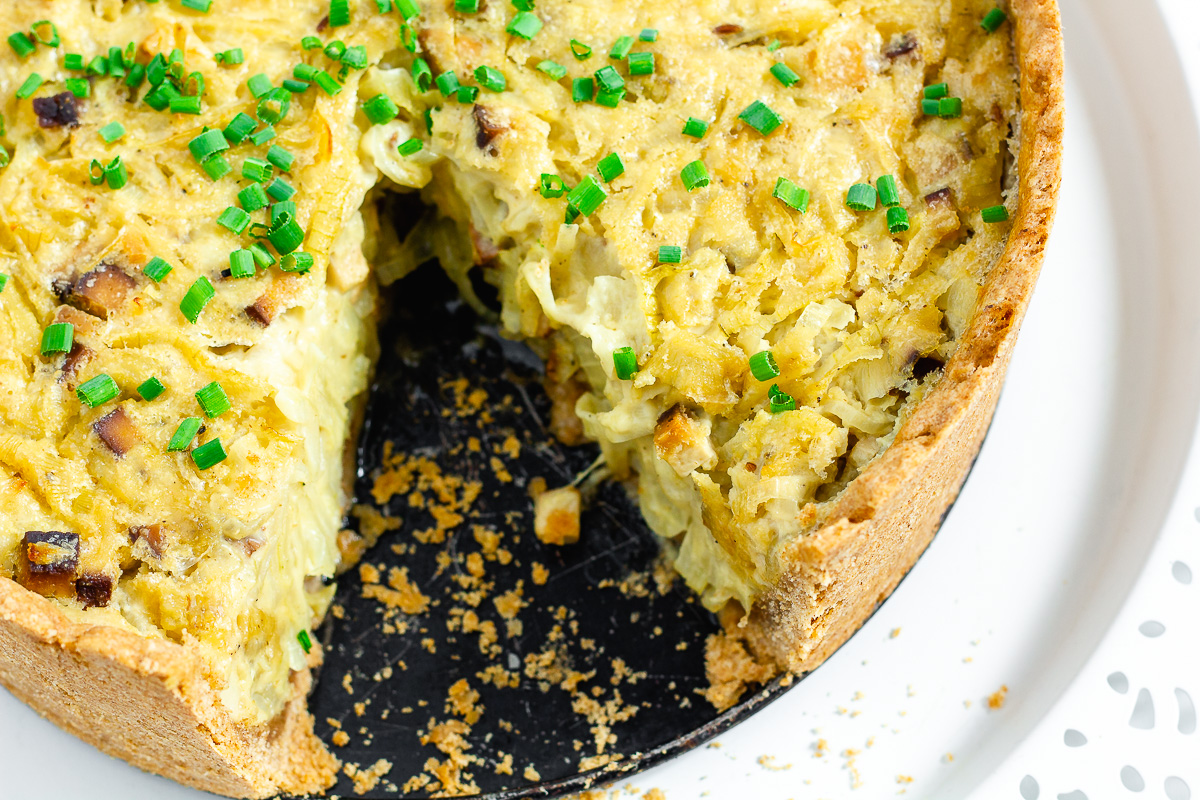 For many in Germany, autumn time is traditionally also onion cake time. At least in the southern half of the country. Onion cake sounds old-fashioned at first, but it's actually really tasty. Maybe we have to use the French termn Quiche Lorraine instead? The original is anyhow a hearty cake filled with onions, diced bacon, cream or sour cream and egg. In our vegan version, in addition to the onions, we use smoked tofu cubes, vegan cream and some chickpea flour and corn flour for the binding. This mass is seasoned with salt, pepper and caraway, which also makes the onions more digestible.
A warm piece of onion cake with a cold glass of Federweißer (new wine) or white wine. Well, have we made you curious after all? The onion cake is usually square and made in a tray or round and made in a cake pan. We went for the second variant so that the pieces are nice and thick and juicy. If you fancy the tray variant, you should perhaps leave it in the oven a little shorter.
What is the difference between Onion Pie and Quiche Lorraine anyway? Sure, one traditionally comes from German-speaking countries and the other from France or the Lorraine region. But honestly, we can't really see any differences in the ingredients. OK, maybe in Germany a yeast dough is more often used as a base and in France a shortcrust pastry is more common. But probably that's it. We by the way also stick to our simple shortcrust pastry made from whole wheat flour, which we fore example have already used for the Swiss chard quiche.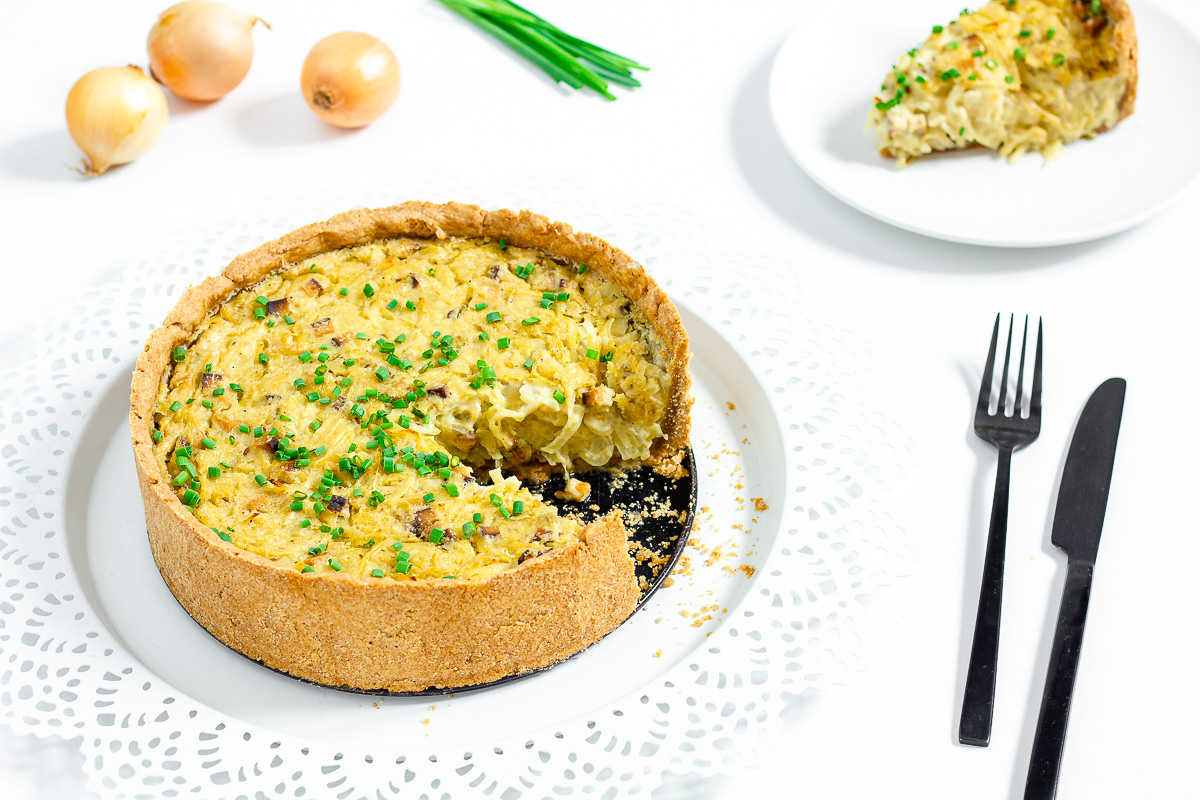 Vegan Onion Cake (Quiche Lorraine)
Ingredients
Pastry
250

g

whole wheat flour

150

g

vegan butter

,

cold + some extra for the pan

60

ml

cold water

1/2

tsp

salt
Filling
1

kg

onions

150

g

smoked tofu

400

ml

vegan cream

3,5

tbsp

chickpea flour

2

tbsp

cornstarch

2

tbsp

nutritional yeast flakes

1

tsp

caraway seeds

,

freshly ground

1/4

tsp

kala namak

1/2

tsp

salt

1/4

tsp

pepper

4

tbsp

vegetable oil
Preparation
Mix flour and salt in a large bowl. Add small cubes or flakes of cold vegan butter. Knead everything until you have a mixture that resembles coarse breadcrumbs, but don't work the dough too long. Now add the cold water and quickly knead until you have a smooth dough. Form a ball, cover it and leave to rest in the fridge for about 30-60 minutes.

In the meantime, finely dice the smoked tofu. Fry in a large pan with half of the vegetable oil over medium-high heat until crispy and remove. Peel and halve the onions and cut into thin rings. Fry colorless in the pan with the remaining oil for about 10 minutes. Add the smoked tofu and remove from the heat.

Mix cornstarch, chickpea flour and yeast flakes with a dash of vegan cream. Then slowly stir in the remaining vegan cream and season with kala namak, caraway, salt and pepper.

Grease a spring form pan (we use one with a diameter of 21 cm, but a little more would be better) with a little vegan butter or oil. Get the pastry out of the fridge and press it into the tin (bottom and sides). First add the onion mixture, then fill up with the liquid.

Bake the quiche in the oven at 180 degrees Celsius for about 50 minutes. Remove from the oven and, for the best result, let it rest for 10 minutes before cutting.