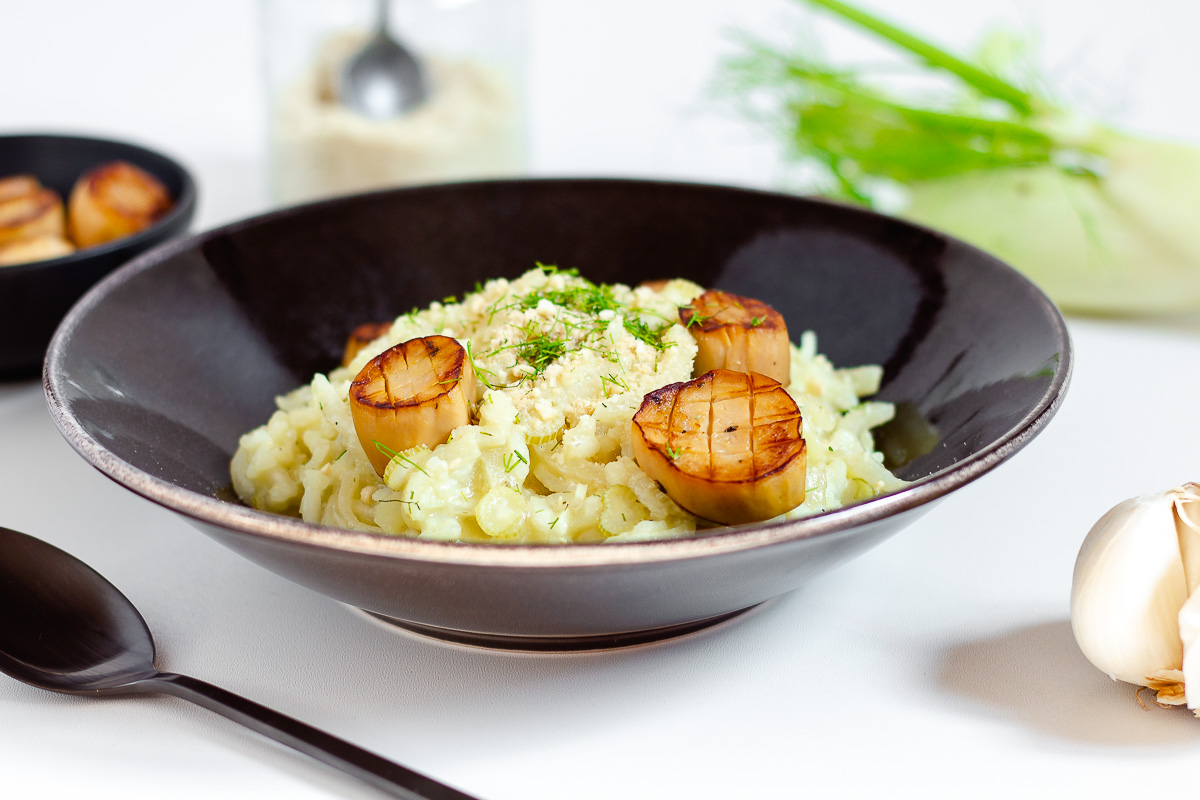 Risotto is one of those dishes that are often seen as very elaborate and complicated. It's actually pretty easy to prepare and all you have to do is stir it a few times and add stock while the risotto rice is cooking. Definitely not rocket science. But you can use this mystery wonderfully for yourself, because risotto still makes a lot of impression on many people. When it is served with vegan scallops, like this fennel risotto, you definitely have the "ohs" and "ahs" on your side.
But hold on, stop! Vegan scallops? How should that work? Actually relatively simple and without any fancy replacement products. First of all, you should know that scallops are not super fishy, ​​but rather a bit sweet and nutty in taste. They are usually served pan-seared and sprinkled with a little lemon juice. Prepared like this they are slightly crispy on the outside, but still soft on the inside.
All of this can be wonderfully reproduced purely plant-based. Mushrooms form the basis for this. More precisely, the stems of king oyster mushrooms. They are basically very firm and fleshy in texture and nutty in taste. The perfect starting point for vegan scallops.
The remaining flavours are brought into the mushroom through a marinade. Soy sauce and miso paste add sapidity and a full-bodied umami aroma. A little maple syrup brings sweetness. Lemon juice and white wine add a fruity and tasty acidity that should never be missing with real seafood. And for a touch of the iodine aroma of the sea, a nori sheet, which is otherwise known from sushi, also goes into the marinade.
In order for the flavours to soak in and the mushroom scallops to be nicely soft inside, they are briefly simmered in the marinade and then allowed to soak for a while. In the end, the mushroom pieces go into a hot pan just like scallops and are fried on both sides with a little oil.
But back to the risotto. Today we cook it with fresh fennel, which is in season from summer until deep into autumn. The main harvest time is usually in late summer and early autumn, so right now. Checkpot! For two servings one fennel bulb is added to the risotto. It is simply washed, quartered and cut into fine slices. Then the fennel can easily be cooked through together with the risotto rice and does not have to be cooked separately. Double checkpot!
To intensify the taste, we also add some freshly ground fennel seeds. However, if you are still skeptical about the fennel aroma in your food or only like fennel as a light note, you can simply leave out the fennel seeds. The risotto will then have a rather mild taste. Perfect for introducing fennel beginners to this great and healthy vegetable.
Since fennel harmonises wonderfully with lemon, at the very end we add lemon juice to the risotto in addition to the obligatory white wine. The fresh, fruity acidic kick rounds off the taste perfectly. So the fennel risotto with vegan scallops may soon become one of your favorite dishes too.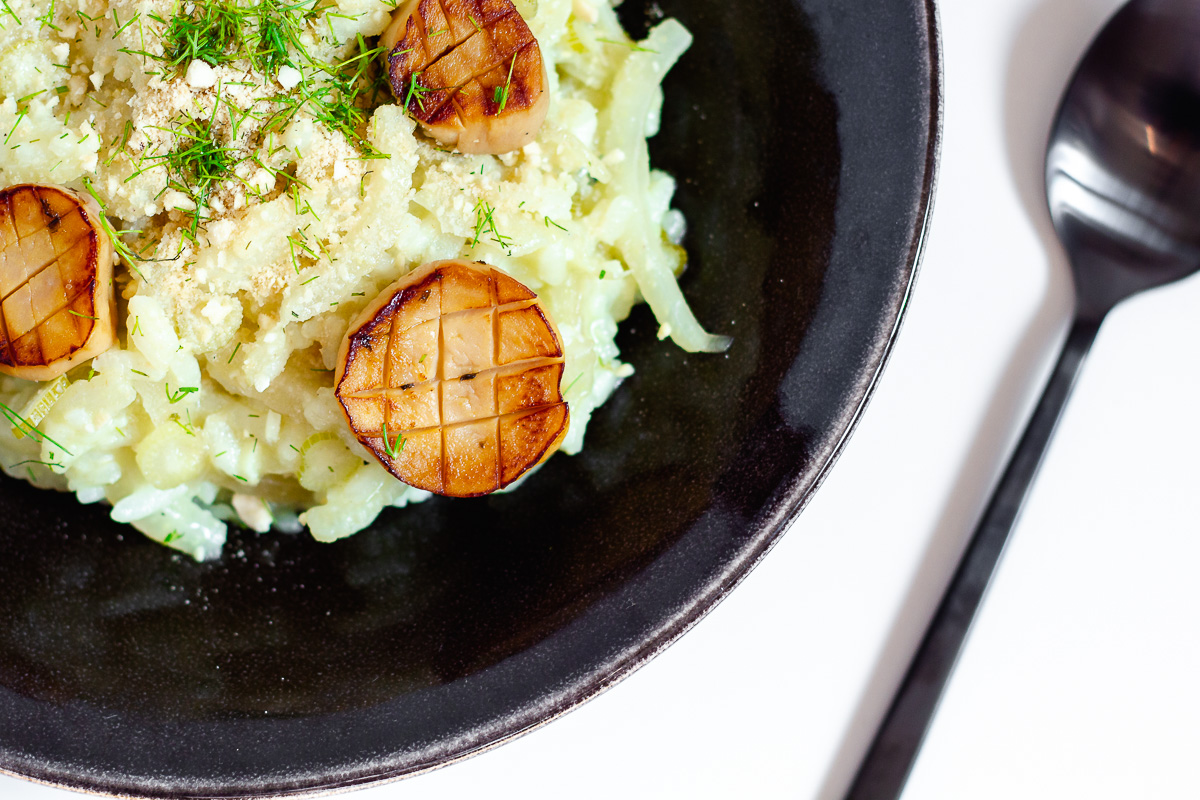 Fennel Risotto with Vegan Scallops
Ingredients
Fennel Risotto
175

g

risotto rice

1

bulb

fennel

2

cloves

garlic

100

ml

white wine

,

dry

500

ml

vegetable stock

,

warm

2

tbsp

vegan butter

,

cold

2

tbsp

vegan grated parmesan

1/2

lemon

,

juice

1

tsp

fennel seeds

,

optional

olive oil

salt + pepper
Vegan Scallops
4

king oyster mushrooms

,

with fairly thick stems

3

tbsp

soy sauce

1

tbsp

miso paste

1

tsp

maple syrup

1/2

lemon

,

juice

1

nori sheet

,

dried

100

ml

white wine

,

dry

100

ml

water

vegetable oil
Preparation
Cut off the heads of the king oyster mushrooms and put aside. They are not needed in this dish. Cut the stems into approximately 2.5 cm thick slices. Score these on both ends in a diamond pattern.

Put the remaining ingredients of the vegan scallops (except the oil) in a saucepan and bring to the boil. Add the mushrooms and simmer for 2 minutes. Then take it off the heat and let it soak for at least 25 minutes.

Wash the fennel bulb, separate from the green, quarter and cut into thin slices. Finely chop the garlic. Sweat both in a saucepan with a good dash of olive oil at medium temperature. Mortar the fennel seeds. Add to the saucepan together with the risotto rice and sweat as well. Deglaze everything with the white wine and let it boil off.

Add a large ladle of broth so that the rice is just covered. Now let the risotto cook over low to medium heat. Pour in a little broth every few minutes and stir briefly so that the rice is covered with liquid and does not stick to the pan. Depending on the type of rice, the risotto should be ready after 20-30 minutes of cooking.

Remove the mushrooms from the marinade, pat dry and fry from both sides at rather high heat in a pan with a bit of oil.

Remove the risotto from the heat and stir in both the cold vegan butter and the cashew parmesan. Season with salt, pepper and lemon juice. Serve on two plates, sprinkled with the mushroom scallops and, if you like, a little bit of the fennel green and some more cashew parmesan.