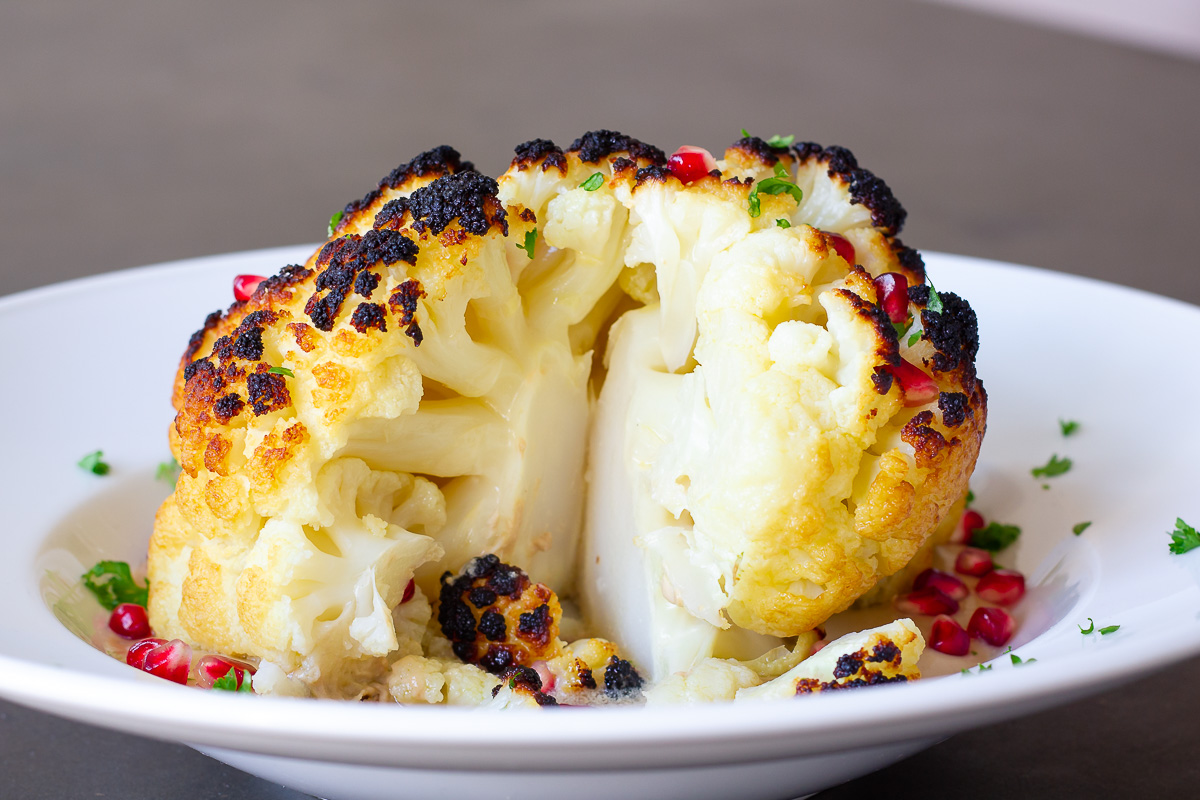 In the hip Levante restaurants in Berlin, in addition to absolute classics such as hummus and sabich, one dish in particular is always on the menu: oven-baked cauliflower. Rubbed with olive oil, sprinkled with salt and served with tahini. Here is our version of this perhaps already modern classic.
The rather simple dish was probably invented by the well-known Israeli chef Eyal Shani. In his restaurant chain Miznon, with branches in Tel Aviv, New York, Paris, Vienna, Singapore and Melbourne, the whole baked cauliflower is also the signature dish. And we can understand why. We don't want to get too excited, but this is the best cauliflower recipe we've ever made. Period. In combination with fresh lemon juice and the pomegranate-tahini sauce, the roasted cauliflower is simply an unbelievable pleasure.
We're generally really big fans of Levante cuisine. And not only because traditionally there is little meat and fish, but a lot of vegetables. But also because we love it when there are many different plates and bowls on the table that we can help ourselves with. Especially when everything tastes so delicious. Accordingly, we recommend serving the cauliflower with pita or flatbread, some hummus, olives, pickled cucumbers, fresh tomatoes and maybe even some baba ghanoush.
Before we get to the recipe, we want to share these great instructions for cutting pomegranates ( https://www.thespruceeats.com/how-to-eat-a-pomegranate-2216895 ) with you. This should allow the valuable pomegranate seeds to be freed in no time, even without a bloodbath in the kitchen.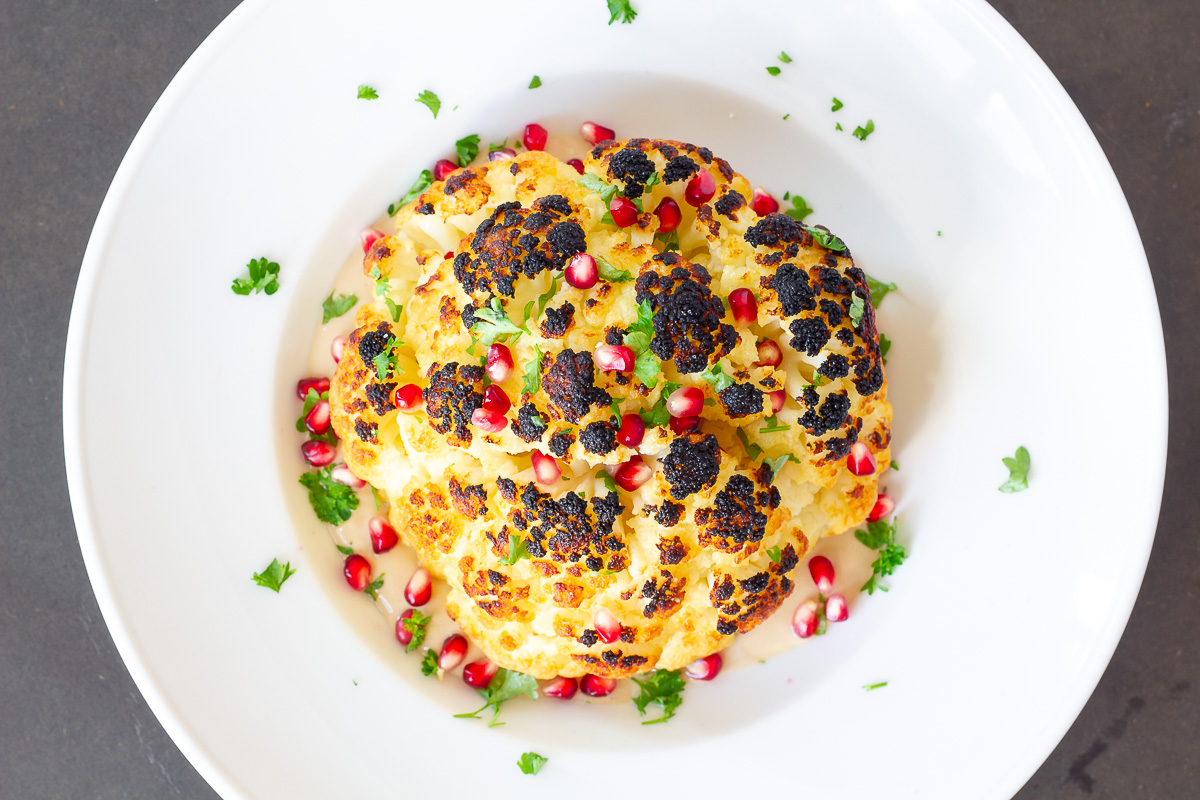 Whole Roasted Cauliflower with Pomegranate Tahini Sauce
Ingredients
Whole Roasted Cauliflower
1

cauliflower

olive oil

lemon juice

salt

1

hand

pomegranate seeds

1

hand

parsley

,

chopped
Pomegranate Tahini Sauce
4

tbsp

tahini

3

tbsp

pomegranate syrup

1

tbsp

lemon juice

7

tbsp

water

1

clove

garlic

1/2

tsp

salt
Preparation
Remove the green leaves from the cauliflower. Place the cauliflower in a large saucepan with boiling salted water so that it is 3/4 covered. Turn the temperature down so that the water is still simmering gently when the lid is closed. Cook for 10 minutes.

Preheat the oven to 220 degrees Celsius top and bottom heat. Take the cauliflower out of the water and let it dry for a few minutes. Place in a baking dish or on a baking sheet and rub or brush with olive oil. Sprinkle with a little salt.

Bake in the oven for about 30 minutes. Then switch on the grill function and let the cauliflower brown as desired.

Roughly cut the garlic clove. Blend together with the other ingredients for the sauce. If necessary, dilute with more water to the desired consistency and in the end season with salt.

Season the roasted cauliflower with a little olive oil, lemon juice and salt. Arrange on top of the pomegranate tahini sauce and serve sprinkled with parsley and pomegranate seeds.
Song of the recipe:

Lola Marsh are just like the dish from Tel Aviv and have long stuck in our hearts with their indie pop.
(Would you like to listen to all the songs for the recipe? Find them collected in one playlist here)