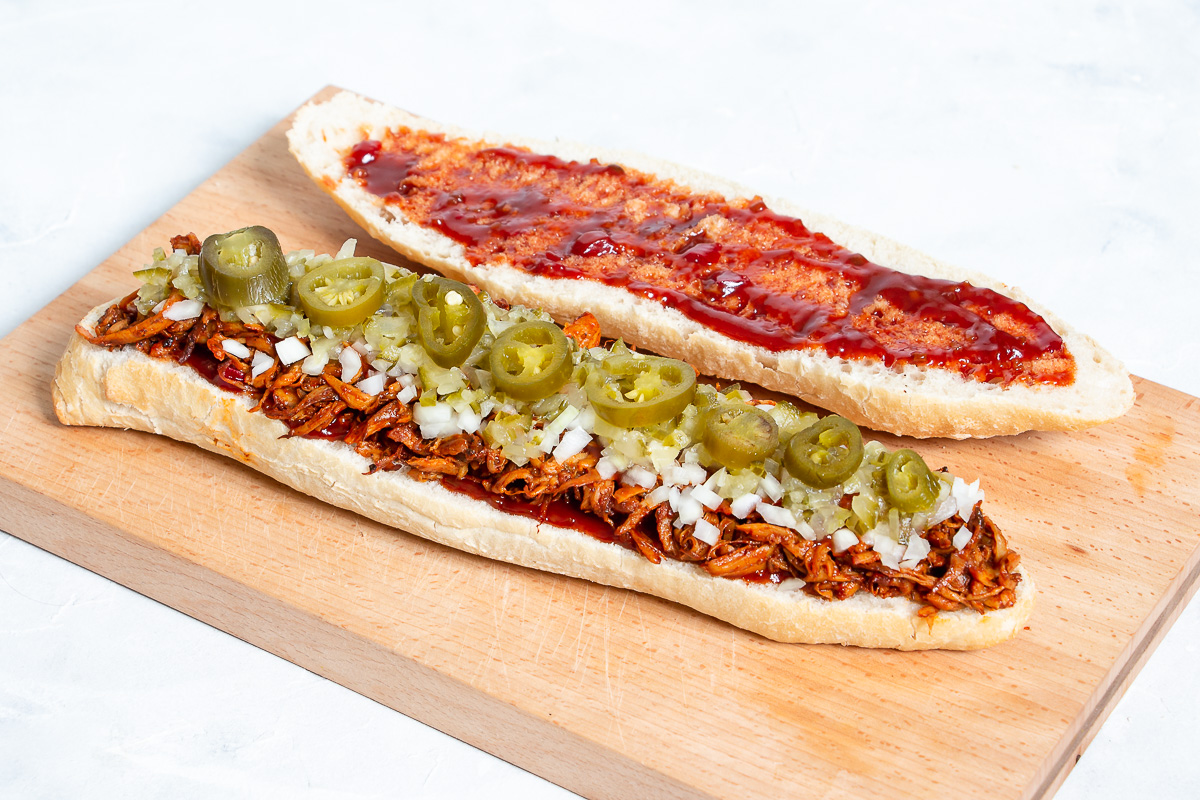 This pulled mushroom sandwich pays homage to the RibWich. The name RibWich not only describes an extremely tasty barbecue sandwich, but also Germany's first food truck, which first hit the streets in Nuremberg in 2011. Instead of pulled pork, we have deliciously seasoned pulled mushrooms on the sandwich bread. Everything is rounded off by a sweet cucumber relish, onions, BBQ sauce and a few fiery jalapeño slices. So relatively similar to the McRib. Just a lot more sophisticated.
For the pulled mushroom, thick-stemmed king oyster mushrooms are first plucked into strips with a fork. These pulled mushrooms are then seared and refined with spices. Quite similar to our vegan carnitas tacos.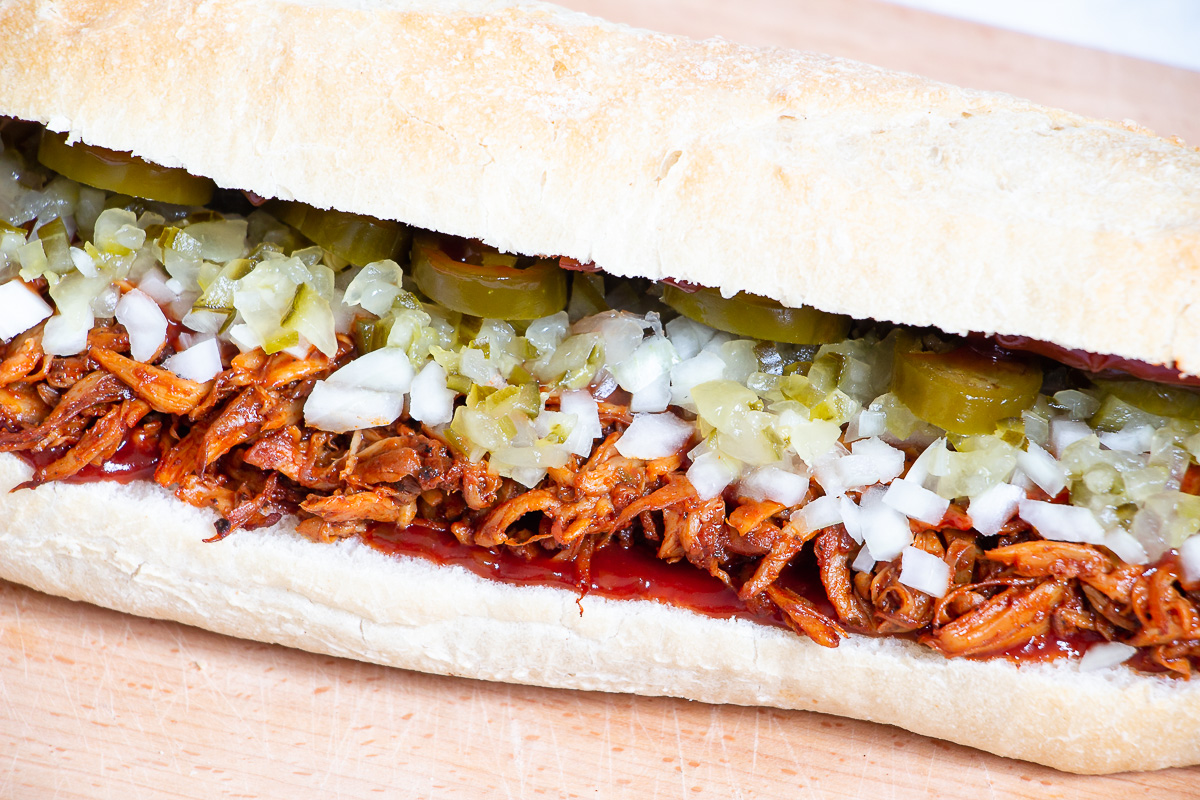 Pulled Mushroom Sandwich
Ingredients
1

sandwich baguette

,

large

150

ml

BBQ sauce

1/2

onion

,

diced

4

tbsp

cucumber relish or sweet pickled cucumbers

,

e.g. "Danish cucumber salad" diced

as desired

pickled jalapeño rings
Pulled Mushroom
400

g

king oyster mushrooms

150

ml

apple juice

2

tbsp

tomato paste

1

tbsp

soy sauce

2

tsp

paprika powder

1

tsp

oregano

1

tsp

smoked salt

1

tsp

liquid smoke

1

tsp

mustard

1/2

tsp

pepper

Vegetable oil
Preparation
Use a fork to pluck the stalks of the king oyster mushrooms into fibers. Cut the hats of the mushrooms into thin strips.

Heat some oil in a large pan. Sear the mushrooms over high heat until they start to take colour. Add spices and tomato paste, sauté briefly and then deglaze with soy sauce and apple juice. Simmer for about 5 minutes at medium temperature.

Lightly bake the baguette as desired. Spread some BBQ sauce on both insides of the bread. First put the pulled mushroom on the bottom half. Then sprinkle with onion, cucumber and a few jalapeños. Put the top half of the bread on top and enjoy.
Song of the recipe:

There is a summer song for the barbecue sandwich. Heat Waves is right that, despite the slightly melancholic tone. Maybe my personal summer hit in 2020 and 2021.
(Would you like to listen to all the songs for the recipe? Find them collected in one playlist here)