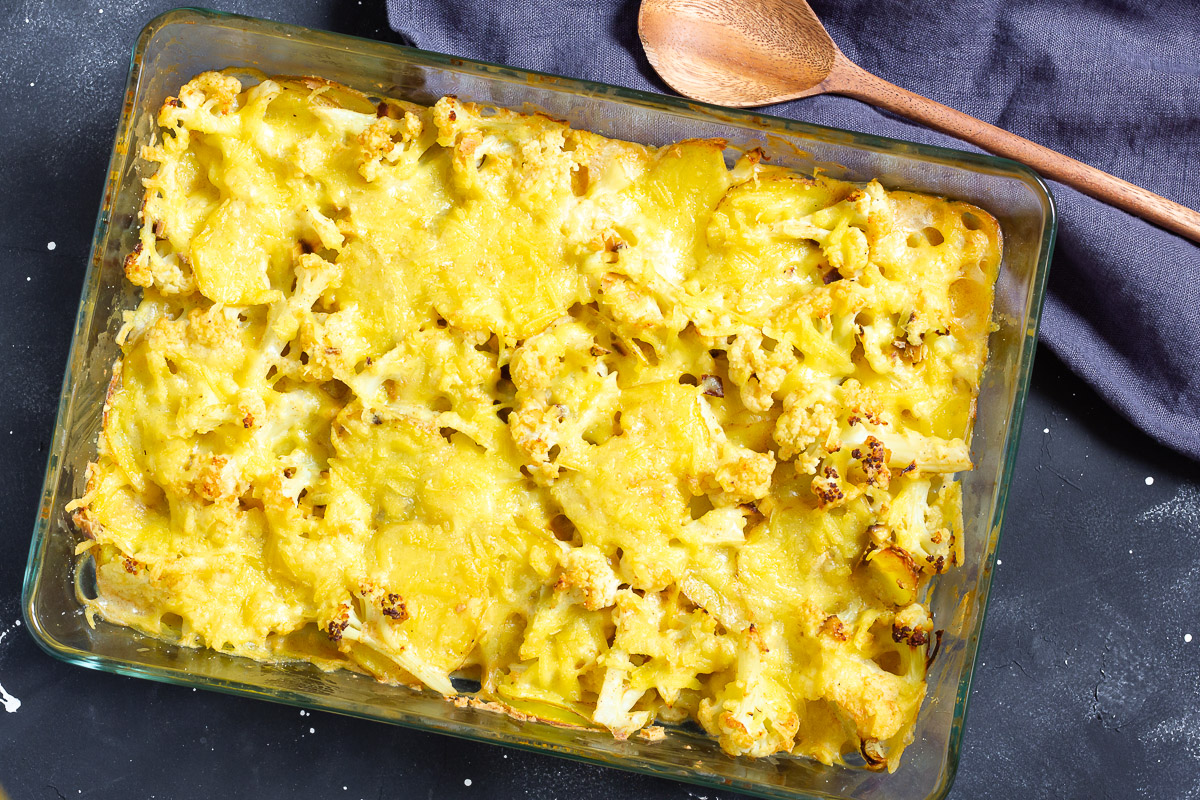 Today we have a very simple but delicious recipe for you. Our vegan cauliflower casserole with potatoes is prepared pretty quickly if you leave out the 45 minute baking time. The creamy sauce consists of a roux and plant milk and is flavoured with garlic, paprika, nutmeg and some grated cheese (vegan of course). The potatoes in the casserole make the dish filling and there is no need to cook an additional side dish. But we sometimes use the baking time to make a delicious salad.
Incidentally, the domestic cauliflower season now begins in May or June and extends into late autumn. Almost the same period is also considered the potato harvest season. So the casserole is a great regional and seasonal dish for the next few months. Of course, you can also use other vegetables. For example, try broccoli instead of cauliflower or sweet potatoes instead of regular potatoes.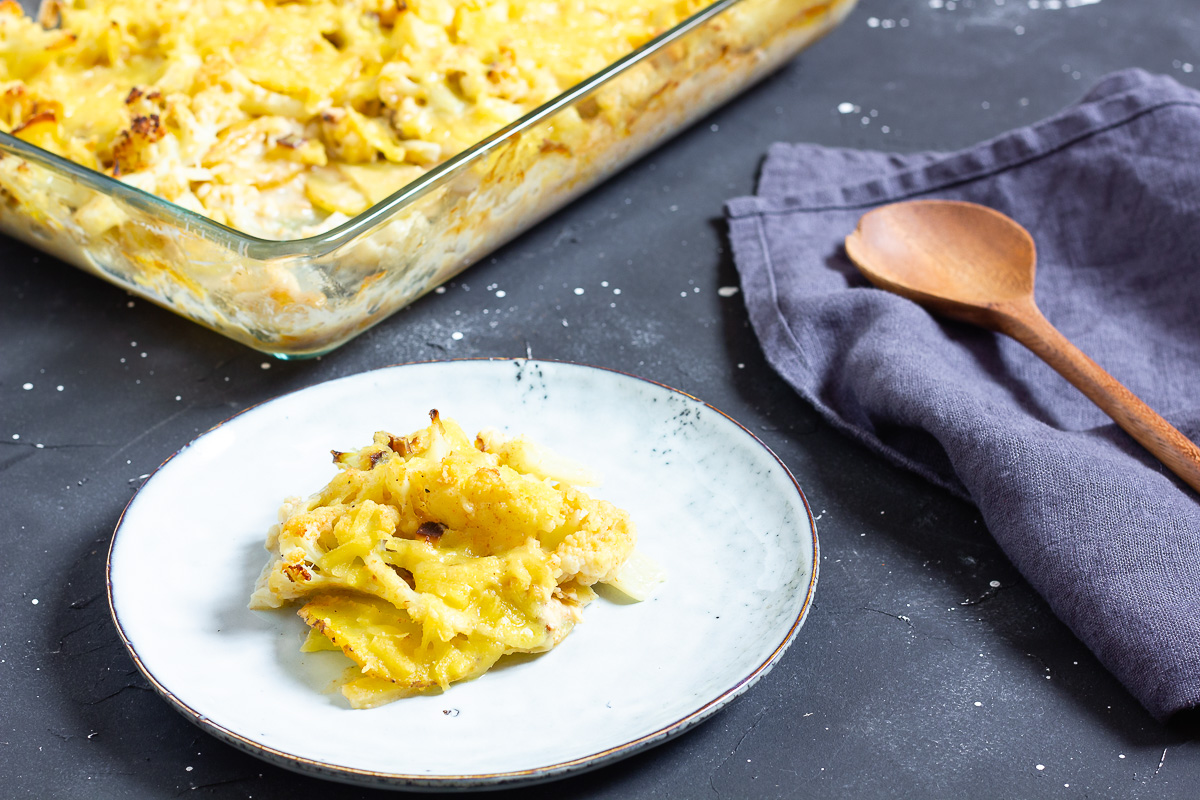 Vegan Cauliflower Casserole with Potatoes
Ingredients
1

cauliflower

,

approx. 750 g

450

g

potatoes

,

primarily waxy

125

g

smoked tofu

3

tbsp

vegan butter

3

tbsp

flour

1

clove

garlic

1/2

tsp

paprika powder

1/2

tsp

nutmeg

,

ground

500

ml

plant milk

200

g

vegan grated cheese

salt + pepper

vegetable oil
Preparation
Cut the cauliflower into florets. Don't throw the stem away, cut it into thin slices. Slice or cut the potatoes into thin slices. Simmer both in a large saucepan with boiling salted water for about 2 minutes. Drain, rinse with cold water and drain well.

Dice the smoked tofu. Fry in a pan with a good dash of vegetable oil until crispy. Remove.

Melt the vegan butter in the pan at low to medium temperature. Stir in flour and sweat. Finely chop the garlic clove and add it as well. Gradually add the vegetable milk while stirring and bring to the boil briefly. Season well with salt, pepper, paprika and nutmeg. Remove from the heat and stir in about a quarter of the grated cheese.

Preheat the oven to 180 degrees Celsius. Put the cauliflower, potatoes and smoked tofu in a baking dish. Pour the sauce over it, season with salt and pepper again and sprinkle with the rest of the grated cheese. Bake in the oven for about 45 minutes until crispy.
Song of the recipe:

Classic alarm: because this disco-pop anthem by the Swedish singer Robyn just never gets old. And dancing alone can also put you in an extremely good mood. So go for it!
(Would you like to listen to all the songs for the recipe? Find them collected in one playlist here)