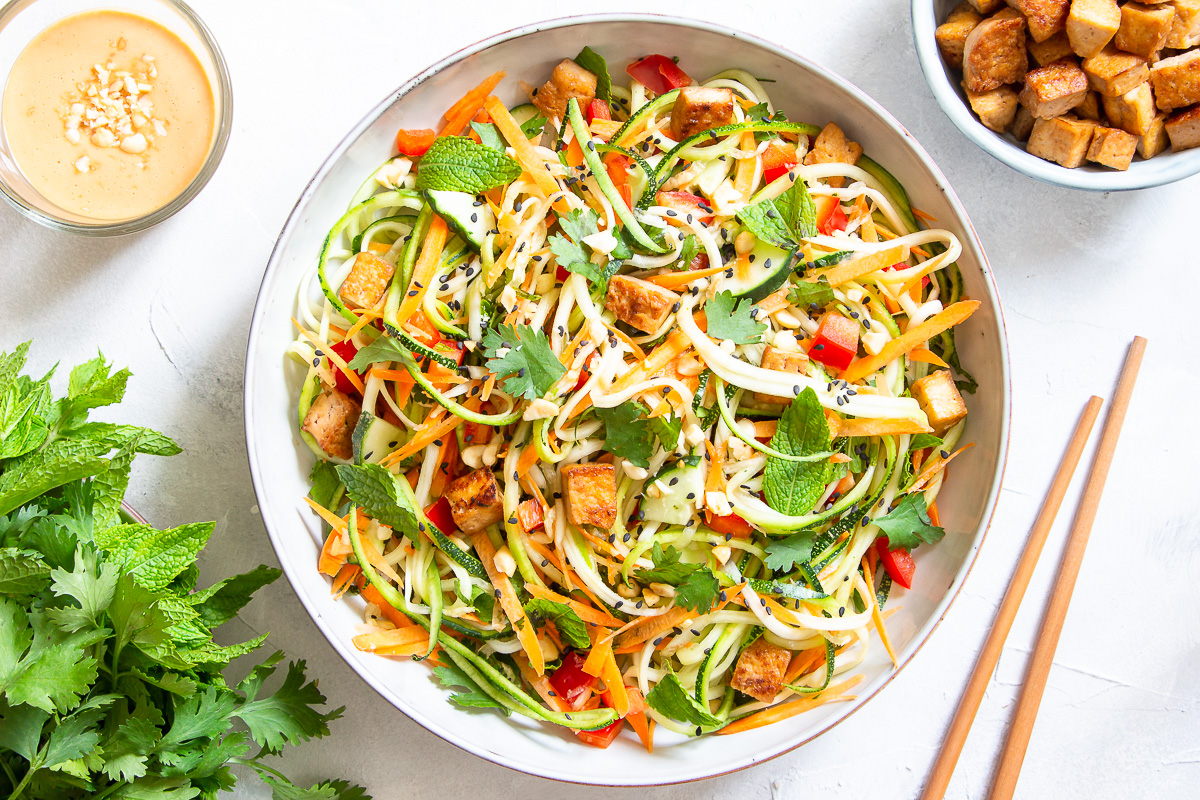 Are you drowning in zucchini just like we do? All people we know with a garden or vegetable box subscription are currently desperately looking for recipes to cook the summer squash in large quantities. And our Vietnamese-style zucchini salad with peanut sauce is just the right choice for this. Because half a kilo of zucchini can easily be processed for 2 servings.
Basically it's a Vietnamese noodle salad, just without the noodles. At least without wheat, glass or rice noodles. Because the basis of the dish are zucchini noodles, so-called zoodles. If you don't have a fancy spiral cutter to make this type of vegetable noodle, you can also simply slice the zucchini into fine strips (julienne). The main thing is that the zucchini is not too big or thick later. Because it is served raw, just like the rest of the vegetables. With the exception of the fried tofu, this dish is raw vegan. Crazy!
In addition to zucchini salad and tofu topping, we also prepare a quick and tasty peanut sauce as a third component. It consists of peanut butter, water and a few spices. For example soy sauce, sugar or lime juice. Everything is mixed together and poured over the salad. And that's it. The perfect summer meal is ready.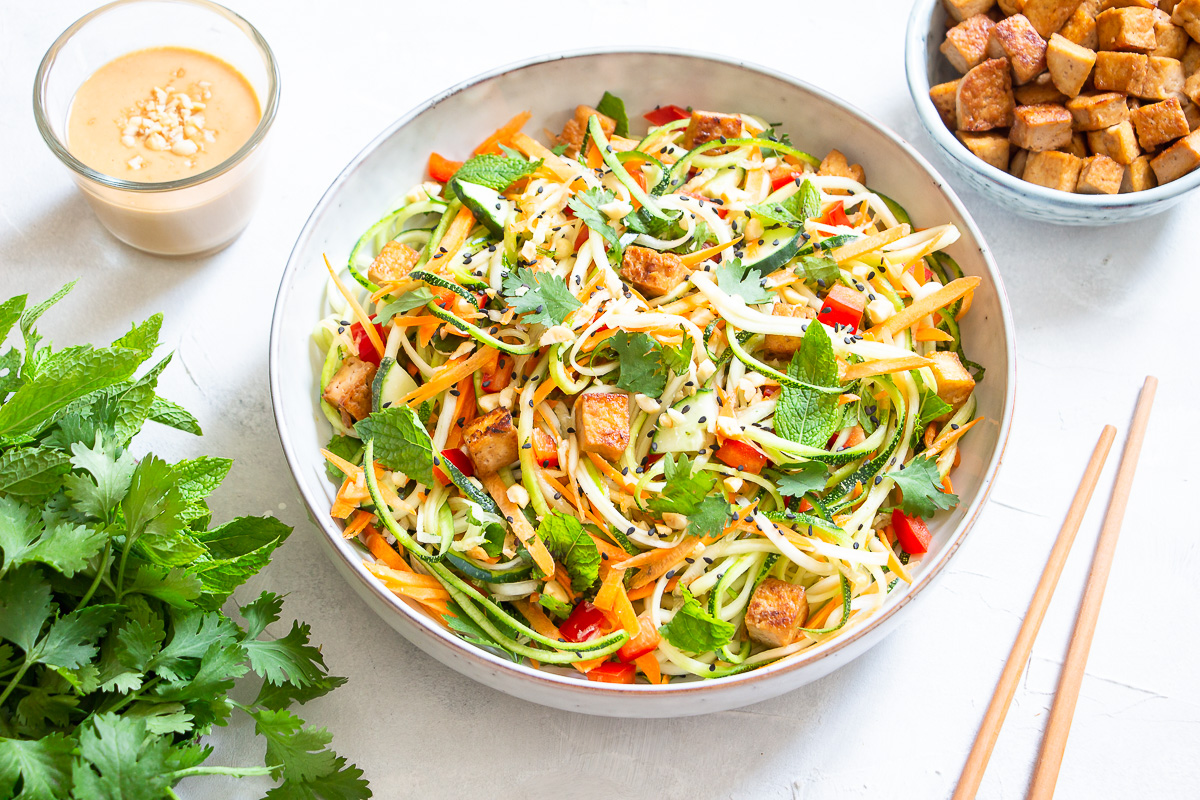 Vietnamese-Style Zucchini Salad with Peanut Sauce
Ingredients
Zucchini Salad
450

g

zucchini

1

carrot

1/2

bell pepper

,

red

1/4

cucumber

1

tbsp

sesame seeds

,

black

1

bunch

coriander and / or mint

salt + chili powder
Tofu Topping
400

g

tofu

4

tbsp

soy sauce

1

tbsp

ginger

,

grated

vegetable oil
Peanut Sauce
4

tbsp

peanut butter

1

tbsp

soy sauce

1

tbsp

rice vinegar

1

tbsp

lime juice

1

heaped tsp

sugar

1

tsp

sriracha chili sauce

50

ml

water
Preparation
Process the zucchini into noodles (so-called zoodles) with a spiral cutter or slice into fine julienne. Slice the carrot into fine julienne. Chop the peppers into small cubes. Quarter the cucumber and cut into thin rings. Pluck the herbs. Mix everything in a bowl.

Cut the tofu into cubes. Fry brown on all sides in a pan with a good dash of oil over medium to high temperature. Add the ginger and deglaze with the soy sauce. Mix well and remove from heat.

Mix the ingredients for the peanut sauce.

Serve the zucchini salad with tofu and peanut sauce, sprinkled with sesame. Season everything with salt and chili powder.
Song of the recipe:

Relaxed sounds from UK. Just right for the summer.
(Would you like to listen to all the songs for the recipe? Find them collected in one playlist here)