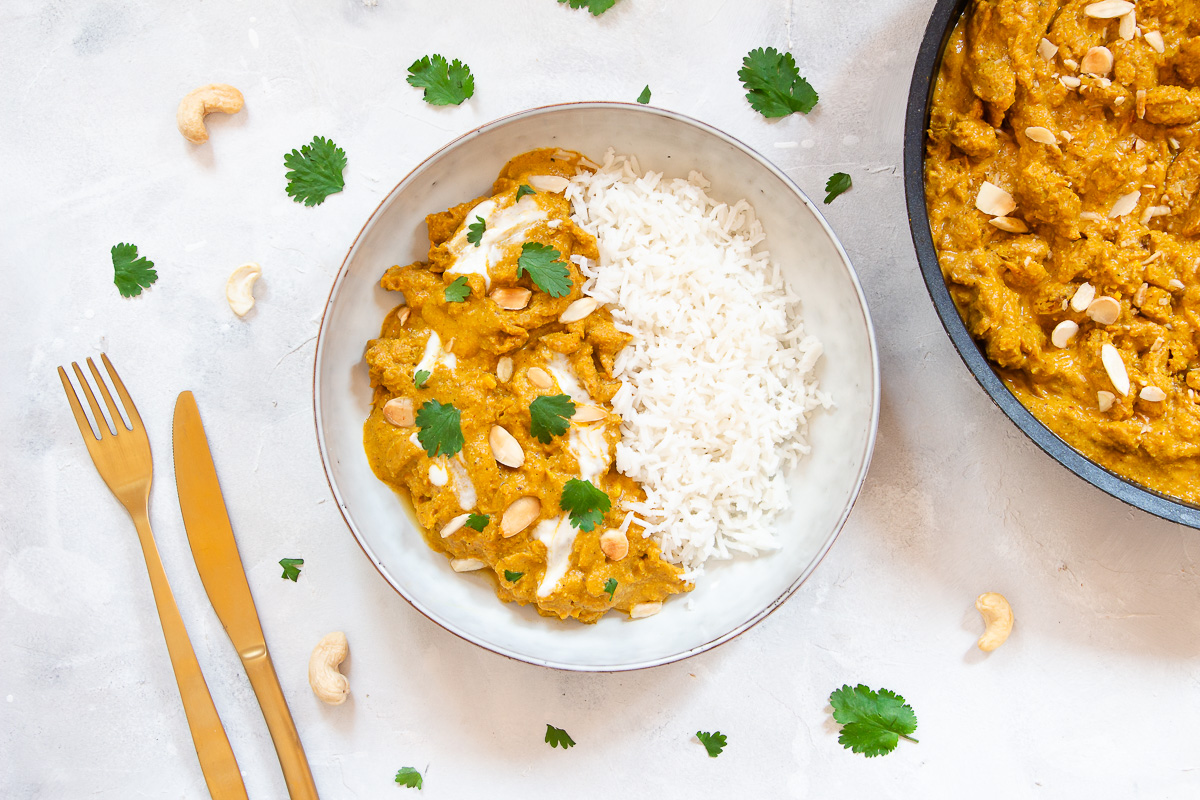 Korma is the name of an Indian curry that is based on a rich sauce with yogurt and nuts, mostly cashew and / or almond. Sometimes cream is also added. If yogurt and nuts are used, cream is not needed additionally. The best-known version of Korma is the one with chicken. That's why we also have a vegan chicken korma today. Without real chicken, of course, but with soy protein. The sauce is responsible for the taste of the dish anyway. And it lives from the spices. That's why the protein isn't the star here. Instead of soy chunks, you could also use tofu, seitan, mushrooms or various vegetables.
A few tricks are needed to create the creamy sauce that we could indulge in. For example, slowly braised onions, which are blended together with yogurt and soaked cashew nuts to a creamy mixture. This step may sound like unnecessary effort at first, but it actually brings a lot of flavour.
Otherwise, the spices are especially important, although the mixture can also be modified. If you are missing a spice, you can simply replace it with a little more garam masala (an Indian spice mix that usually also contains coriander, cumin and cardamom) or another spice.
Incidentally, Korma is not one of the super spicy Indian dishes. The creamy sauce with yogurt and nuts softens the spiciness of the chilli. But if you can't stand the spiciness at all, you can simply replace the chilli powder with paprika powder.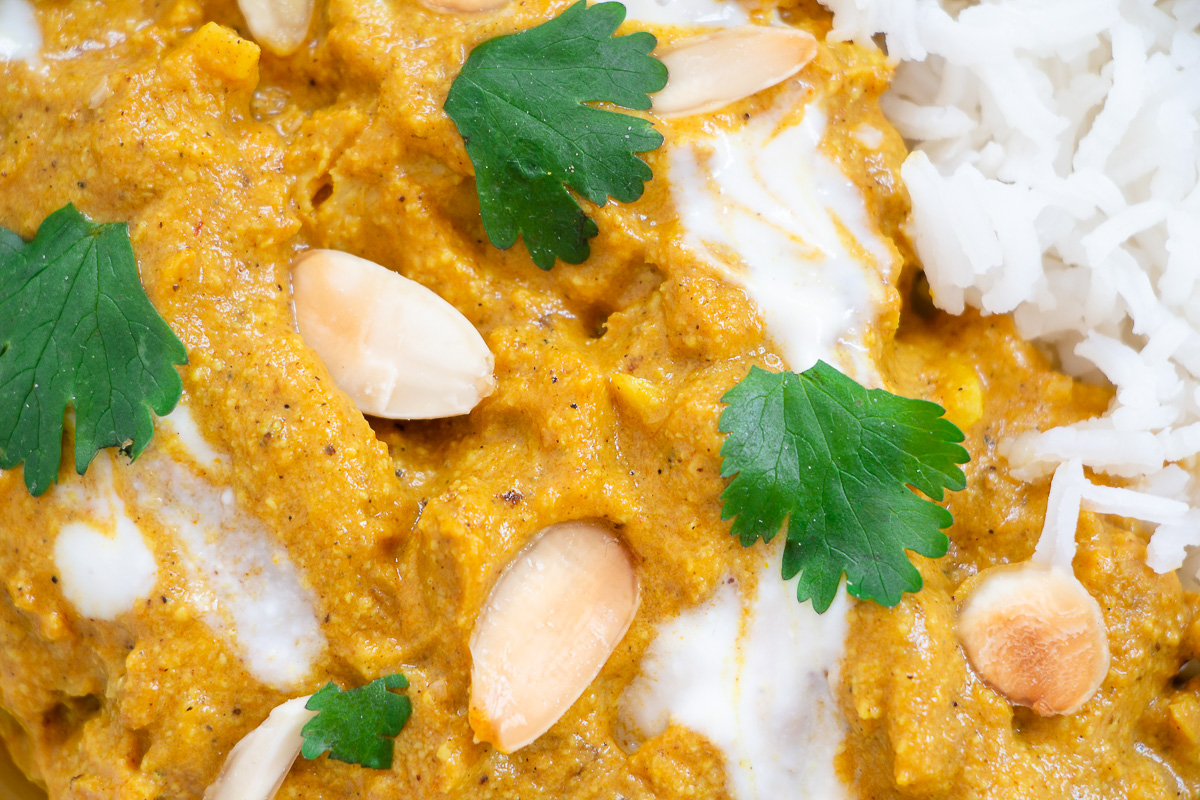 Vegan Chicken Korma
Ingredients
200

g

dried soya chunks

2

onions

2

cloves

garlic

25

g

ginger

2

tbsp

tomato paste

250

g

vegan yogurt

75

g

cashews

50

g

almonds

,

sliced

1

hand

cilantro

salt + pepper

vegetable oil
spices
3

tsp

garam masala

2

tsp

turmeric powder

1

tsp

coriander powder

1

tsp

cumin powder

1

tsp

chili powder

,

alternatively paprika powder

1

tsp

cardamom powder

1

tsp

salt
Preparation
Halve the onions and cut into thin slices. Sweat in a saucepan with a good dash of vegetable oil at medium temperature for about 20-25 minutes until golden brown.

In the meantime, pour boiling water over the soy chunks and let them soak for about 10 minutes. Press out excess water (e.g. between two cutting boards) and put them aside.

Prepare the remaining ingredients: Pour 300 ml of boiling water over the cashew nuts and set aside. Toast the almond slices. Finely chop or grate the garlic and ginger. Pluck the cilantro. Have the spices ready or mix them already in a small container.

Blend the golden yellow onions together with the cashews (including soaking water) and the yogurt to a smooth mixture.

In a large pan, fry the soy meat in plenty of vegetable oil over medium to high temperature. Add ginger, garlic, spices and tomato paste and sauté briefly. Pour the onion, cashew and yogurt mixture on top and simmer gently for 4-5 minutes. If the sauce is too thick, add a little more water if necessary. Season to taste with salt and pepper.

Sprinkle with cilantro and almond slices to serve. Rice or Indian bread (chapati) tastes best with it.
Song of the recipe:

The Indian dish is accompanied by relaxed electronic music from India. Perfect groovy background music for cooking.
(Would you like to listen to all the songs for the recipe? Find them collected in one playlist here)