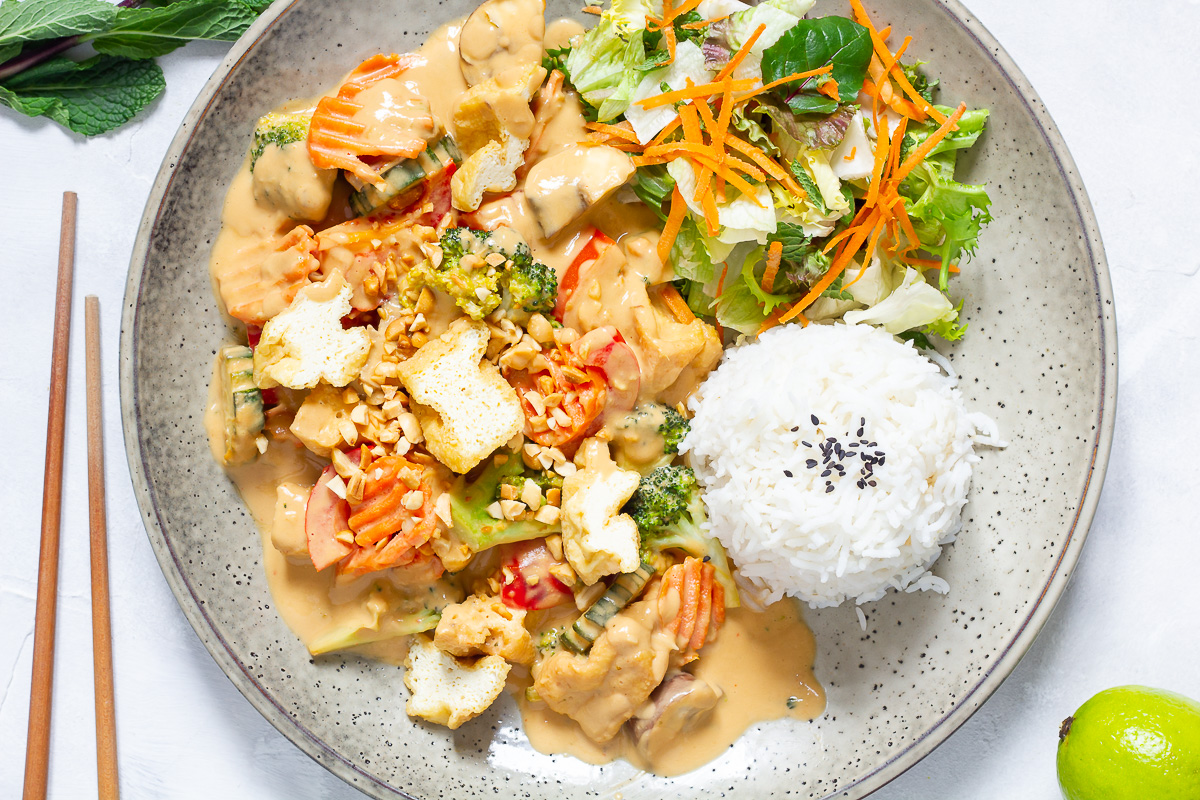 Cơm sốt lạc is a popular dish that is on the menu at many Vietnamese restaurants. Translated, it simply means rice with peanut sauce. This is only half the truth, because a colourful mix of vegetables is of course also part of the dish. And usually also a source of protein. Here, we opted for deep-fried tofu. It soaks up the creamy peanut sauce particularly well. You can even buy it ready-made in well-stocked Asian markets, usually under the name "baked tofu". However, it is also very easy to prepare yourself. Just follow the instructions below the recipe.
Our Vietnamese vegetables with tofu in peanut sauce are super quick to prepare. Cooking the rice probably takes longer than the actual cooking. For the peanut sauce, you only need to mix a few ingredients. Cut the tofu and vegetables into bite-sized pieces and fry briefly. Add the sauce, simmer briefly and you're done. Now you know why you never have to wait long for food at your favourite Vietnamese restaurant.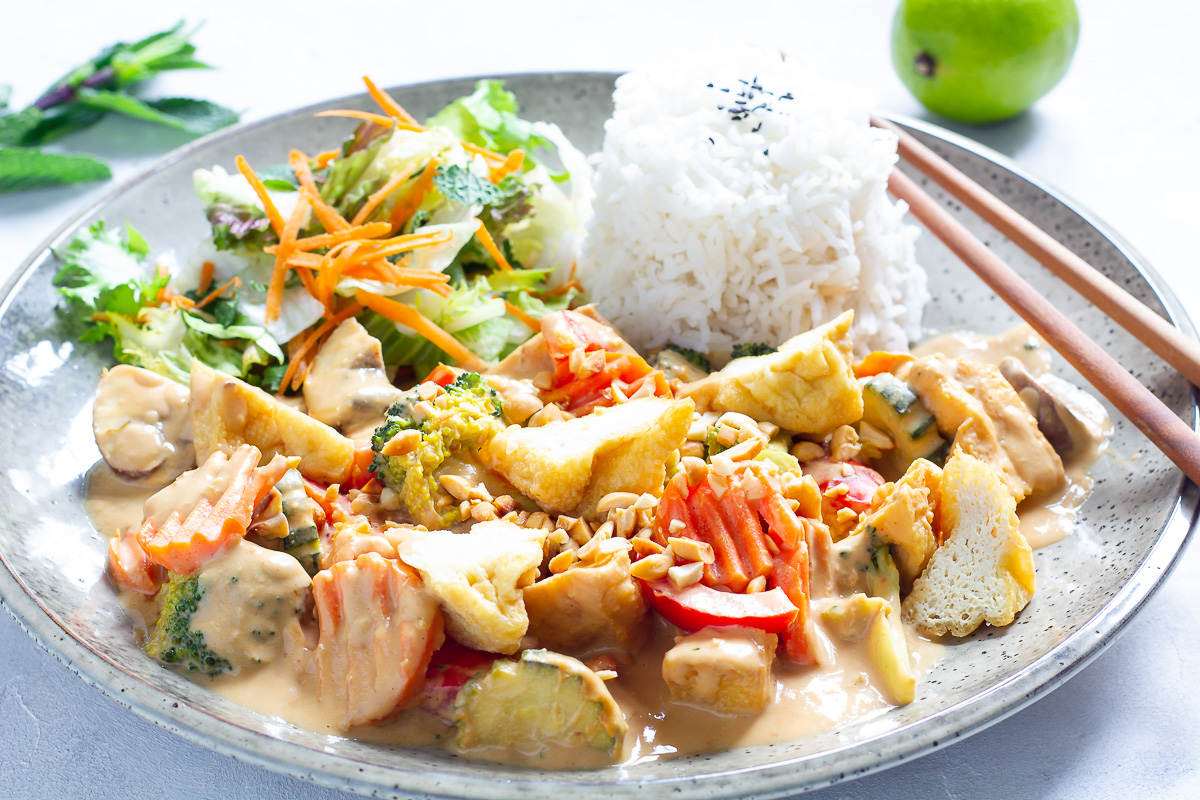 Vegetables with Tofu in Peanut Sauce (Cơm sốt lạc)
Ingredients
Tofu & vegetables
150

g

tofu

,

deep-fried

1

carrot

,

small

1/2

pepper

,

red

1/4

broccoli

,

small

1/2

zucchini

,

small

2

mushrooms

1

clove

garlic

,

chopped

Vegetable oil
Peanut sauce
6

tbsp

peanut butter

2

tbsp

sugar

2

tbsp

soy sauce

1

lime

1

tsp

Sriracha chilli sauce

1

tsp

ginger

,

chopped

200

ml

coconut milk

50

ml

water
Preparation
For the peanut sauce, squeeze the juice from the lime. Mix well with the remaining ingredients or, even better, blend with the help of a hand blender or stand mixer. Season to taste with chilli sauce (for more heat), soy sauce (for more saltiness), sugar (for more sweetness) or lime juice / rice vinegar (for more acidity).

Cut the vegetables into bite-sized pieces that need to cook for about the same amount of time. For this, we halved the zucchini and cut them into 1 cm thick slices, chopped the mushrooms, cut the broccoli into small florets, thinly sliced the carrot and cut the pepper into slightly larger pieces.

Sauté the vegetables in a large frying pan with a dash of vegetable oil at high temperature for 1-2 minutes. Add the garlic and tofu, fry for 20-30 seconds and deglaze with the peanut sauce. Simmer at medium temperature for a few minutes until the vegetables have reached the desired doneness. If the peanut sauce becomes too thick, simply add a little water. Serve with a portion of rice.
Notes
If you can't find fried or baked tofu in the Asian market, you can of course simply make it yourself. To do this, dab a slightly softer tofu dry with a kitchen towel, cut into bite-sized pieces and deep-fry in enough vegetable oil until golden brown.
Song of the recipe:

Lyrics translation: "Midday slump: gotta eat. Love letter: gotta eat. First kiss: gotta eat; break-up again: gotta eat. Friendship plus and I've gotta eat"
(Would you like to listen to all the songs for the recipe? Find them collected in one playlist here)