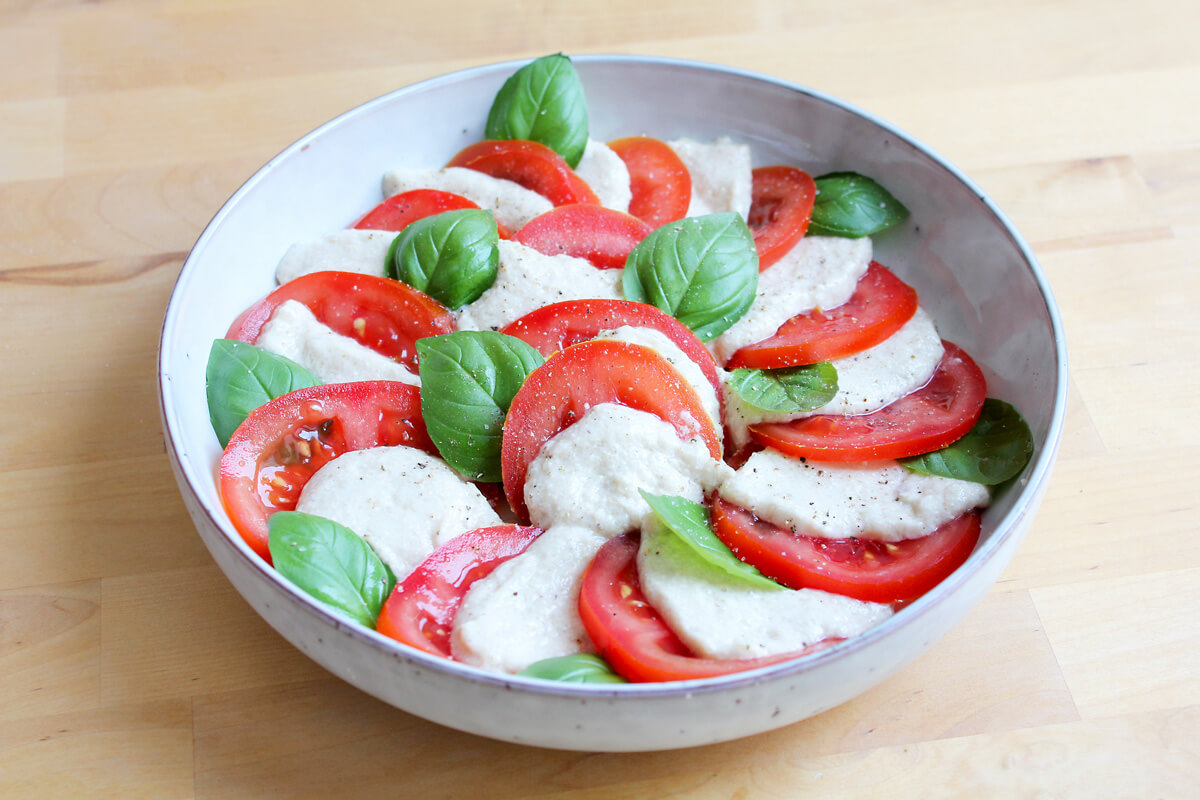 Caprese is a classic Italian starter salad made from tomatoes, mozzarella and basil. As a quick vegan variant, the mozzarella can easily be replaced with tofu. And now vegan mozzarella is becoming more available in supermarkets as well. The best and cheapest result, however, delivers the self-made variant. Naturally.
Our vegan caprese salad is therefore served with vegan psyllium husks mozzarella, made from cashews and psyllium husks. For raw enjoyment, this mozzarella version is much more suitable than our vegan meltable mozzarella cheese, which is thickened with tapioca starch and agar agar.
When our omnivorous friends were immediately enthusiastic about the first trial attempts, it was clear to us that we wanted to share the recipe with you. But somehow it still slumbered on the hard drive for 1 year before it finally found its way onto the blog now.
The psyllium husks mozzarella is quick and easy to prepare. It actually only needs some rest or cooling time. So it's best to prepare it the day before you use it.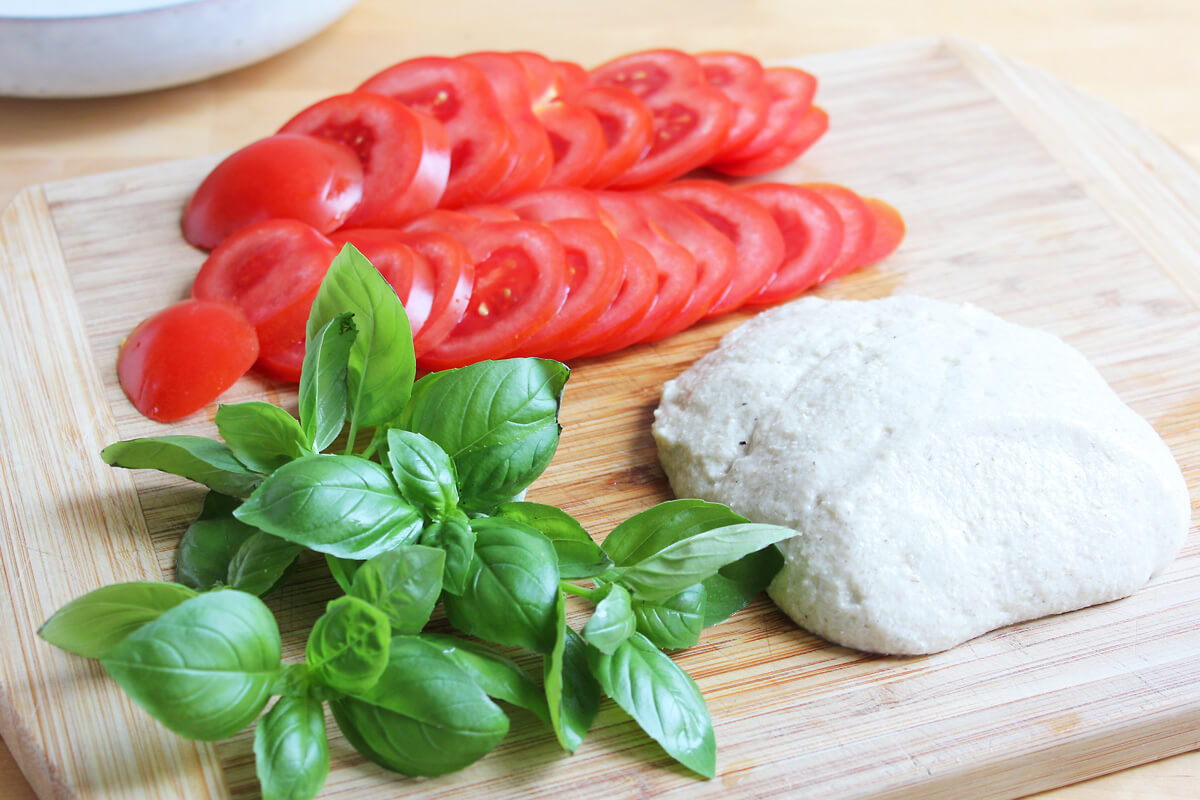 Vegan Caprese with Psyllium Husks Mozzarella
Ingredients
Psyllium Husks Mozzarella
3

tbsp

ground psyllium husks

,

equivalent to 15 g

150

ml

water

60

g

cashews

2

tbsp

lemon juice

2

tbsp

nutritional yeast flakes

1

pinch

salt
Other
2

tomatoes

1

bunch

basil

2

tbsp

olive oil

2

tbsp

balsamic vinegar

salt + pepper
Preparation
Mix the psyllium husks with the water in a bowl with a spoon. The mass gradually thickens and takes on a slimy consistency. You should let it thicken for at least 1 hour. Meanwhile soak the cashews in hot water.

Drain the cashews, collecting the cashew water. Puree the cashews with at least 2 tablespoons of cashew water, lemon juice, yeast flakes and salt until they become smooth. Finally add the psyllium husks and blend everything with the mixer until smooth.

Put the vegan mozzarella in a mold and let it set in the refrigerator for at least 2 hours, or better overnight.

Cut tomatoes and vegan mozzarella into thin slices and season with salt and pepper. Pour vinegar and oil over it and serve with basil leaves.
Notes
The specified amount of water refers to a rather firm mozzarella, which in its raw state comes close to the original. If you want to use the mozzarella for gratinating, you can use a little more water so that the vegan mozzarella has a creamy consistency and is easier to spread.
Song of the recipe:

Elena Ledda is known as the voice of Sardinia. With the Italian, a classically trained opera voice meets Italian folk songs. Andi discovered the song as a sample in an electronic live set by Rampue.
(Would you like to listen to all the songs for the recipe? Find them collected in one playlist here)