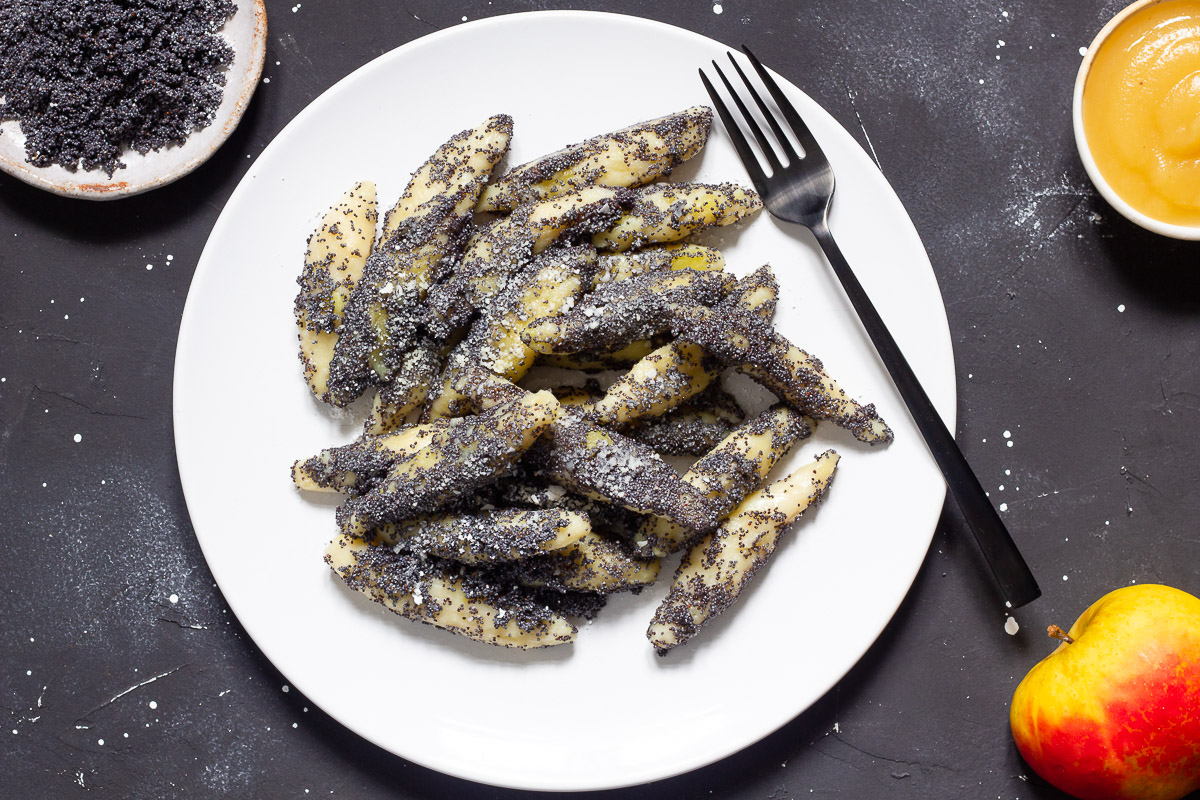 It's getting sweet again on the blog. We have taken up a speciality of Bohemian and Austrian cuisine and cooked vegan poppy seed noodles. These are a kind of noodles made from potato dough (vegan potato dumpling fingers), tossed in the pan with butter and poppy seeds and served with a dusting of icing sugar.
Just like other classics such as Kaiserschmarrn or Germknödel (Austrian yeast dumplings), poppy seed noodles are not only served as a dessert, but also as a sweet main course. The portion sizes therefore refer to large, filling portions.
Vegan Poppy Seed Noodles
Ingredients
Dough
600

g

potatoes

,

starchy

150

g

wheat flour

1

heaped tbsp

starch

,

e.g. potato or corn starch

2

tbsp

vegan butter

,

soft

1

pinch

salt
Other
60

g

poppy seeds

40

g

vegan butter

icing sugar

1

dash

rum

,

optional
Preparation
Simmer the potatoes in enough salted water in a pot for about 40 minutes until soft. Then drain, peel and mash or press through a potato ricer. Leave to cool slightly.

Add the remaining ingredients for the dough to the potato mixture and knead until smooth. Roll the dough into small noodles with floured hands.

Bring a large pot of salted water to the boil. Lower the heat so that the water no longer boils. Carefully drop in the potato noodles and simmer for about 5-7 minutes until they float to the top. Remove with a slotted spoon and drain.

Melt the vegan butter in a large frying pan over a medium heat. Add the poppy seeds (and optionally a dash of rum) and toss the noodles in it. Serve the poppy seed noodles with a good dusting of icing sugar.
Notes
The poppy seed noodles are also delicious with a little applesauce or plum jam.
Song of the recipe:

Ton Steine Scherben around frontman Rio Reiser are one of the best-known bands of the German left-wing movement of the 70s and 80s. A little fun fact: the Green politician Claudia Roth was the band's manager at the time.
(Would you like to listen to all the songs for the recipe? Find them collected in one playlist here)