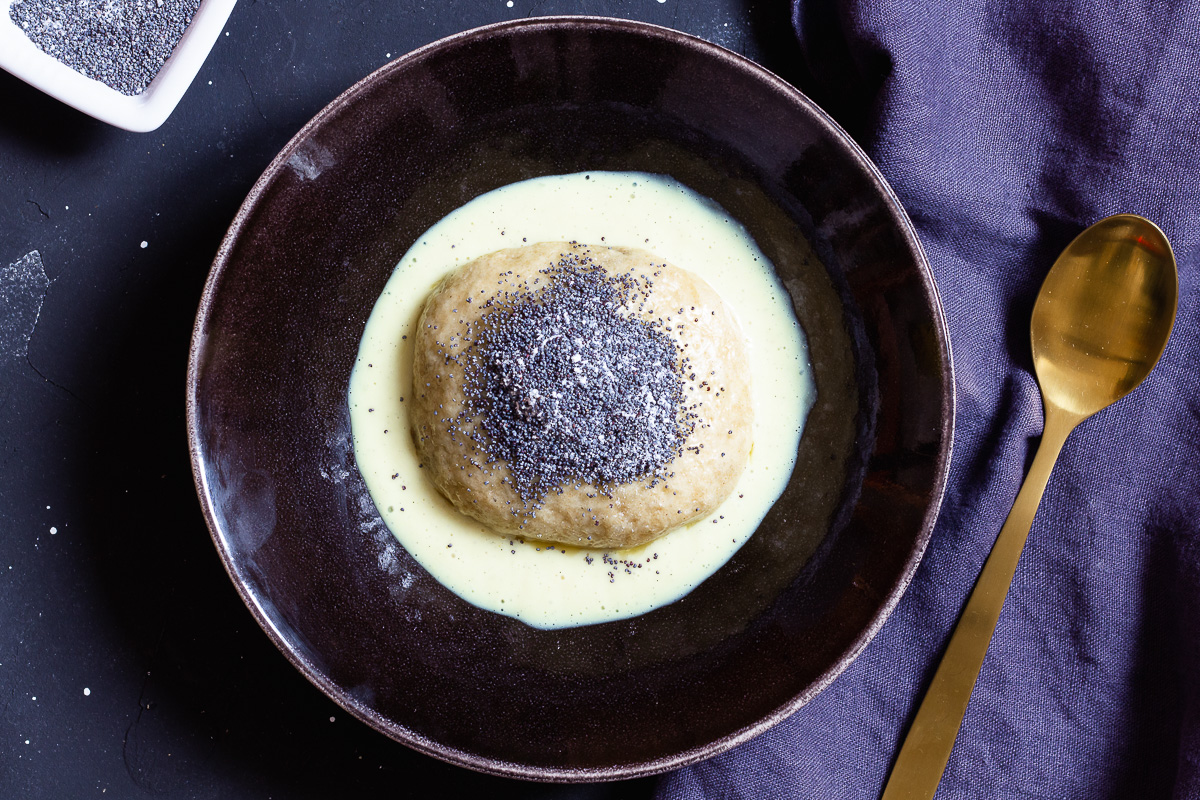 Even if for various reasons (including the high water and electricity consumption due to the artificial snowmaking that is required almost everywhere) the days of classic ski holidays are long gone for us, it does not mean that we want to pass on the traditional ski hut food from Austria. One of the absolute classics are definitely steamed yeast dumplings. Yeast dumplings are sweet, spherical yeast dough dumplings that are filled with plum jam ("Powidl") and then steamed or boiled in salted water. The sweet dumplings are then served with melted butter and sprinkled with poppy seeds and sugar. Germknödel are often served with vanilla sauce as well. We serve our vegan yeast dumplings exactly in this combination.
The preparation is not complicated at all. First, a sweet yeast dough is made from plant milk, flour, yeast, vegan butter and sugar. As usual for yeast dough, it has to rise for about an hour. Then balls are formed from the dough, which are flattened into discs. Now a spoonful of plum jam is placed on top and the edges are turned over and sealed. The filled dumplings are ready, and they can rise again briefly before they are cooked.
The vanilla sauce is quickly made from plant milk, vanilla, some cornstarch and sugar. For a nicer colour, we also add a pinch of turmeric powder. In terms of taste, turmeric is completely irrelevant and can therefore be left out without any problems.
As a topping, some melted butter (of course the vegan version), poppy seeds and powdered sugar are added to the yeast dumplings. The local ski hut meal is ready. And with that, after all the snow of the last few weeks, we feel like we're on a big ski holiday even here in Berlin.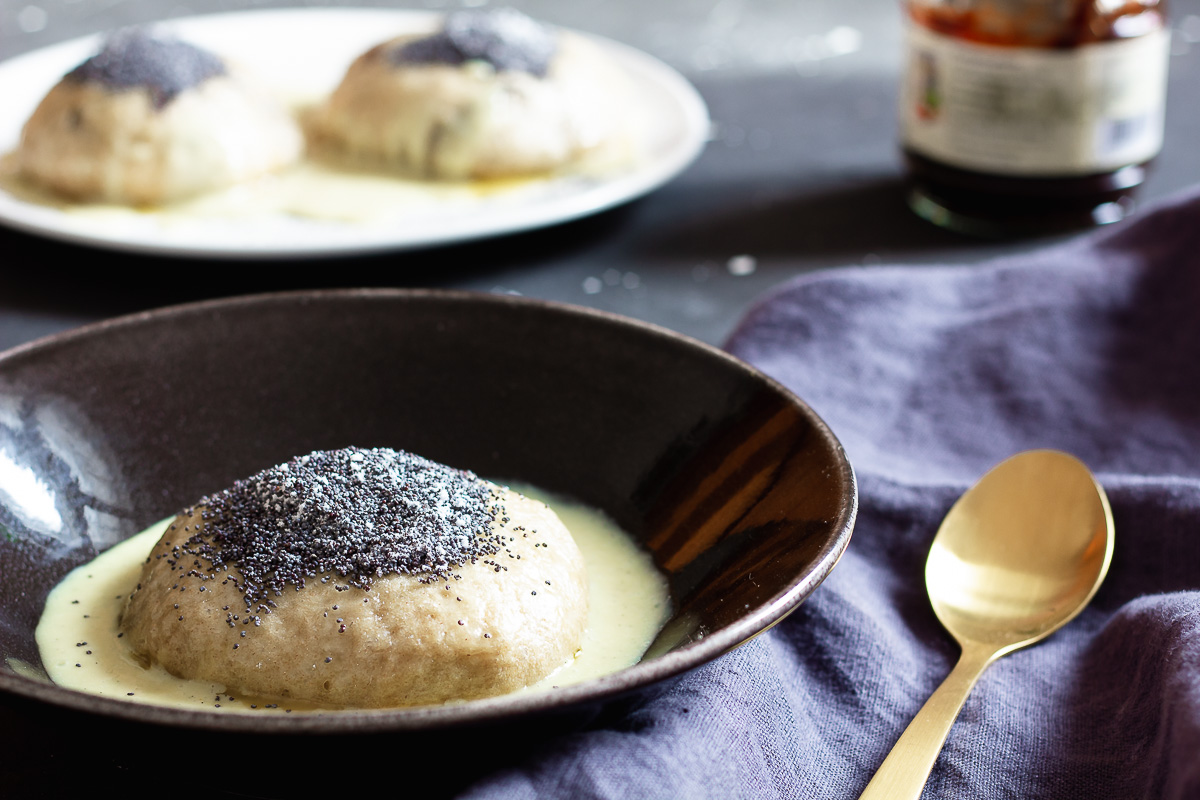 Vegan Germknödel - Austrian Yeast Dumplings
Ingredients
Yeast Dumplings
250

g

wheat flour

10

g

fresh yeast

,

equivalent to 1/4 cube

125

ml

plant milk

50

g

vegan butter

,

melted

2

tbsp

sugar

1

pinch

salt

4

tbsp

plum jam
For Serving
4

tbsp

poppy seeds

2

tbsp

powdered sugar

30

g

vegan butter

,

melted
Vanilla Sauce
500

ml

plant milk

1/2

vanilla pod

2

tbsp

cornstarch

2

tbsp

sugar

1

pinch

turmeric powder

,

optional
Preparation
Gently warm the plant milk with the sugar (only to around 35-40 degrees Celsius). Crumble in the yeast and dissolve by stirring. Now let it sit in a warm place for about 5-10 minutes to activate the yeast.

Put the flour and salt in a bowl. Add yeast mixture and melted butter and knead everything into a smooth dough for a few minutes. Shape the finished dough into a large ball. Cover the bowl with a damp kitchen towel and let the dough rise in a warm place for at least 1 hour.

Quarter the dough and shape each into a ball. Now press them flat. Put a dollop of plum jam in the middle of each, fold the edges up, close and shape them into a ball again. Place the pieces of dough on a plate with the seam down, cover with a cloth and let rise for another 20 minutes.

Steam the yeast dumplings for about 20 minutes. To do so, we simply put some water in a pot and hang a sieve over it in the pot. Then set the temperature so that the water is simmering very gently to steam the yeast dumplings with the lid closed. Depending on the sieve, 1 to 2 yeast dumplings can be steamed at the same time. Otherwise, you can also cook them in hot, simmering water. In any case, you should handle the yeast dumplings gently.

For the vanilla sauce, stir the cornstarch with a dash of plant milk until smooth. Halve the vanilla pod and scrape out the pulp. Bring the rest of the plant milk together with the vanilla pulp and pod as well as the sugar to a boil while stirring. Stir in the starch and turmeric and let everything boil briefly. Take out the vanilla pod. Serve the vanilla sauce warm or cold.

Pour melted butter over the yeast dumplings. Then sprinkle with poppy seeds and powdered sugar and serve with the vanilla sauce.
Song of the recipe:

Don't worry, we haven't picked an après ski hit as the song for this recipe. Instead we bring a wonderfully quiet song by Angus & Julia Stone to your ears. It is appropriately called Snow.
(Would you like to listen to all the songs for the recipe? Find them collected in one playlist here)