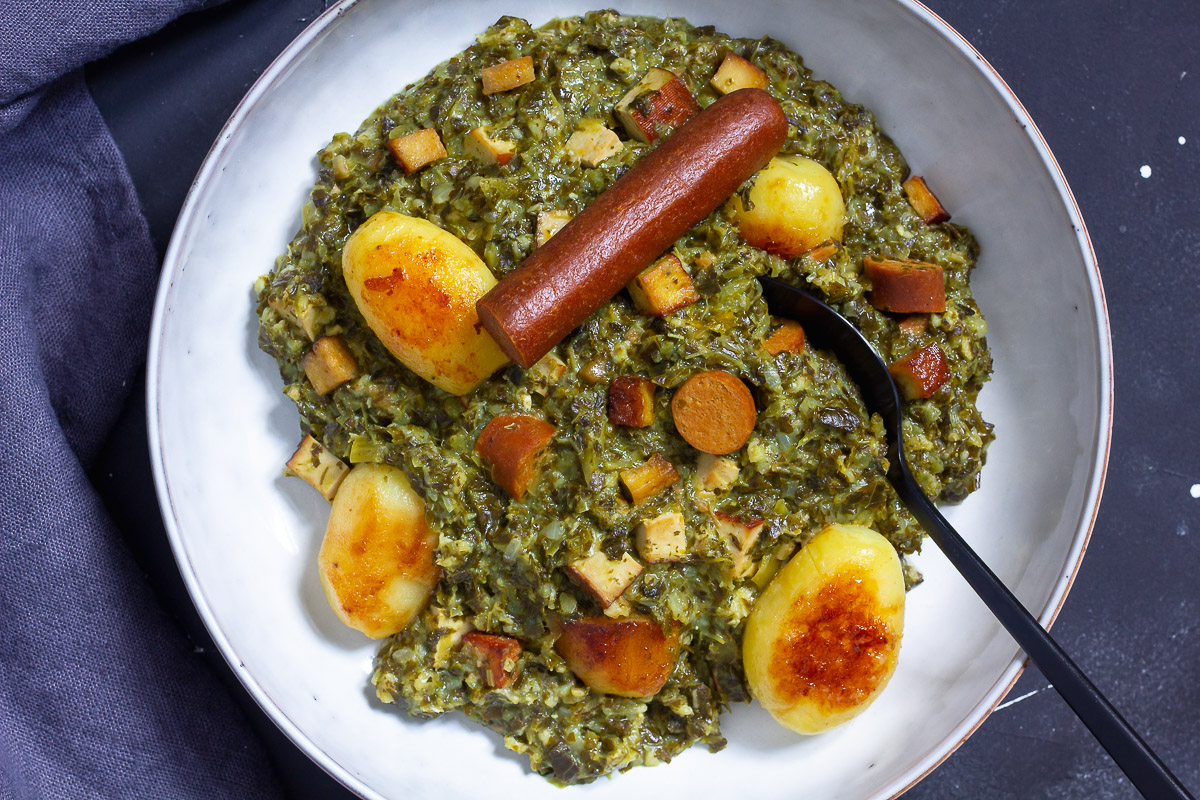 It's cold outside and we're getting cosy at home with a steaming stew. There is a vegan version of kale with spelt, which we prepare really hearty with smoked tofu and a few vegan sausages. This is accompanied by caramelised small potatoes, so-called triplets.
Kale is a classic winter vegetable and is in season right now. In Germany, the harvest period runs from around October to February. However, it is no longer quite true that kale can only be harvested and eaten after the first frost. Earlier varieties needed the cold and long cultivation time in the field to accumulate more sugar and counteract the bitter substances they contain. Today's cultivars of kale usually already have enough sweetness from the ground up to be edible even before the first frost.
Especially in northern Germany, kale is very popular as a stew. Bremen and Oldenburg, for example, like to argue about who is the unofficial kale capital. And there is even a tradition of going on a communal hike to eat kale. We've heard that the cabbage tours or cabbage rides are a lot of fun. But we enjoy our vegan German kale stew with caramelised potatoes quite relaxed at home. It tastes delicious even without beer and grain.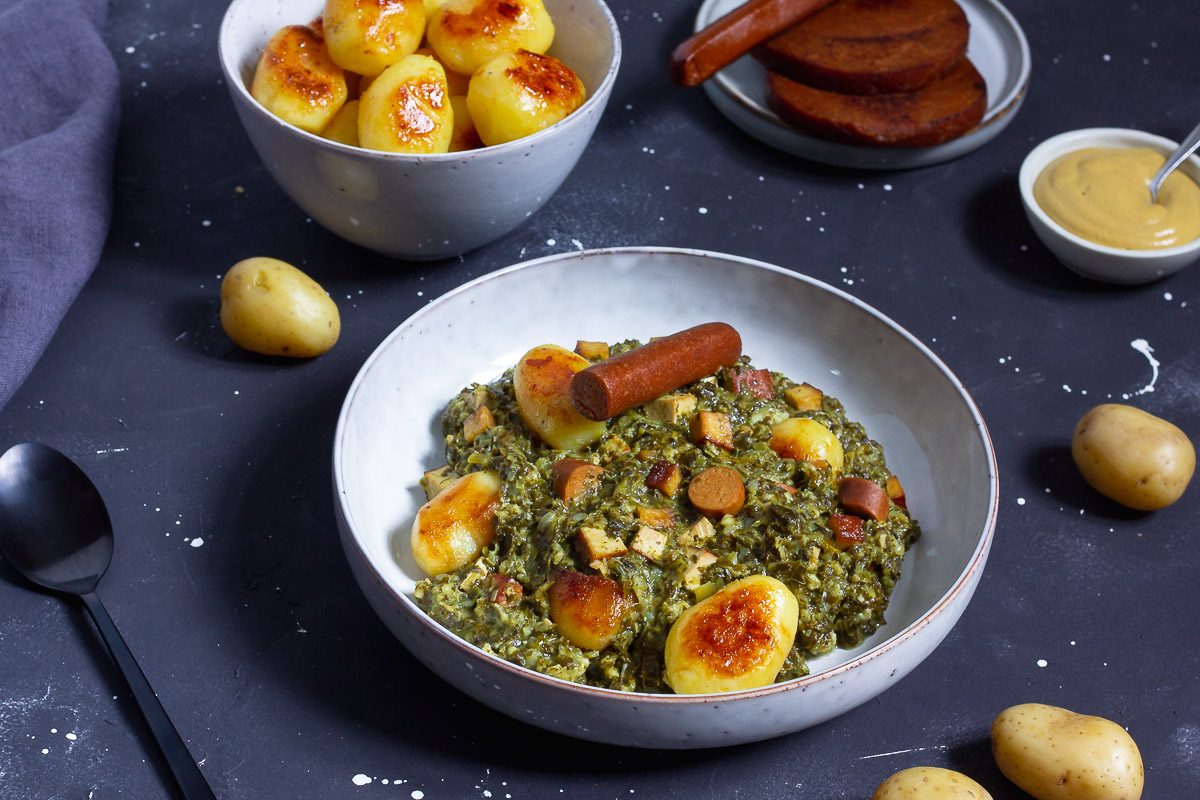 Vegan German Kale Stew with Caramelised Potatoes
Ingredients
Kale Stew
1.5

kg

kale

,

with frozen kale approx. 1/3 less

3

onions

75

g

vegan lard

50

g

porridge

,

alternatively oat flakes

4

vegan sausages

250

g

smoked tofu

600

ml

vegetable stock

3

tbsp

mustard

1

pinch

allspice

,

ground

Salt + pepper

Vegetable oil
Caramelised Potatoes
800

g

potatoes

,

preferably small triplets

1.5

tbsp

icing sugar

Salt + pepper

Vegetable oil
Preparation
Kale Stew
Wash the kale, remove the firm stalk and cut into small pieces. Peel, halve and finely dice the onions.

Sauté the onions with the lard in a large saucepan over a medium heat for a few minutes. Add the kale and pour in the vegetable stock. Season directly with 1 tsp salt.

Dice the smoked tofu and slice the sausages. Add half of both directly to the pot with the kale. Simmer everything at a rather low temperature with a lid for at least 2 hours (1 hour is enough for frozen kale, but the flavour will be better with longer cooking time).

Fry the other half of the tofu and the sausages in a pan with a dash of vegetable oil until crispy. Add to the kale together with the oat flakes and simmer for about 5 minutes.

Season the kale with mustard, allspice, salt and pepper. Serve with the caramelised triplets. If you like it particularly hearty and meaty, you can also serve fried slices of tofu, seitan or meat substitute.
Caramelised Potatoes
Place the potatoes in a pot of salted water so that they are just covered. Now bring to the boil over a high heat, turn down the heat and cook over a low to medium heat for about 15-20 minutes (longer for large potatoes) until soft. Drain the potatoes and leave to cool.

Peel the potatoes and fry them in a large frying pan with a dash of vegetable oil over a medium heat until golden on all sides. Once they are well coloured, add the icing sugar to the pan and let it caramelise. Toss the potatoes from time to time. Finally, season with salt and pepper.
Song of the recipe:

Melancholic singer-songwriter pop for the long, dark winter.
(Would you like to listen to all the songs for the recipe? Find them collected in one playlist here)