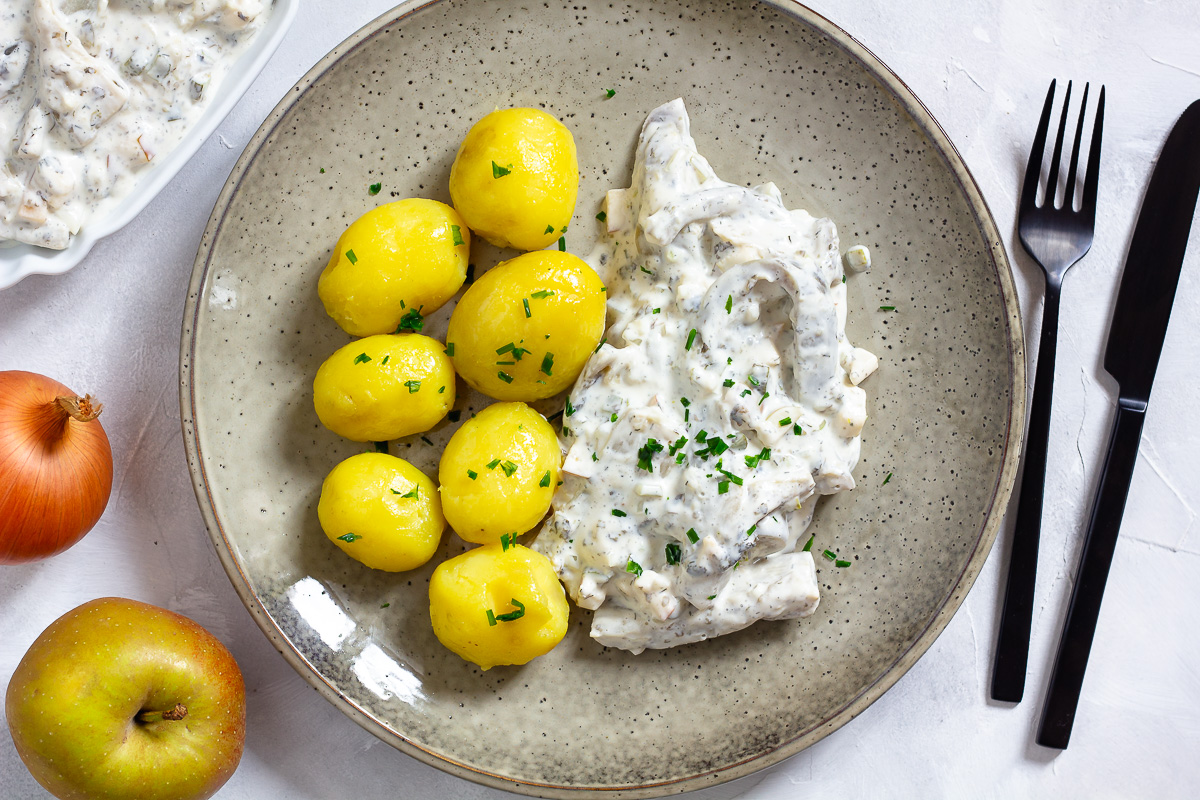 Moin moin (that's how people in Northern Germany greet)! After we recently uploaded a vegan smoked salmon alternative made from carrots to the blog, today a vegan pickled herring in cream sauce made from eggplants follows. Sounds strange at first, but it works really well. Because peeled and cooked eggplant has a relatively soft, almost slippery, but still chewy consistency that comes very close to the fish fillet. Once again, the good old algae is responsible for the fishy taste in the eggplant.
We had made vegan cream herring years ago. We still knew the trick with the eggplants. But what else is in a herring in cream sauce? Phew, good question. But the recipe should be as authentic as possible. That's why we secretly sneaked to the refrigerated shelf with the fish products in the supermarket to study the lists of ingredients. We probably looked paranoid over our shoulders every now and then. After all, as a vegan you have a good reputation to lose. 😉
But afterwards we were smarter. In addition to herring, the industrially manufactured herring fillets in cream sauce usually consist of cream, yogurt, mayonnaise (hidden as rapeseed oil and egg yolk), onion, cucumber, apple and a few spices. And that's exactly what we used to mix our cream sauce for the vegan herring. We used the fully plant based alternatives, of course. In any case, we are more than satisfied with the result. And now we're going to get another plate.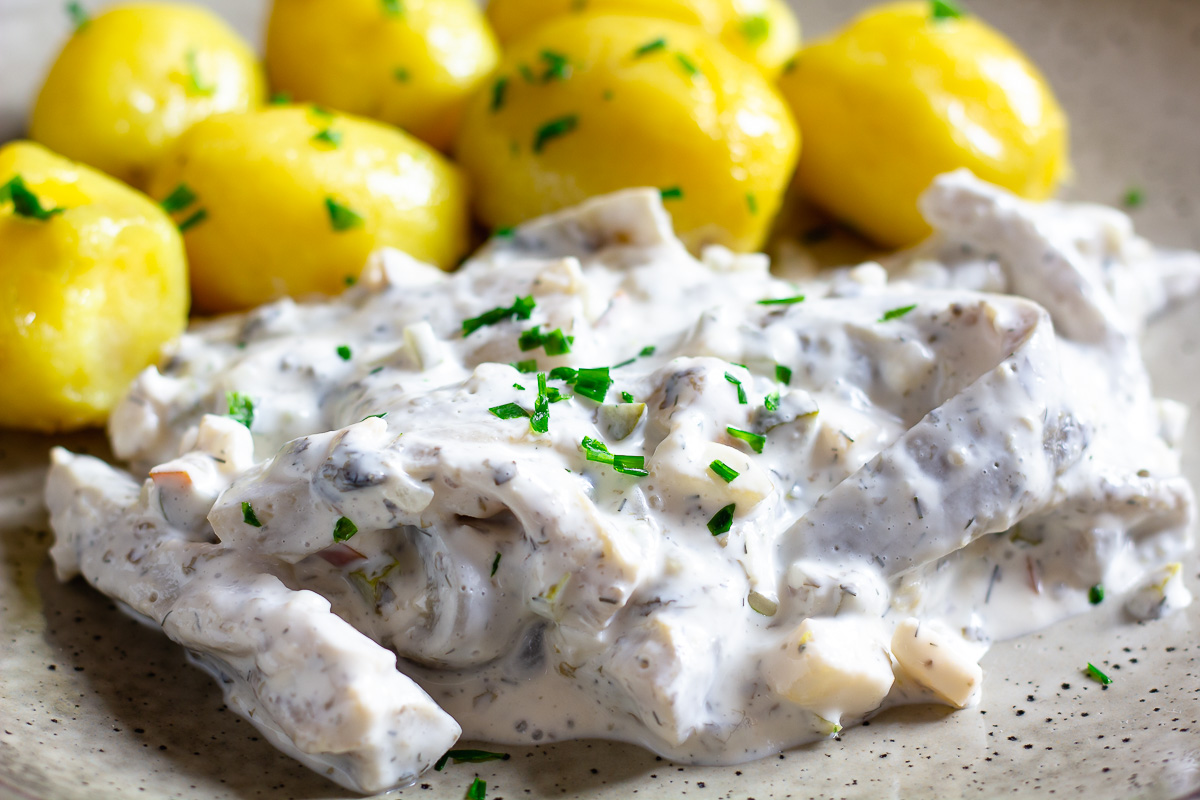 Vegan Pickled Herring in Cream Sauce
Ingredients
Eggplant Herring
450

g

eggplant

1

sheet

nori seaweed

2

tbsp

apple cider vinegar

1

tbsp

salt

250

ml

gherkin pickle juice

250

ml

water
Cream sauce
1/2

onion

1/2

apple

,

sour

50

g

gherkins

100

g

vegan yogurt

100

ml

vegan cream

4

tbsp

vegan mayonnaise

1

tsp

dill

,

chopped

2

tbsp

gherkin pickle juice

Salt + pepper
Preparation
Peel the aubergine and cut into approx. 1/2 cm thick slices. Then cut some smaller "fish fillet pieces" from these as desired.

Put water, gherkin pickle juice, salt, apple cider vinegar in a saucepan. Roughly tear the nori seaweed in pieces and add. Bring everything to a boil. Add the eggplant pieces and simmer for 5 minutes at medium temperature. Let cool in the stock until they are no longer hot. The longer the eggplant steeps, the more flavor it has.

Peel and finely chop the onion. Finely dice the apple and pickles. Mix all ingredients of the cream sauce. Remove the cooled down eggplant pieces from the stock and add them to the cream sauce. For a particularly fishy taste, stir in some of the nori pieces as well. Season with salt and pepper and let it steep in the refrigerator, ideally overnight.
Notes
We like to serve boiled potatoes with the vegan herring in cream sauce.
Song of the recipe:

Hundreds are an electropop band from Hamburg and therefore fit perfectly with this dish from the North of Germany, which combines the past (traditional food) and the future (plant-based diet).
(Would you like to listen to all the songs for the recipe? Find them collected in one playlist here)