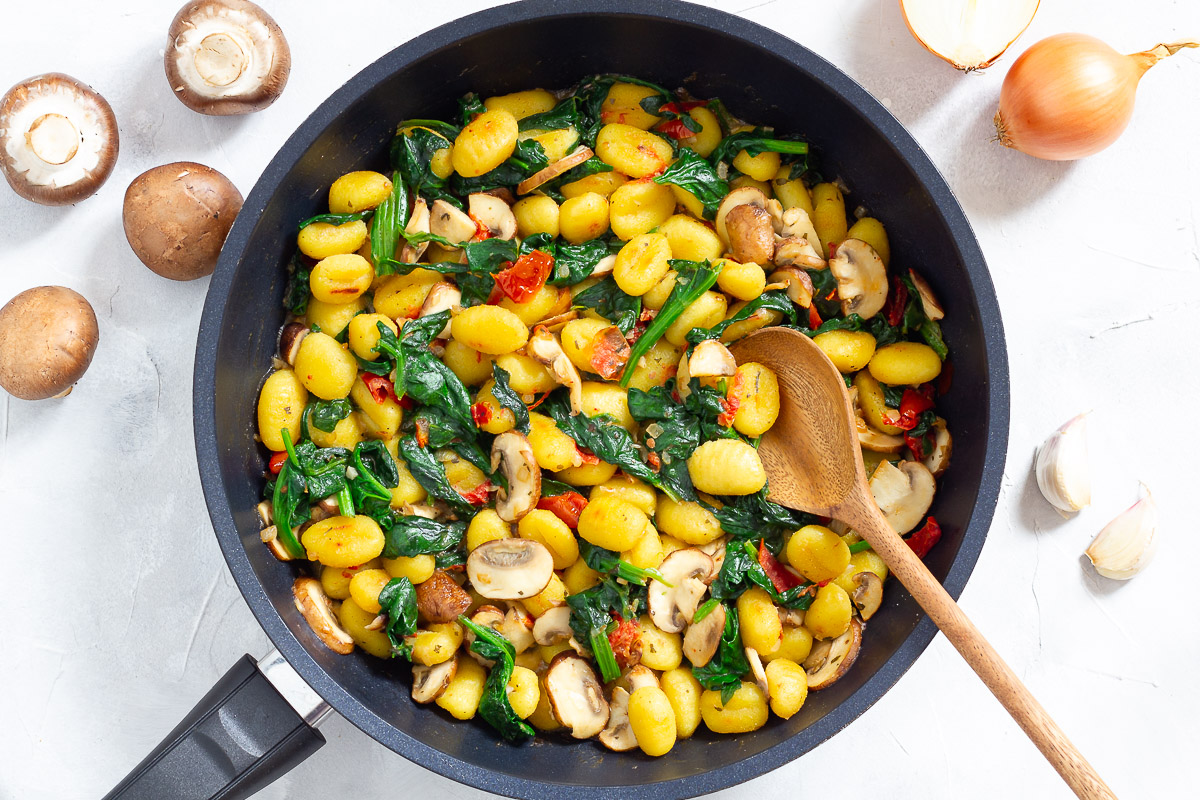 These vegan pan fried gnocchi with spinach and mushrooms are really quick to prepare. Because we just use store-bought gnocchi for this. If you want, you can of course also make the Italian potato dumplings yourself. But especially on weekdays dinner should be ready in no time. Same for us. That's why we take ready-made gnocchi and pimp them with delicious vegetables.
Most of the gnocchi, that can be bought in supermarkets and organic markets, are without eggs and dairy products and are therefore vegan. In addition to mashed potatoes, the main ingredients are usually just a little flour, potato or corn starch and/or semolina. It is best to check the ingredients list for animal products again before buying though.
Our pan fried gnocchi also features onions, garlic, spinach, mushrooms, dried tomatoes and a good dash of oat cream. Nowadays it is available in almost every supermarket, mostly under the name oat cuisine. The alternatives made from soy, rice and the like work just as well, of course. But the one from oats is the most sustainable version. Finally, the pan fried gnocchi are seasoned with salt, pepper and nutmeg and the food is ready to be put on the table. Easy peasy!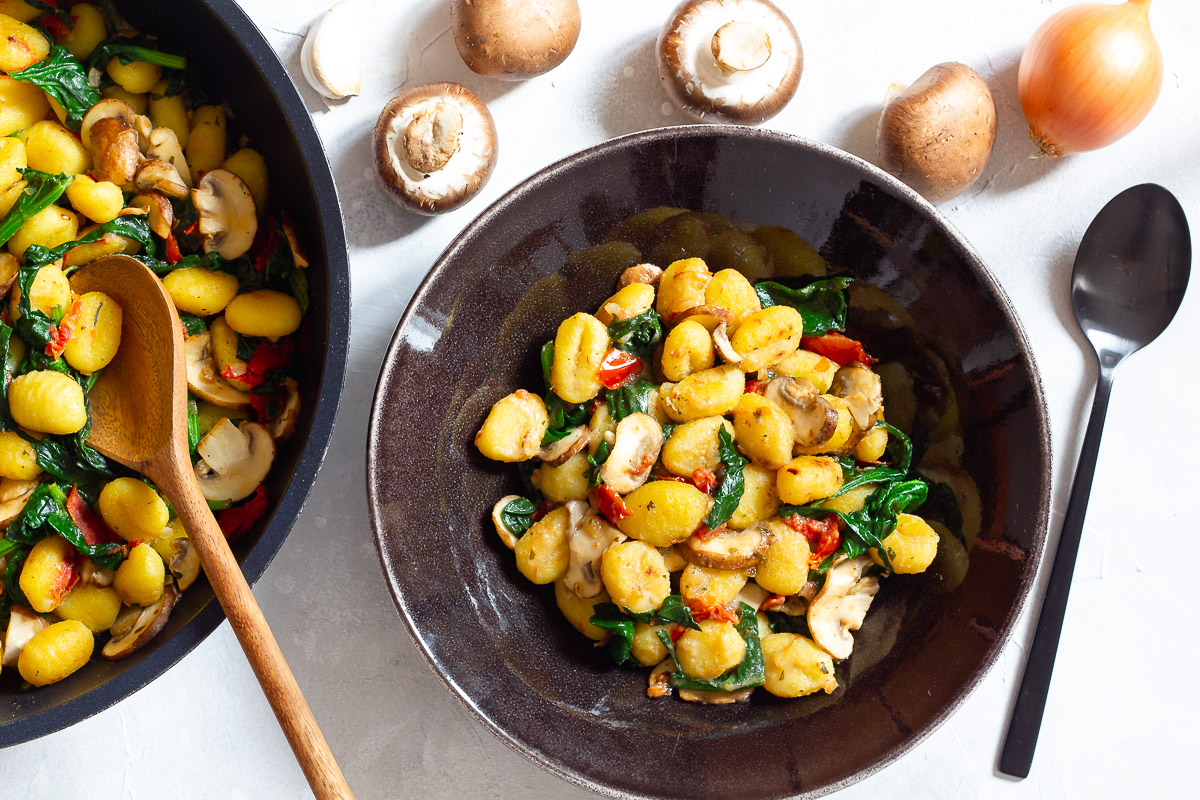 Vegan Pan Fried Gnocchi with Spinach & Mushrooms
Ingredients
400

g

vegan gnocchi

100

g

spinach

175

g

brown mushrooms

150

ml

oat cream

65

g

dried tomatoes

,

in oil

1

clove

garlic

1/2

onion

olive oil

1

pinch

nutmeg

,

ground

salt + pepper
Preparation
Peel and finely chop the onion and garlic. Cut the mushrooms into thin slices. Cut the dried tomatoes into strips. Roughly tear the spinach in pieces.

Heat a good dash of olive oil in a large pan. Fry the gnocchi from all sides. Remove.

If necessary, add a little more olive oil. Add the onions and sauté. Add the mushrooms, sun-dried tomatoes and garlic and fry briefly. Add the spinach and let it shrink a little bit. Add the gnocchi and cream and briefly heat everything once.

Season to taste with salt, pepper and nutmeg before serving.
Song of the recipe:

One of my favourite catchy tunes of the last months. And maybe these vegan pan fried gnocchi are "the best you ever had" as well. 😉
(Would you like to listen to all the songs for the recipe? Find them collected in one playlist here)