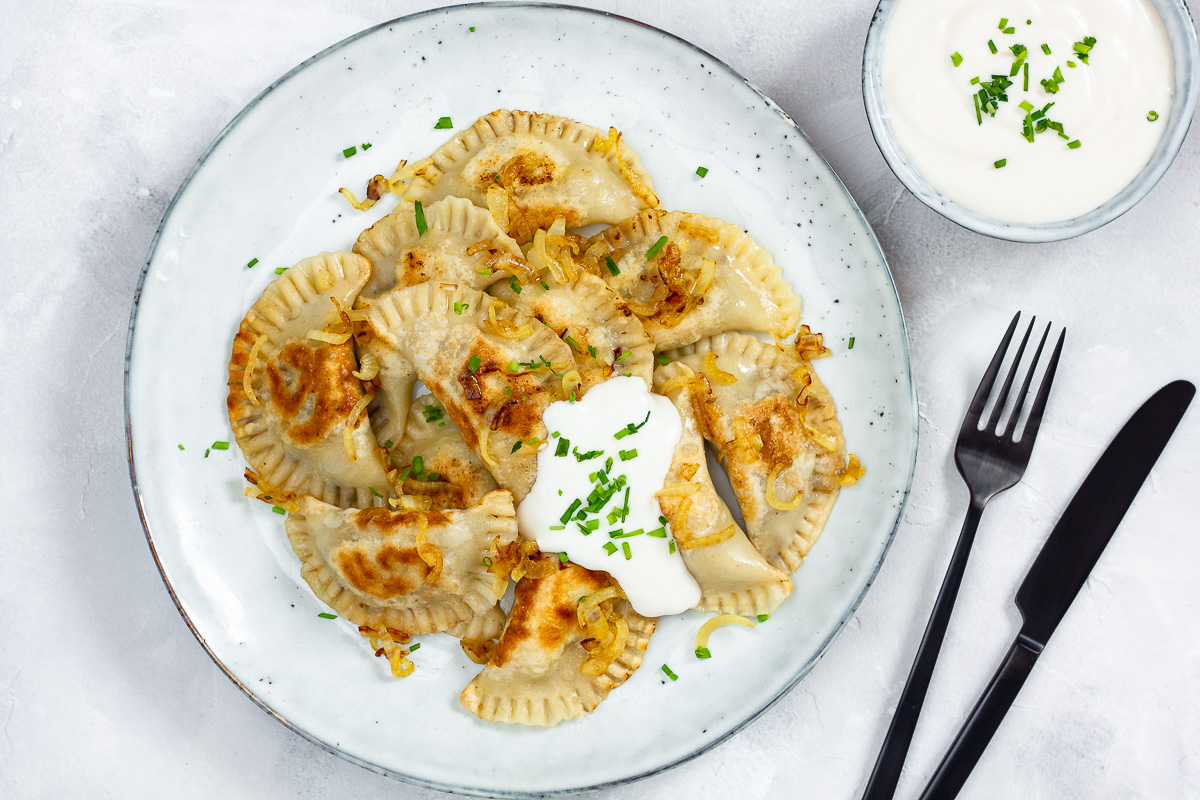 Just between us: Filled dumplings are always really delicious, aren't they? Whether Italian ravioli, Japanese gyoza, Argentine empanadas, Swabian ravioli or the Polish pierogie that are on our table today. We love them all. What the dough packets still have in common: They are a little more complex to prepare than many other dishes that we put on the blog. These vegan pierogie with mushroom and sauerkraut filling are unfortunately no exception. But the effort is worth it. Promised!
For the pierogi, a dough must first be kneaded from flour, water, oil and salt. Then it's the turn of the mushroom, sauerkraut and onion filling. After that a vegan sour cream is quickly mixed. Now the dough has been allowed to rest long enough and is ready to be rolled out and cut out. Each dough circle is then filled, folded and sealed. The finished dumplings can now briefly jump into the hot water bath and, depending on your mood, additionally crunch up in the pan. Almost there. Now sauté a few onion rings (or simply replace them with purchased fried onions) and then you can finally munch.
We have to admit, this dish is not something you pull out of a hat after a long day at work. However the pierogi are ideal as a special weekend meal. Folding and closing the dumplings can have a calming effect. Or you can use the dish as a reason to finally invite a few friends over again. So you can split up the work and by the time you've told each other the latest shit, the food is already on the table. A warm soup as a starter or a salad with it and the modest Polish dumplings turn into a real feast.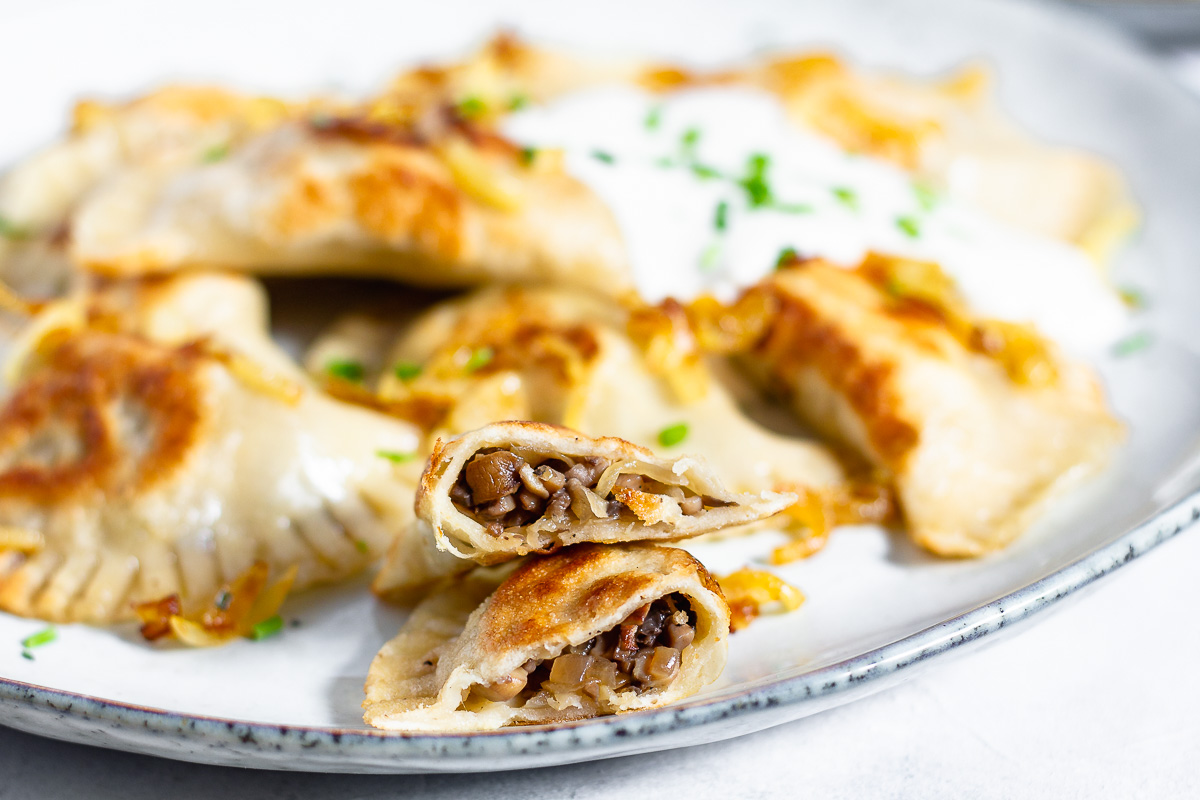 Vegan Pierogie with Mushroom Sauerkraut Filling
Ingredients
Dough
300

g

wheat flour

1/2

tsp

salt

175

ml

water

,

warm

1

tsp

olive oil
Filling
200

g

mushrooms

100

g

sauerkraut

1

onion

salt + pepper

vegetable oil
Vegan Sour Cream
100

g

vegan quark

100

g

vegan cream cheese

1

tbsp

apple cider vinegar

1

pinch

salt
For Serving
1

onion

vegetable oil

chives

,

chopped
Preparation
Knead the ingredients for the pierogi dough in a bowl for a few minutes to form a smooth dough. If the dough is too crumbly, add a little more water. If it is too sticky, add a little more flour. Let it rest covered.

In the meantime, finely chop the onion and mushrooms. Sweat in a pan with a dash of vegetable oil at a relatively high temperature for about 3 minutes. Take the pan off the heat, add the sauerkraut and season everything well with salt and pepper.

Mix the ingredients for the vegan sour cream.

Roll out the dough about 1 mm thick on a floured work surface. Cut out round circles with a large glass. The dough should be enough for about 24 pierogie. Place 1 teaspoon of the filling in the middle, fold one half of the dough over the other, first press the edges well with your fingers and then again with the back of a fork.

Bring salted water to a boil in a large pan. Turn down the heat so that the water is no longer boiling. Add the pierogi in two portions (depending on the size of your pot) and let them cook for about 4-5 minutes until they float on the surface. Take out and drain.

Quarter the onion and cut into thin slices. Fry until golden in a pan over medium to high temperature with a little vegetable oil.

Fry the pierogi if you like. To do this, heat a dash of vegetable oil in a pan and brown the pierogie on all sides at a relatively high temperature.

Serve the pierogie sprinkled with fried onions and chives. Eat with the vegan sour cream.
Song of the recipe:

Modern Polish folk music. Sounds strange, but that's what it is.
(Would you like to listen to all the songs for the recipe? Find them collected in one playlist here)