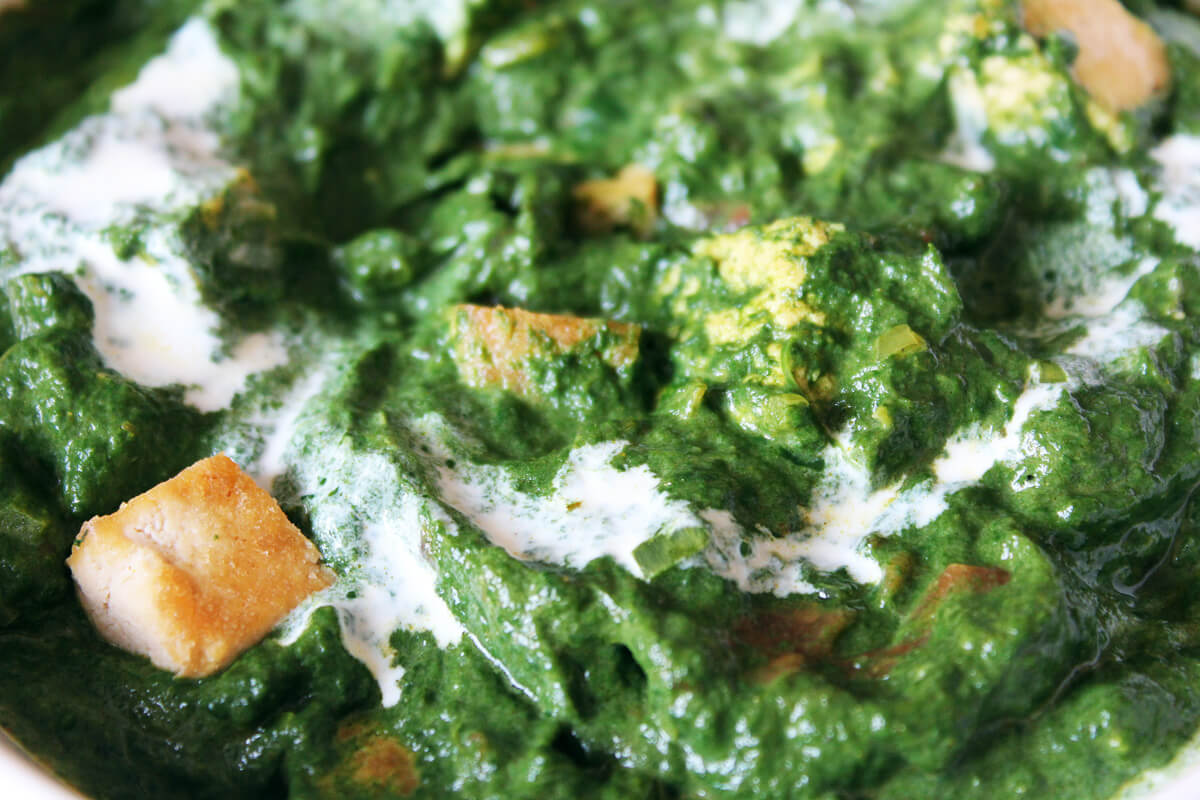 Palak tofu is the quick and easy vegan version of the Indian dish palak paneer. The original is basically spinach with some kind of Indian fresh cheese. We use fried tofu pieces instead and let them sink into the creamy spinach sauce, which has a lot of punch because of the roasted spices. A true explosion of flavours without being too hot or seasoned too much in any way. We recommend not to omit any of the five spices. They are all needed to create the full-bodied, intense flavour. We learned the palak paneer recipe, which served us as a base, a couple of years ago in an ayurvedic cooking class from an Indian chef. Consequently, our vegan version with tofu is pretty authentic. Trust us!
To keep the wonderful bright green colour of the fresh spinach, we blanch it just a little bit and then rinse it with cold water. Alternatively you can just chop the spinach and add it directly to the spices in the pan, but it will quickly darken a bit or get brownish. Of course it still will taste great. Like this you can prepare the dish also perfectly outside of the spinach season with frozen spinach. And once you have bought the spices, palak tofu will basically be a perfect dish for when you don't feel like leaving the house to go grocery shopping. Just get the tofu and onion out of the fridge as well as the spinach out of the freezer and the other ingredients are already desperately waiting in the storage cupboard and the spices drawer to get going.
Oh, and if you want it even more authentic: paneer can be made vegan from scratch based on soy milk as well. But we'll show you that another time and start munching palak tofu now.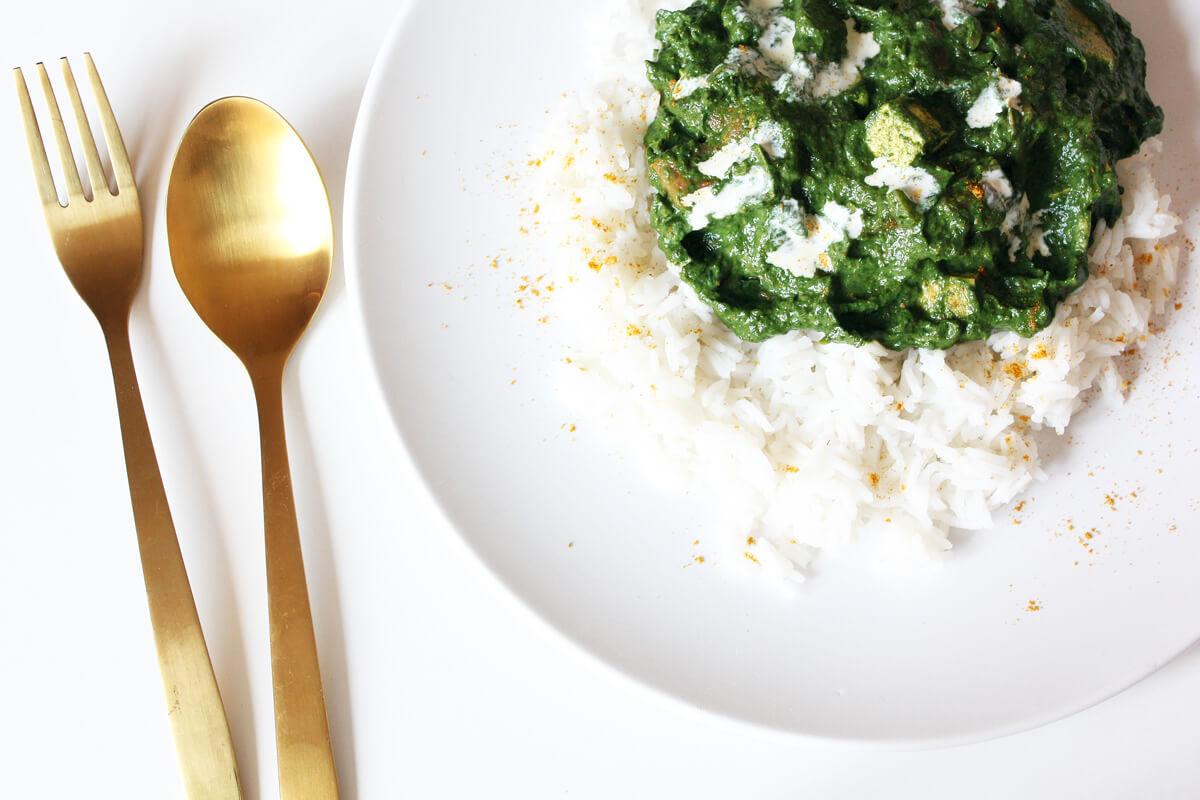 Palak Tofu – Indian Spinach Curry With Tofu
Ingredients
200

g

tofu

500

g

spinach

,

fresh

1/2

can

diced tomatoes

,

equals 200 g

100

ml

vegan cream

1

onion

,

small

2

cloves

garlic

1

tsp

cumin powder

1

tsp

turmeric powder

1

tsp

chili powder

1

tsp

coriander powder

1

tsp

garam masala

6

tbsp

vegetable oil

salt + pepper
Preparation
Dice the tofu into bite-sized pieces. Fry in a pan with 2 tbsp vegetable oil from all sides until lightly browned. Take it out of the pan and set aside.

Blanch the spinach in a pot with boiling salt water for about 2 minutes. Drain and rinse with cold water (some ice cubes can help you here). Allow the spinach to drip off for a short moment and then blend it.

Finely dice the onion and garlic cloves. Heat the remaining 4 tbsp of vegetable oil in the pan and fry the cumin powder on medium heat for 1 minute. Add onion and garlic. After another 2-3 minutes add turmeric, coriander and chili and keep frying. Pour in the diced tomatoes, spinach as well as the cream and heat it all up while stirring.

Season the spinach curry with salt and pepper, fold in the fried tofu cubes and sprinkle with garam masala on top. Serve with rice, chapati or naan bread.