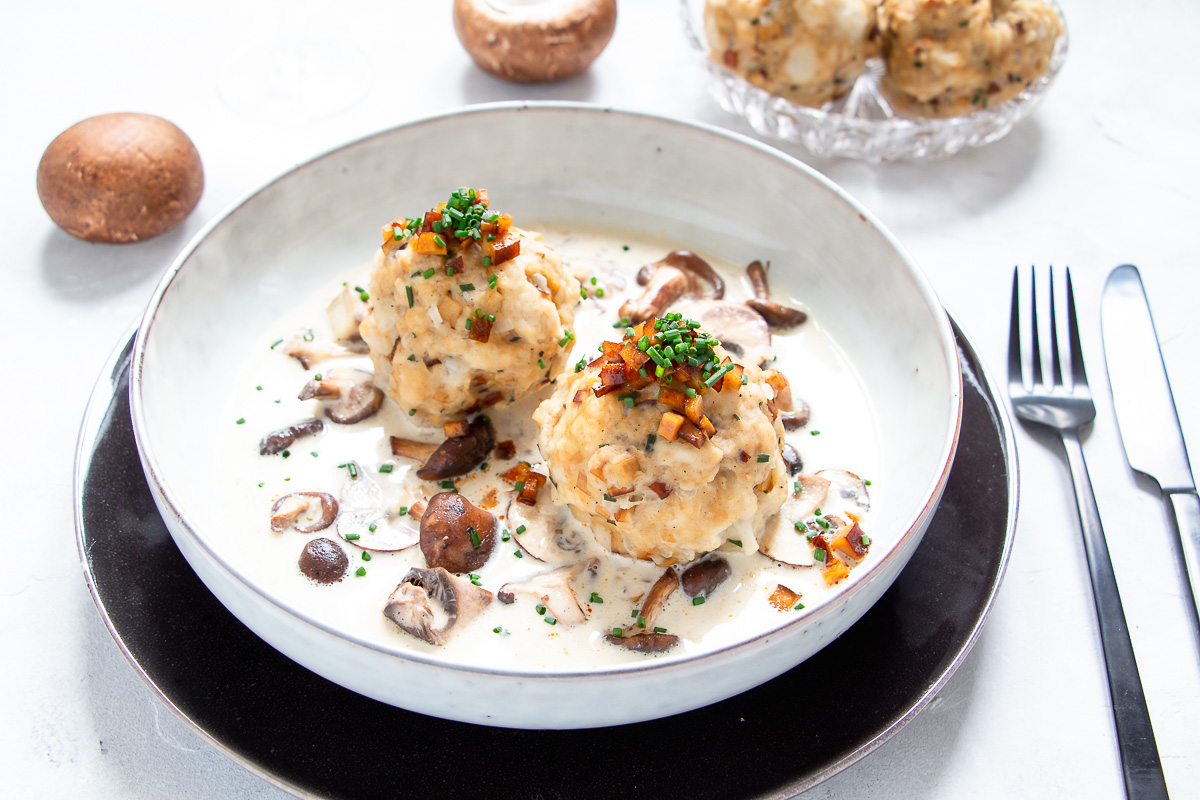 Tyrolean or South Tyrolean bacon dumplings are bread dumplings into which bacon cubes are incorporated. They are often served with broth or sauerkraut as a side dish. Both are definitely delicious. We think the combination of bacon dumplings and mushroom sauce as a full main course is a tick better. That is why we also serve our vegan Tyrolean bacon dumplings with a tasty mushroom and cream sauce.
And with this hearty recipe, we are now really starting the autumn and winter season on the blog. A light summer meal definitely looks different. But when it rains outside and feels like it's dark all day, such a hearty dish can put a big smile on our faces. Also because dumplings in all forms for us as southern Germans somehow automatically carry a feeling of home.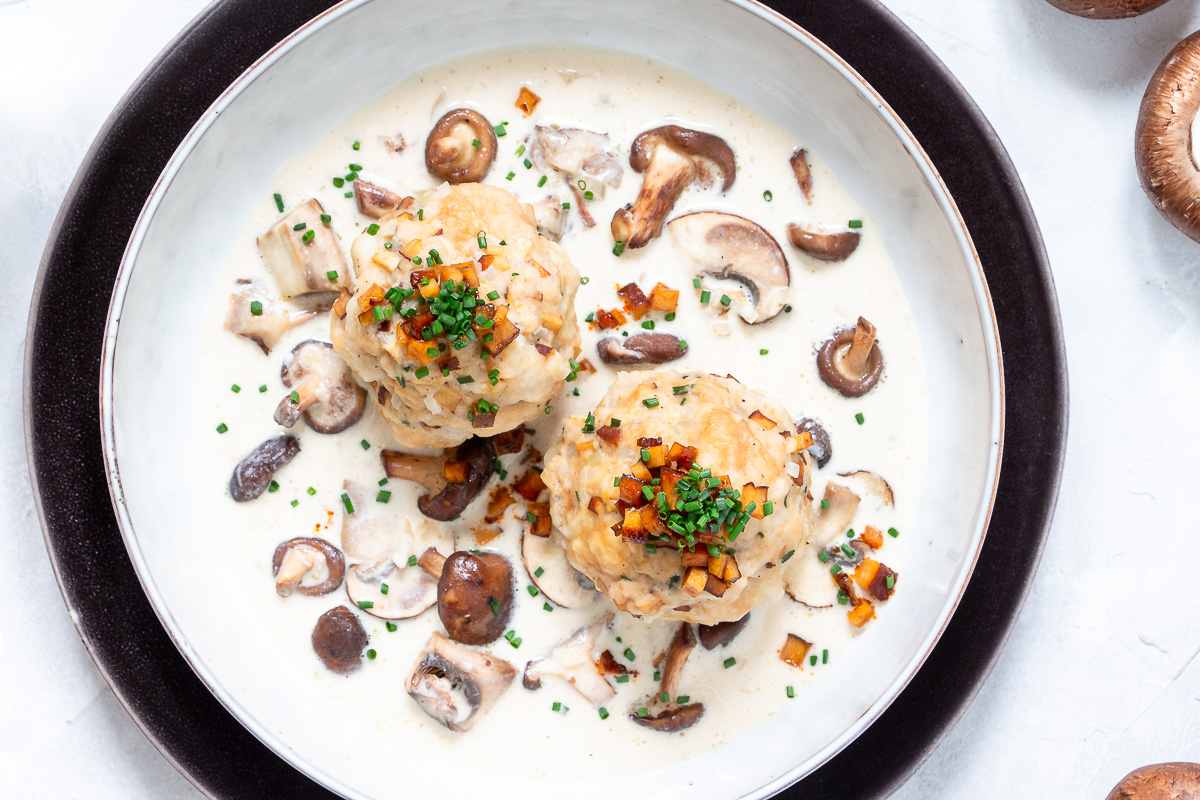 Vegan Tyrolean Bacon Dumplings with Mushroom Cream Sauce
Ingredients
Vegan Bacon Dumplings
225

g

stale bread rolls

300

ml

soy milk

1

onion

3

tbsp

chives

,

chopped + some more to serve

2

tbsp

soy flour

,

or egg substitute powder

1/3

tsp

nutmeg

,

ground

175

g

smoked tofu

1.5

tbsp

soy sauce

1/3

tsp

liquid smoke

1/3

tsp

smoked paprika powder

Vegetable oil
Vegan Mushroom Cream Sauce
300

g

mushrooms

,

mixed

1/2

onion

1

clove

garlic

250

ml

vegan cream

100

ml

white wine

100

ml

mushroom stock

,

alternatively vegetable stock

Salt + pepper

Vegetable oil
Preparation
Vegan Bacon Dumplings
Mix the egg substitute powder or soy flour with a dash of soy milk until smooth and allow to swell. Cut the old bread rolls into small cubes and place in a large bowl.

Finely dice the onion and sweat briefly in a pan with a dash of oil. Add to the bread rolls.

Finely dice the smoked tofu and fry in the pan with a dash of oil. As soon as the tofu cubes become crispy, deglaze with soy sauce and liquid smoke, season with paprika powder and mix well. Add about 3/4 of the tofu cubes to the bowl with the bread. Put the rest aside so that you can put them over the dumplings at the end.

Now pour the rest of the soy milk into the pan and heat it up briefly. Pour over the bread cubes and let them soak for 10-15 minutes. The mushroom and cream sauce can now be prepared.

Then add the egg substitute and chives to the mixture, season everything with salt, pepper and nutmeg and knead well. Shape 4-6 round dumplings from the mixture with wet hands, depending on the desired size.

Cook the bacon dumplings in a large saucepan with simmering (not boiling!) salted water for about 15-20 minutes at a low temperature with the lid closed. Take out, sprinkle with the remaining tofu cubes and some chives and serve with the mushroom and cream sauce.
Vegan Mushroom Cream Sauce
Cut the mushrooms into bite-sized pieces. Sear in a large pan with a dash of vegetable oil over a high temperature for about 1-2 minutes. Remove.

Finely dice the onion and garlic. Reduce the temperature of the pan to medium heat. Put some more oil in the pan and sweat the onions for a few minutes until they are translucent. Add the garlic. After about 30 seconds, deglaze with the white wine. Let it boil down briefly.

Add vegan cream and mushroom stock (or vegetable stock) and simmer for 4-5 minutes. Before serving, add the mushrooms again and season with salt and pepper.
Notes
A cheaper option for store bought mushroom stock is the soaking water of dried mushrooms.
Song of the recipe:

A beautiful, but also sad song, which is about male, sexually assaulting behavior and is based on a true story. As the singer herself once explained at a concert, the chorus line "you should get out of town too" would have been the perfect answer to this behavior, which unfortunately didn't came to her mind in the situation itself, but only later.
(Would you like to listen to all the songs for the recipe? Find them collected in one playlist here)