Kumpir is the Turkish version of a baked potato or jacket potato. Usually potatoes are prepared in specially designed kumpir ovens, where the potatoes can be cooked and kept warm afterwards. We'll show you today, how you can easily prepare tasty vegan kumpir at home in your regular oven.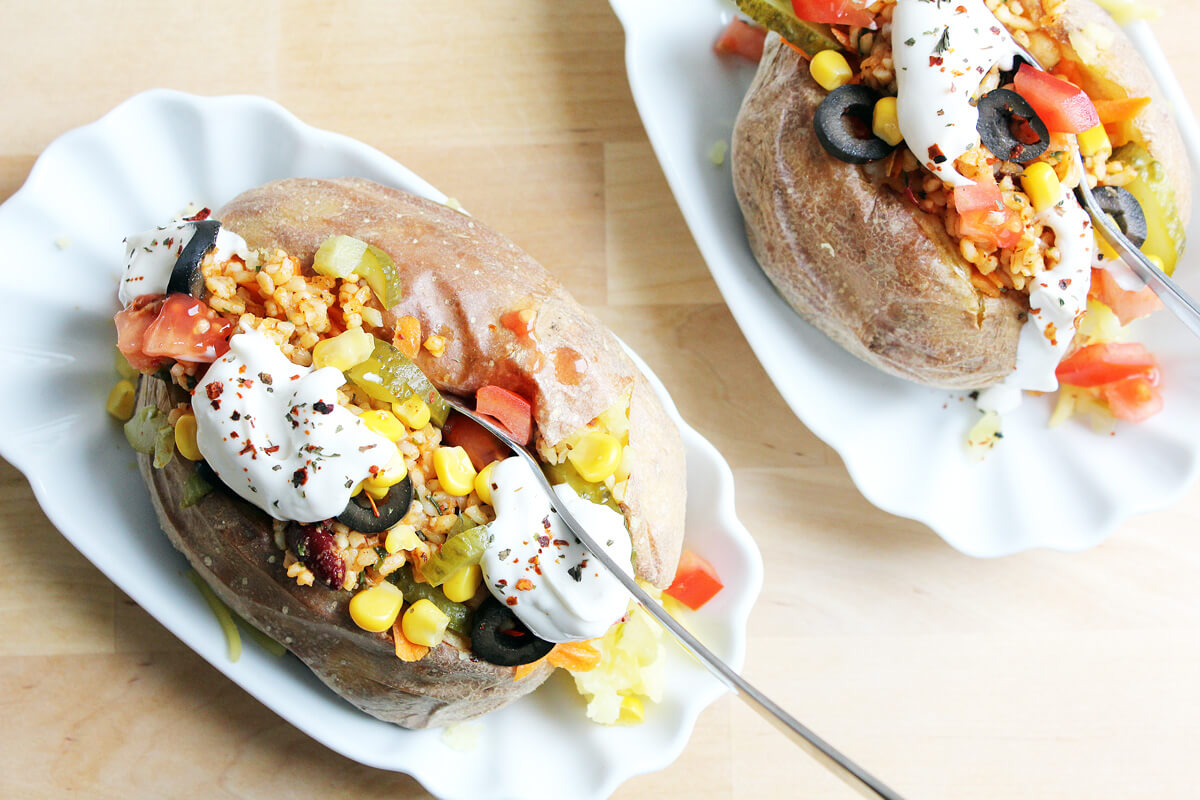 Important for good kumpir is first of all the right potato. It should be huge, at least 400 grams. If you can't find such big potatoes, you can use smaller ones or alternatively use sweet potatoes. The kumpir will of course have a different taste then, but it will be tasty as well. It's also important to loosen the inside of the potato after baking. It works best with starchy potatoes. Mixed with vegan butter and cheese the inside of the potato is transformed into some kind of potato mash.
Afterwards different toppings are added to the kumpir. Clasically different meze (Turkish appetisers), salads and sauces are combined. But imagination knows no boundaries and you can basically scoop on your potato whatever you desire.
By the way, the word kumpir goes back to the old German term Krumbeere, which is an old Palatine and Rhine-Hessian word for potato. Today the baked potato from Turkey takes over fast food outlets and street food markets in Germany.
VEGAN KUMPIR
Ingredients for 2 servings (about  1,50 Euros each):
2 huge (preferably starchy) potatoes, each min. 400 g
2 tbsp vegan butter or olive oil
2 tbsp vegan grated cheese
salt
TOPPINGS OF CHOICE
olives
tomatoes
gherkins
corn
bulgur salad
carrot salad (recipe see below)
vegan sour cream (recipe see below)
…
SIMPLE CARROT SALAD
1 carrot
2 tbsp olive oil
1 tsp lemon juice
salt
QUICK VEGAN SOUR CREAM
100 g vegan cream cheese
2 tbsp soya yogurt
1,5 tbsp lemon juice
Preparation
1. Wash the potatoes with skin and cut centrally into the side, that should be on top later on. This prevents the potato skin from bursting in other unwanted places. Bake the potatoes in the oven on 200 degrees for about 60-70 minutes.
2. In the meantime you can prepare all the toppings. For the carrot salad finely shred the carrot and mix with olive oil, lemon juice and a pinch of salt. For the vegan sour cream mix all the ingredients well.
3. When the potatoes are cooked, take them out of the oven, cut them open lengthwise from the top and loosen the inside with a spoon or a knife. Add vegan butter, vegan grated cheese and a pinch of salt and mash and stir the inside, until you have something like a mash inside the potato.
4. Now just add toppings of your choice to the potatoes. Vegan kumpir is ready!