Unfortunately during winter you can't get so many fresh local vegetables in Germany as you can in summer. Different root vegetables and types of cabbage shape the seasonal calendar during the cold times of the year. The more important it is, to have some good recipes on hand for these ingredients. Therefore we present you a simple and quick recipe to prepare brussel sprouts: a tasty brussel sprouts chestnut pasta.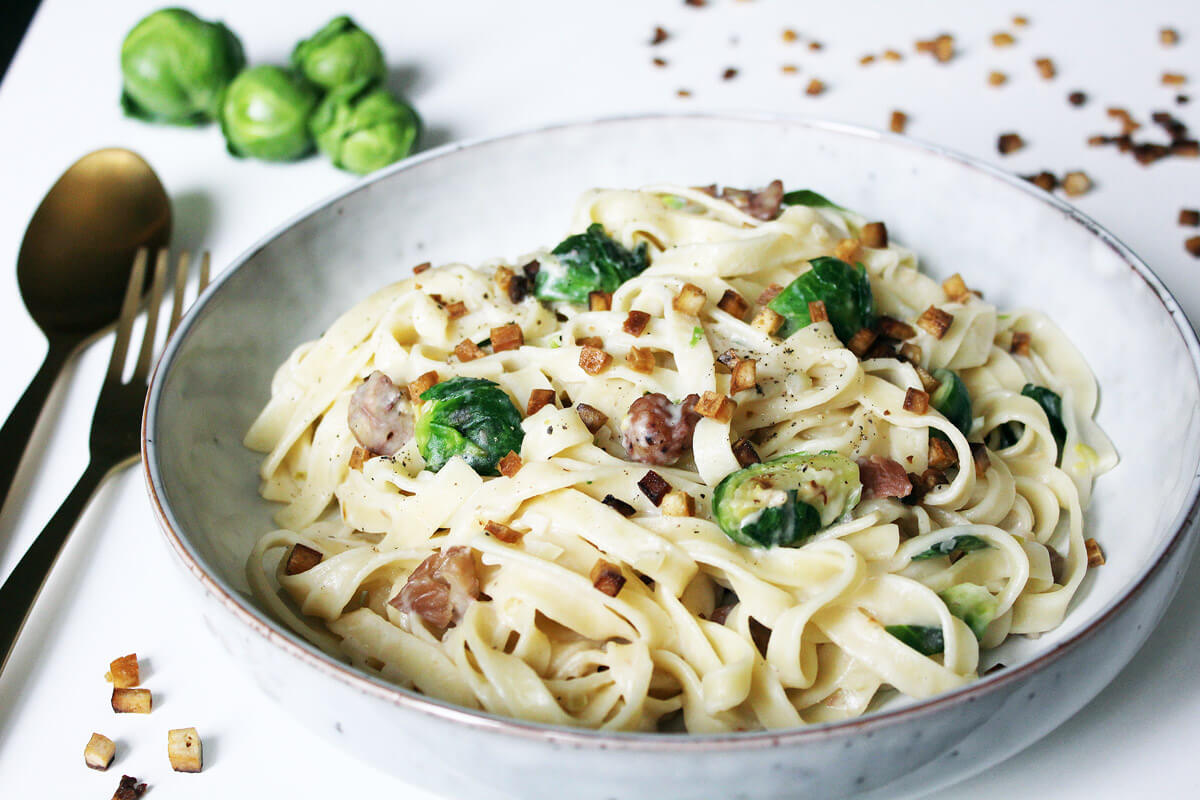 Brussel sprouts are again and again named under the heading "I don't like them". But often it's not about the basic taste, but about the wrong preparation. Just like for savoy cabbage or kale, it also applies for brussel sprouts: you don't have to cook it for hours until mushy. You can stir-fry brussel sprouts. And that's what we do today. For a winterly pasta delight we combine it with cooked chestnuts and a simple, creamy, vegan sauce. We added some smoked tofu cubes for the crunch in the mouth. Ready is the easy, healthy, cheap but most importantly cheerful winter dish.
BRUSSEL SPROUTS CHESTNUT PASTA
Ingredients for 2 servings (about  1,50 Euros each):
200 g pasta (e.g. tagliatelle or any other ribbon noodles)
250 g brussel sprouts
100 g chestnuts, cooked
50 g smoked tofu
1 garlic clove
1 shalott or ½ small onion
salt + pepper
SAUCE
3 tbsp white almond butter
100 ml soya milk
100 ml pasta cooking water
100 ml water
1 tbsp nutritional yeast
Preparation
1. Finely dice the smoked tofu and fry from all sides in a pan with a splash of olive oil until crispy. Put aside.
2. Cook the pasta according to package instructions in a large pot with salted water until al dente. Meanwhile whisk the ingredients for the sauce until smooth.
3. Clean the brussel sprouts, cut into quarters and fry in the pan with another splash of olive oil on medium high heat for about 4 minutes. Finely dice onion and garlic, add to the pan and fry for another 1-2 minutes.
4. Cut the chestnuts into bite-sized pieces and add them with the sauce to pan. Bring to a boil. Because of the pasta cooking water, the sauce should get thicker. If the sauce gets too thick, just add a little bit water. If it is too thin, let it boil for a moment. Season with salt and pepper.
5. Mix the pasta with the sauce and serve it sprinkled with the crunchy smoked tofu.