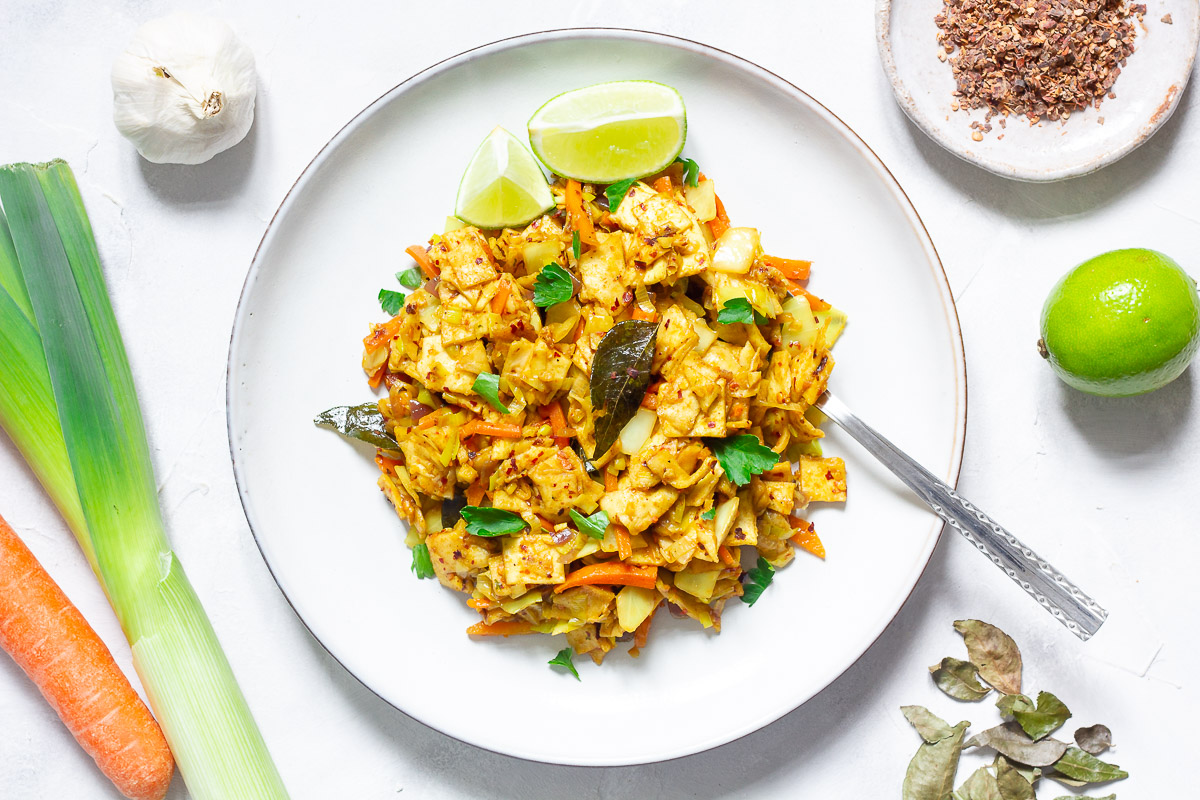 Avid readers of our blog will have noticed that Andi's culinary enthusiasm has been running high on his Sri Lanka Backpacking Trip 2019. Dhal, beetroot curry, coconut sambal and other delicacies have already made it onto the blog. And today, another recipe follows. It's vegan Kottu Roti.
Kottu Roti is an absolute street food classic in Sri Lanka, but is also popular in restaurants there. Fans of Indian cuisine will already be familiar with the term roti. It refers to a thin flatbread. Kottu Roti is Tamil and means chopped bread. What sounds very mundane at first is actually a mega delicious meal. And like almost everything in Sri Lanka, a real taste explosion. What's especially great about it is that, with the exception of a few spices, this dish can actually be prepared here in Germany all year round (even now in winter) with regional vegetables.
By the way, you don't have to make the roti bread yourself, and you don't have to hunt through tons of Asian grocery shops to find some. We made our vegan Kottu Roti with bought tortilla wraps made from wheat flour and can say: yes, even in this very simple version it comes damn close to the original.
And finally, a special tip for using leftovers: Kottu Roti is a perfect recipe for using up leftover curry or sauce. Simply add them to the vegetable pita bread mixture instead of the quick curry sauce given in the recipe.
Vegan Kottu Roti – Sri Lankan Streetfood
Ingredients
350

g

thin flatbread

,

e.g. roti, paratha or tortilla wraps

1

tbsp

ginger

,

chopped

2

cloves

garlic

1/2

red onion

1

carrot

150

g

white cabbage

1/2

leek

,

the white part

6-8

curry leaves

,

optional

salt + pepper

Coconut oil

,

or vegetable oil
Quick Curry Sauce
2

tbsp

chilli flakes

,

replace with a little paprika powder for a mild version

1

tbsp

curry powder

1/2

tsp

turmeric powder

250

ml

vegetable stock

,

or water

2

tbsp

soy sauce
Preparation
Stack the flatbreads on top of each other, roll them up together and cut them into thin rings. Turn them 90 degrees and cut into bite-sized pieces.

Mix the ingredients for the curry sauce together.

Finely chop the ginger and garlic. Dice the onion. Halve the leek and cut into thin half-rings. Cut the carrot and white cabbage into fine strips. Sauté the vegetables with a good dash of oil in a large frying pan over medium heat for a few minutes. Add the garlic, ginger and curry leaves (if using) and sauté briefly.

Add the flatbread and curry sauce (or your leftover curry / sauce) and stir-fry for another 2-3 minutes. Season with salt, pepper and a squeeze of lime juice before serving.
Song of the recipe:

The rapper M.I.A. grew up partly in Sri Lanka, where her parents are from. The song is a cover of an Indian Bollywood disco song.
(Would you like to listen to all the songs for the recipe? Find them collected in one playlist here)