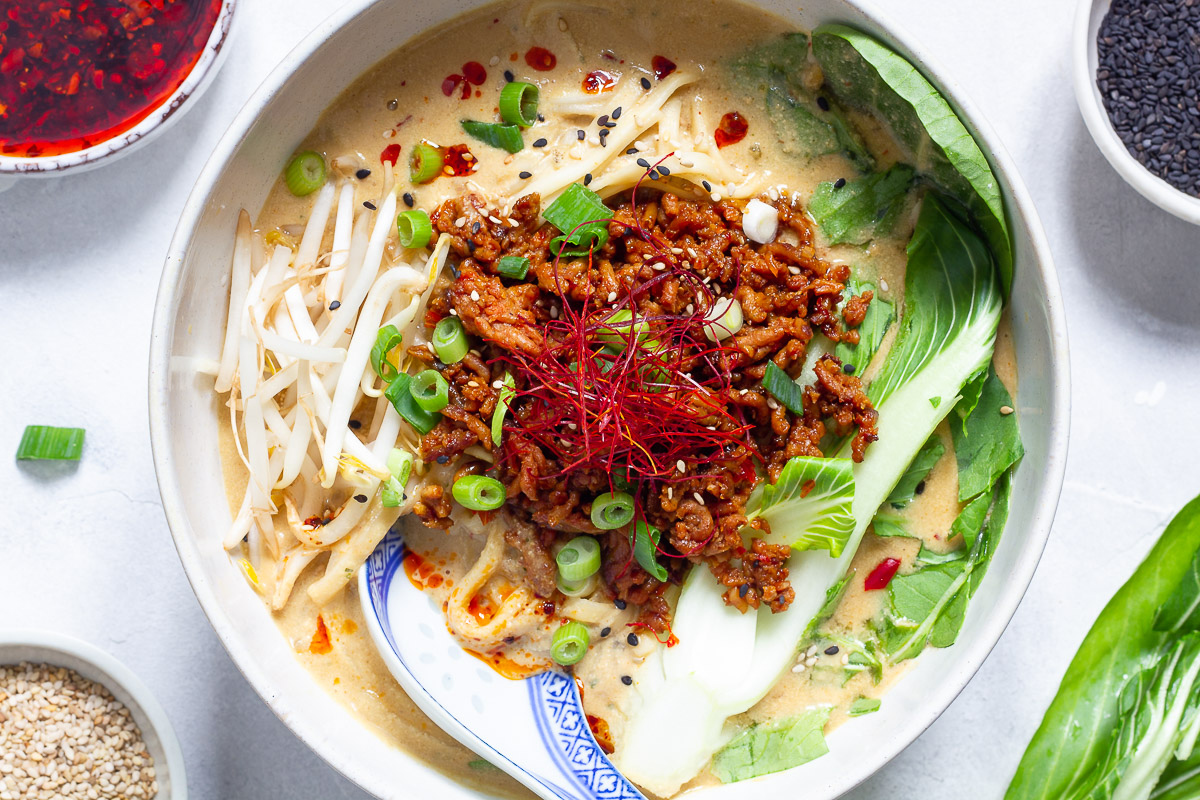 Time for vegan ramen. Time for a big bowl of hot, liquid happiness with noodles. And fortunately, it doesn't take very long to prepare.
Tantanmen ramen is a Japanese variation of the spicy dan dan noodles from the Chinese province of Szechuan. What is immediately noticeable about the dish is the extremely creamy broth. In addition to various spices, it contains both soy milk and sesame paste. Both are important for taste and consistency. As with the dan dan noodles, pak choi is the classic vegetable ingredient. Mung bean sprouts are also added. Everything is topped with spicy minced meat (vegan, of course), sesame seeds and spring onion.
A little fun fact on the side: there are now even Michelin-starred tantanmen ramen. At the Nakiryu restaurant in Tokyo, tantanmen is the signature dish.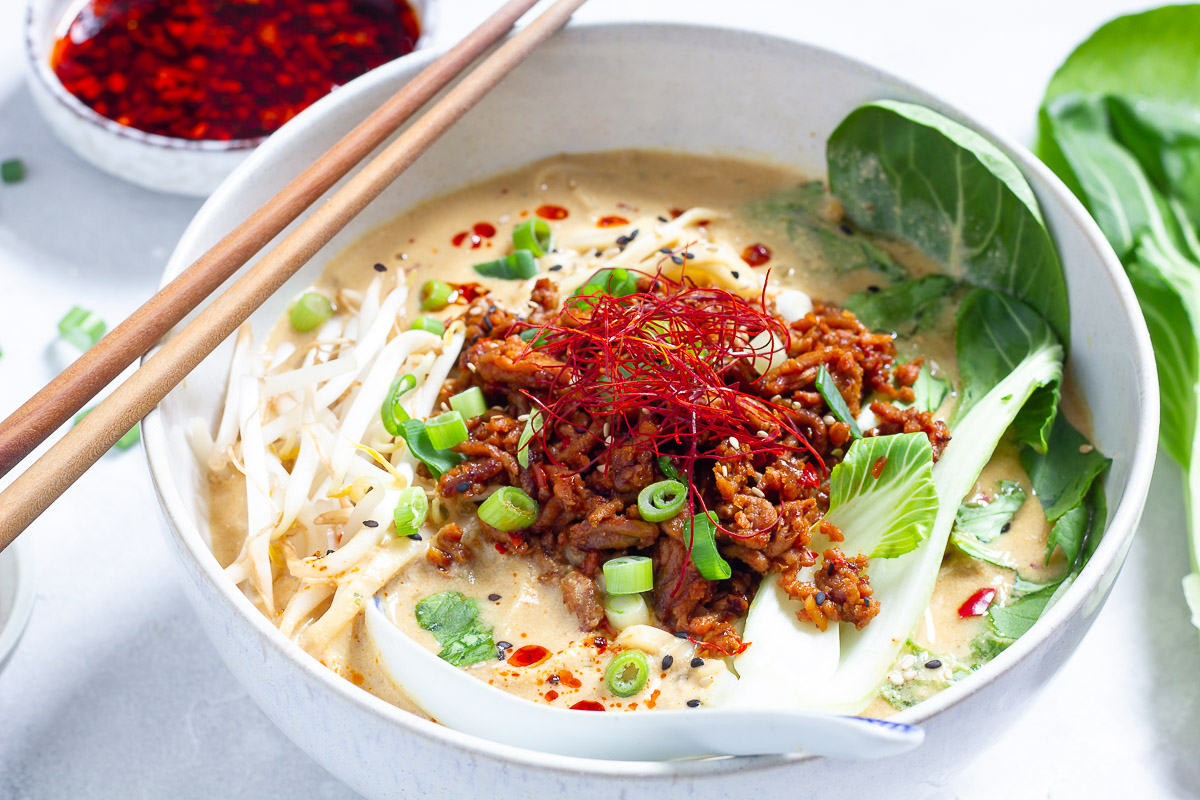 Vegan Tantanmen Ramen
Ingredients
Ramen Broth + Tare
600

ml

vegetable broth

250

ml

soy milk

3

tbsp

soy sauce

2.5

tbsp

tahini

1

tbsp

miso paste

1

tbsp

rice vinegar

1

tbsp

sugar

1

tbsp

Szechuan chilli oil

,

or Szechuan chilli crisp
Mince
200

g

vegan mince

,

alternatively crumbled tofu

1

tbsp

ginger

,

grated or finely chopped

1

clove

garlic

1

tbsp

chilli bean paste

,

alternatively Szechuan chilli crisp or simply a little more soy sauce

1

tbsp

soy sauce

vegetable oil
Other
250

g

ramen noodles

1

bok choy

60

g

mung bean sprouts

1

spring onion

2

tsp

sesame seeds
Preparation
Wash the bok choy and cut into quarters or sixths lengthwise, depending on the size. Bring water to the boil in a large pot. First blanch the sprouts and the bok choy for 1-2 minutes, remove and rinse with cold water. Then cook the ramen noodles al dente in the water according to the package instructions, drain and rinse with cold water.

Mix the ingredients for broth + tare well and heat slowly in a pot. The spicy stock should be nice and hot at the end, but not boiling.

Meanwhile, for the mince, finely chop the ginger and garlic. Fry them in a pan with a good dash of vegetable oil over medium heat for about 30 seconds. Add the mince and fry. Once it has taken on some colour on all sides, stir in the chilli bean paste and soy sauce.

Divide the noodles between 2 large ramen bowls. Pour in the hot broth. Arrange the soy mince, sprouts and bok choy on top. Serve sprinkled with spring onion and sesame seeds. Add more chilli oil or sauce to taste.
Song of the recipe:

Somehow I automatically associate slurping ramen with relaxed lofi beats. When they then include traditional Japanese sounds, everything really fits.
(Would you like to listen to all the songs for the recipe? Find them collected in one playlist here)