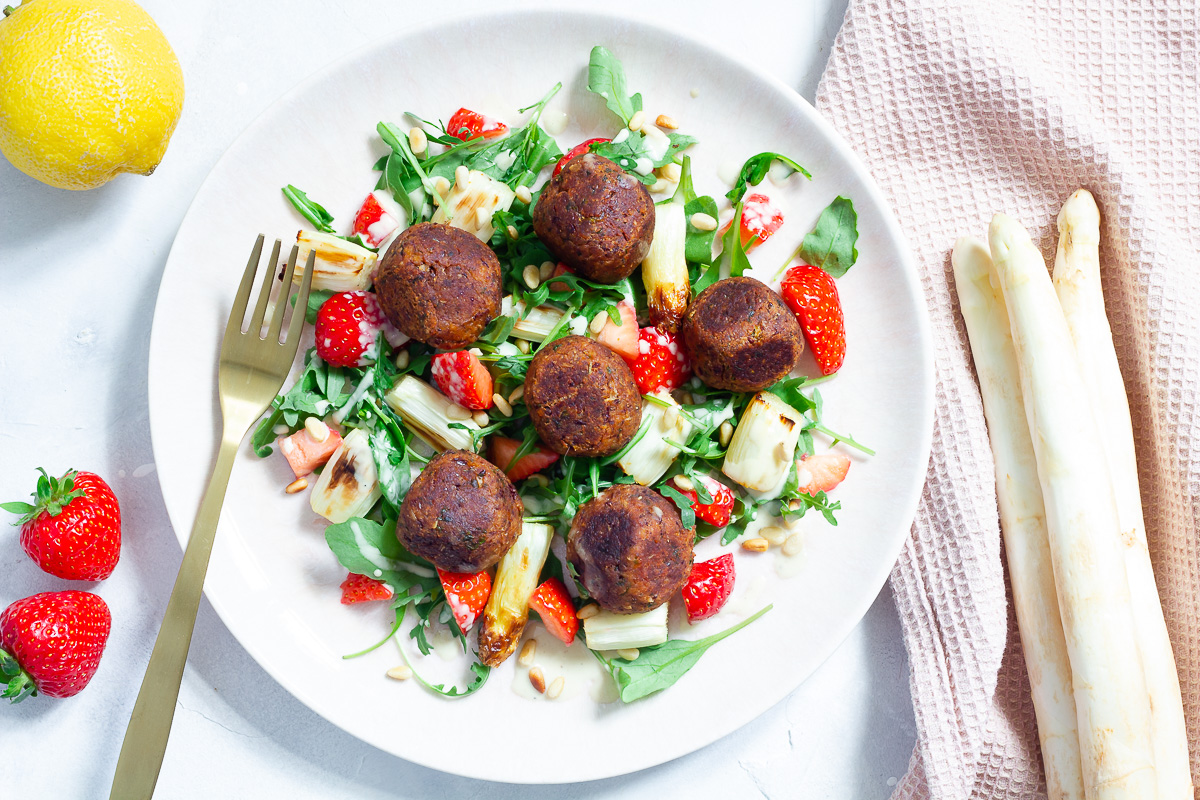 Today we are opening this year's asparagus and strawberry season on the blog. And to celebrate, we're making a delicious asparagus and strawberry salad with both ingredients. But as if that wasn't enough, we add some deliciously spiced bean and seitan meatballs, a.k.a. vegan kofta, on top and stir a quick tahini and lemon dressing. Ready is a fresh, seasonal dish with a slight oriental twist.
The vegan meatballs are seasoned with onion, garlic, tomato paste, parsley and the ras el hanout spice blend. They are then pan-fried and steamed to allow the added wheat gluten to cook through properly. If you prepare a quicker meatball version with bought vegan mince, you can of course skip the steaming step.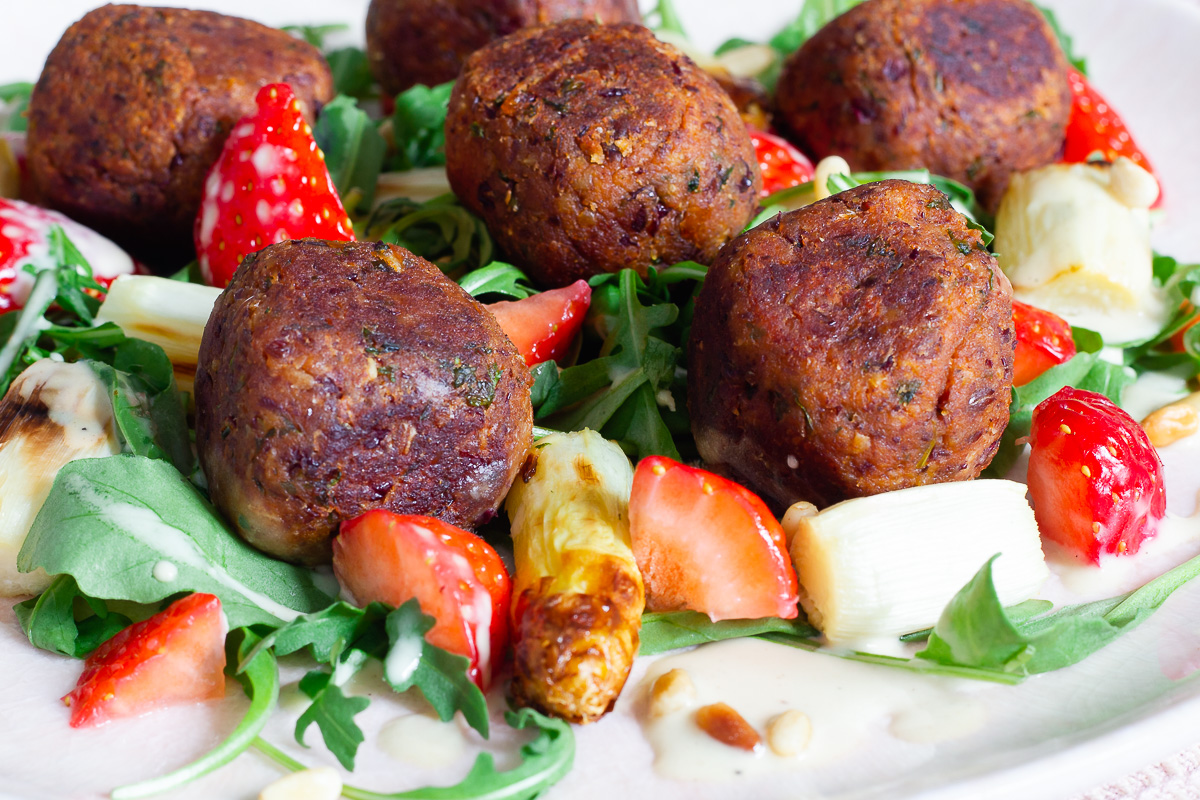 Vegan Kofta on Asparagus Strawberry Salad
Ingredients
Vegan Kofta
1

can

kidney beans

,

240 g drained weight

2

tbsp

flaxseed

50

g

rolled oats

1

onion

2

cloves

garlic

2

tbsp

tomato paste

10

g

parsley

1

heaped tsp

ras el hanout

50

g

vital wheat gluten flour
Asparagus Strawberry Salad
500

g

white asparagus

175

g

strawberries

30

g

arugula

10

g

pine nuts

2

tsp

olive oil

salt
Dressing
3

tbsp

tahini

5

tbsp

lemon juice

2

tbsp

olive oil

salt + pepper
Preparation
For the kofta, chop the onion, garlic, rolled oats and flaxseed in a food processor. Add kidney beans, tomato paste, parsley and ras el hanout. Mix everything well again, allowing the mass to remain slightly chunky. Add the mixture to the vital wheat gluten flour and knead briefly with your hands. Form about 14 small balls with slightly wet hands.

Preheat the oven to 200 degrees Celsius. Peel the asparagus and remove the woody ends. Cut into pieces approx. 3 cm long and mix with the olive oil. Season with a pinch of salt. Place on a baking tray lined with baking paper and cook in the oven for about 25 minutes. Turn halfway through.

Meanwhile, wash the arugula and strawberries. Cut the strawberries into bite-sized pieces. Depending on the size, tear the arugula into pieces. Whisk together the ingredients for the dressing and season with salt and pepper. Dilute with a little water to the desired consistency.

Roast the pine nuts in a pan without any oil and remove. Put a good dash of olive oil in the pan and fry the kofta on all sides until golden brown. Then pour 100 ml of water into the pan and let the balls steam with the lid on for about 5-6 minutes. Remove the lid, let the remaining water evaporate and fry the balls again on all sides until crispy.

Mix the asparagus, strawberries and rocket into a salad. Pour dressing and pine nuts on top. Place the vegan kofta on top and finally season everything with salt and pepper.
Song of the recipe:

The strawberry and asparagus salad definitely brings "summer on my mind".
(Would you like to listen to all the songs for the recipe? Find them collected in one playlist here)