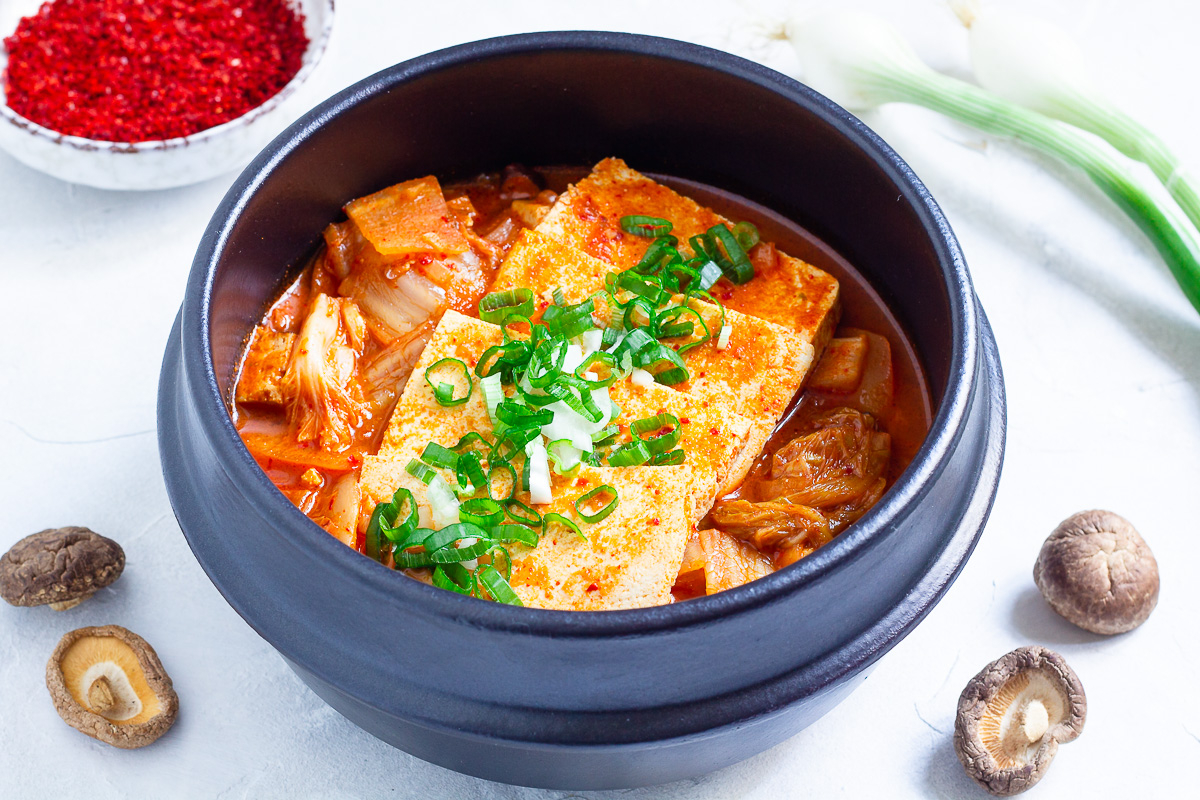 Kimchi is an indispensable part of the Korean diet. You may have heard that the fermented cabbage is served as a side dish with almost every meal in Korea. We, for example, serve kimchi quite often with the classic dish bibimbap.
But have you ever wondered what you can actually cook with kimchi? Today's recipe at least provides a little help. Kimchi jjigae is one of the best-known stews in Korea and, as the name suggests, is based on kimchi. And it is based on relatively old kimchi. If the cabbage tastes almost too sour on its own, it is perfect for the dish. In addition to the fermented Chinese cabbage, the fiery stew is made with tofu, smoked tofu, onions and shiitake mushrooms. Add a few spices and our vegan kimchi jjigae is ready.
The original dish is also served with tofu, but it is usually not vegan. Pork belly or tuna often end up in the pot. Smoked tofu and mushrooms give our kimchi stew at least as much flavour. And the most important flavourings are the kimchi itself and the Korean chilli paste gochujang, which can actually be found in any well-stocked Asian supermarket.
And finally, a little tip for those who like to save money: packaged kimchi is usually relatively expensive in Germany. We have also taken this into account when calculating the price per portion. However, kimchi can be made from Chinese or white cabbage quite cheaply.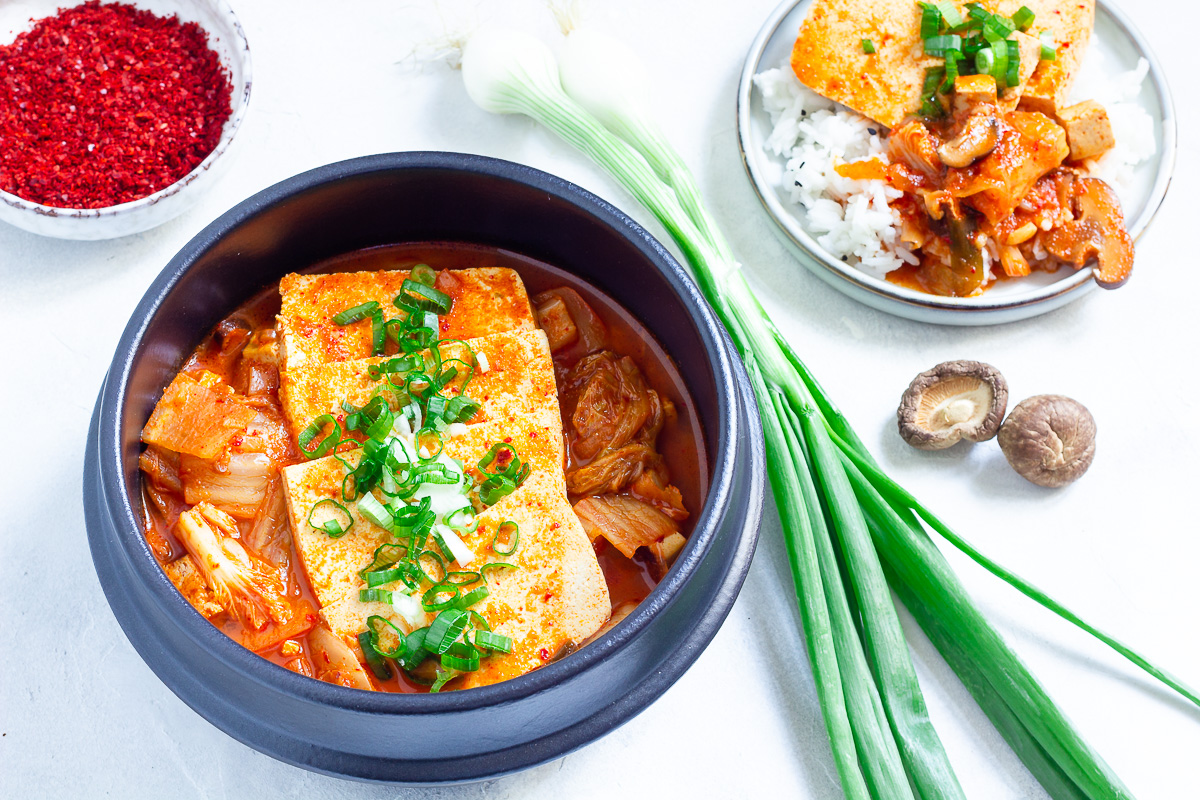 Vegan Kimchi Jjigae - Korean Kimchi Stew
Ingredients
Kimchi Stew
400

g

kimchi in its own juice

,

preferably several weeks old

200

g

tofu

100

g

smoked tofu

1

onion

1

clove

garlic

1

spring onion

1

tbsp

gochujang hot pepper paste

1

tbsp

soy sauce

1

tbsp

sesame oil

2

tsp

sugar

1

tsp

chili flakes (gochugaru)

,

omit for a milder version or replace with some paprika powder

vegetable oil
Dashi Broth
1

sheet

nori seaweed

10

g

shiitake mushrooms

,

dried

600

ml

water
Preparation
Put the nori seaweed, dried mushrooms and water in a small saucepan, bring to the boil and simmer over low heat for at least 10 minutes. Then pour the broth through a fine sieve and keep it ready for later. Remove the mushrooms and cut into thin strips.

Meanwhile, prepare the remaining ingredients. Halve the onion and cut into fine rings. Finely chop the garlic. Cut smoked tofu into small bite-sized cubes. Halve the tofu and cut into 1/2 - 1 cm thick slices. Cut the spring onions into fine rings.

Heat a good dash of vegetable oil in a saucepan over medium-high heat. Add smoked tofu and onion and sauté for a few minutes. Add the kimchi and garlic and also sauté briefly. Pour in the dashi broth.

Add mushrooms, gochujang chili paste, gochugaru chilli flakes, soy sauce, sugar and sesame oil. If the stew has too little liquid, top up with a little more water if necessary. Now let everything simmer for about 15 minutes with the lid closed at low temperature.

Place the tofu on top of the stew, add some stew broth and simmer for another 5 minutes.

Serve the kimchi stew sprinkled with spring onions. We like to serve it with rice.
Notes
If you use very fresh kimchi, you can add 1 tablespoon of vinegar to increase the acidity. The taste will not be the same as that of very long fermented kimchi, but it will be a little closer.
Song of the recipe:

Little Dragon are an electropop band from Sweden that Andi also saw live many years ago. Recently he stumbled across this song again and it is still as great as it was more than 10 years ago.
(Would you like to listen to all the songs for the recipe? Find them collected in one playlist here)