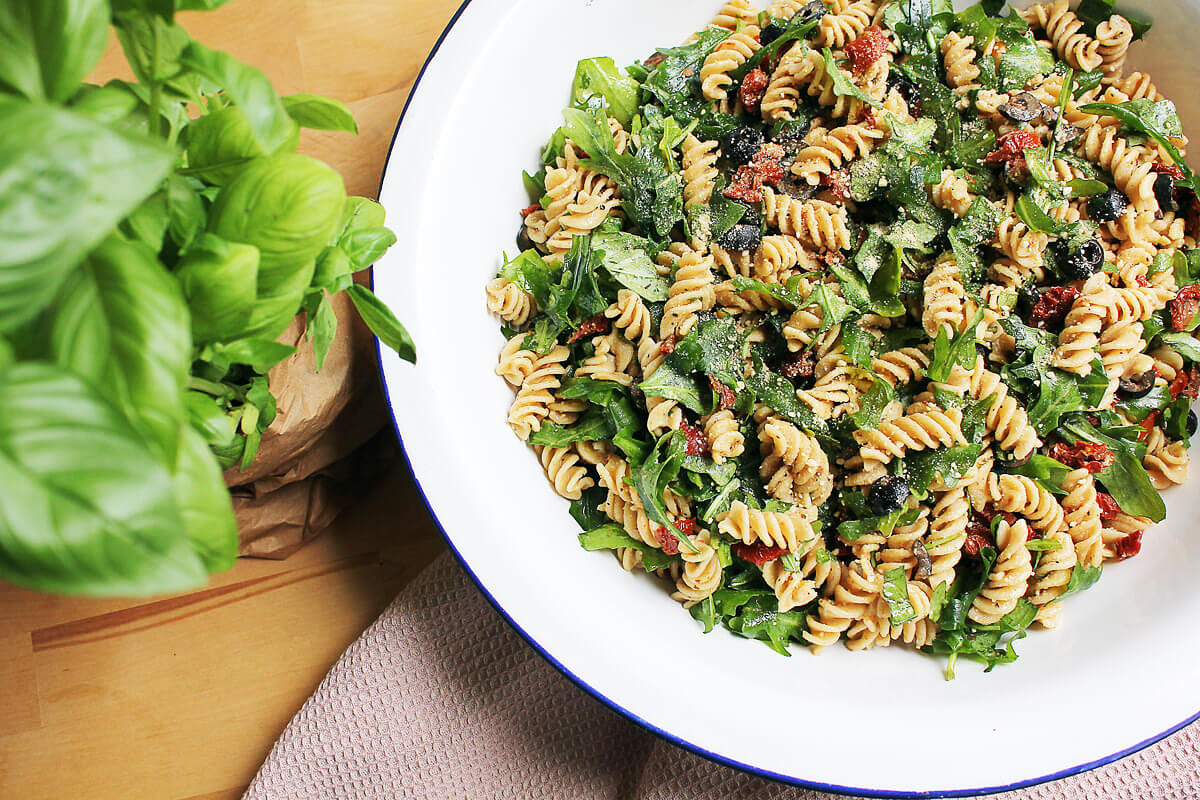 One of the Germans' favourite side dishes for a barbecue is the pasta salad. At least almost 60% stated in a survey in 2017 that they included this as a side dish when barbecuing.
But a pasta salad is not just pasta salad. While in the past this term was used only for overcooked noodles drowned in mayonnaise with meat sausage and canned peas, today there are many variations.
The best known alternative is probably the Mediterranean pasta salad. We serve it with whole grain pasta, dried tomatoes, rocket, olives and basil. For the dressing we mix balsamic vinegar, lemon juice and oil. Here we simply take the oil, in which the dried tomatoes are preserved. It has a good taste and shouldn't be anyway.
Mediterranean Pasta Salad
Ingredients
500

g

whole grain pasta

100

g

rocket

280

g

dried tomatoes in oil

100

g

black olives

,

pitted

1/2

bunch

basil

150

ml

oil

,

from the dried tomatoes

2

tbsp

balsamic vinegar

juice of a lemon

1

tsp

agave syrup

1

tsp

salt

1/2

tsp

pepper

4

tbsp

vegan grated parmesan
Preparation
Cook the pasta in salted water according to the package instructions. Drain and let cool slightly.

Mix the oil, lemon juice, vinegar, salt, pepper and agave syrup to a dressing.

Cut the rocket, basil, dried tomatoes and olives into small pieces as desired.

Mix all the ingredients in a large bowl and season again with salt and pepper. Let the pasta salad soak for a few hours before serving.