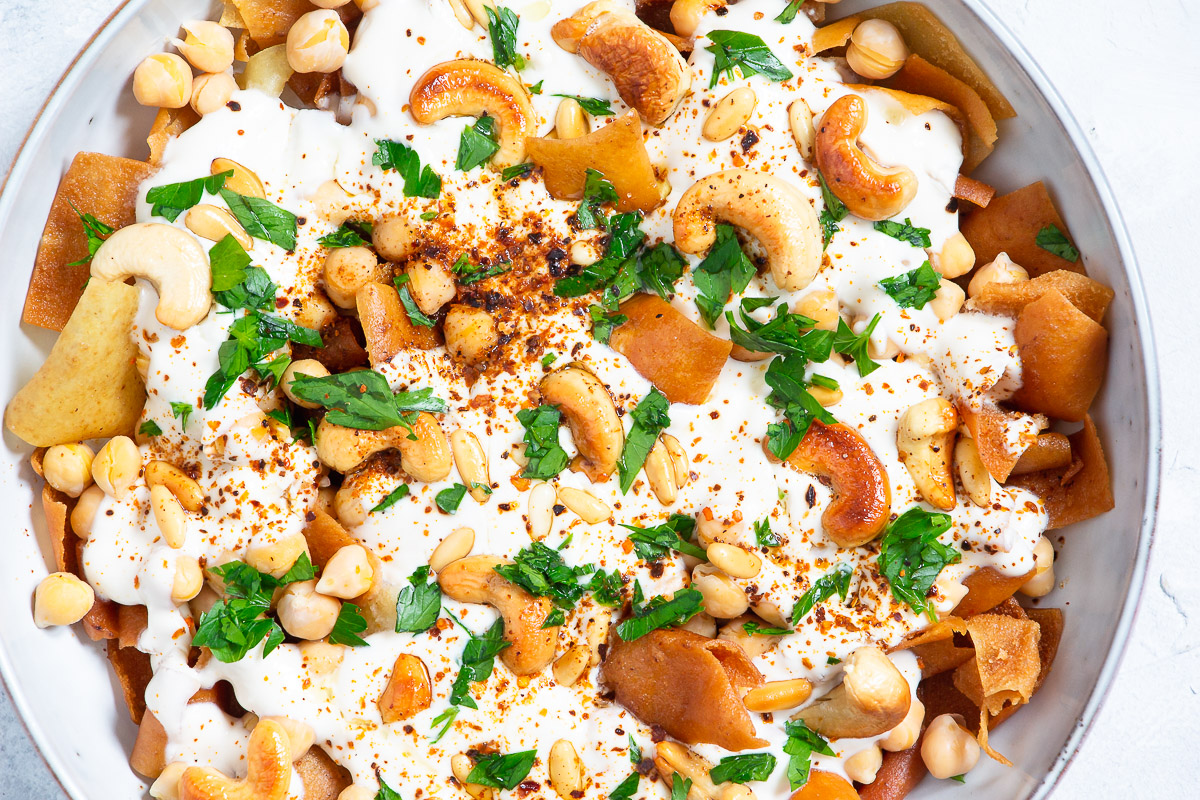 Have you ever heard of Fatteh (also spelled Fatta, Fattah or Fetté)? Probably not. But that should change now. Because this dish made from chickpeas, fried flatbread (like in the fattoush salad), roasted nuts and yogurt sauce is incredibly delicious. And it's very easy to prepare in a vegan way. Because for vegan fatteh you just have to replace the dairy-based yogurt with a plant-based alternative.
Fatteh comes from the Levant cuisine and is most likely at home in Syria and Lebanon, but also in other countries like Egypt and Palestine. It is often eaten there for breakfast. Fatteh is also served as a snack, as the sole main course or as a mezze, i.e. together with many other dishes.
And best of all: Our recipe is basically the basic version, which can be wonderfully modified or expanded. Would you like some suggestions? Replace the cashews and / or pine nuts with flaked almonds, for example. Or add a few fried eggplants to the chickpeas. Fried soy mince or other meat substitutes also make a good impression in Fatteh.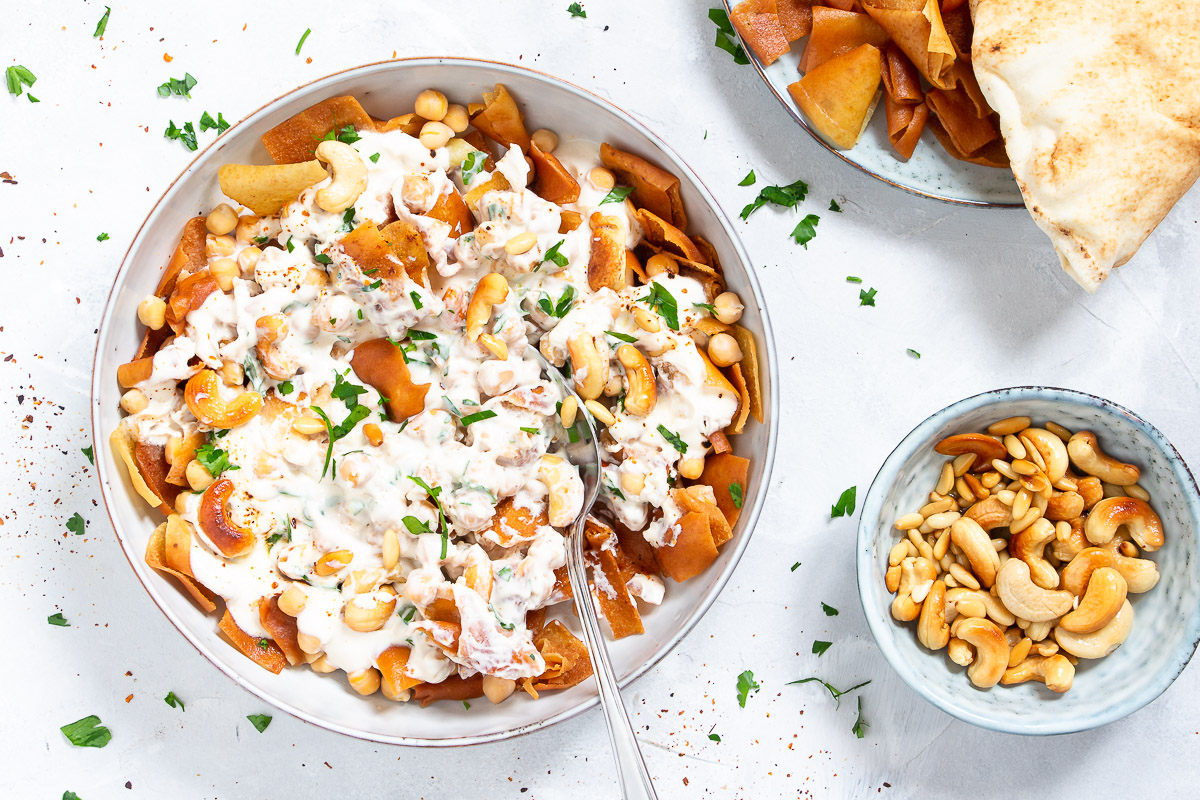 Vegan Fatteh (Chickpeas with Yogurt Sauce)
Ingredients
350

g

chickpeas

,

cooked

100

g

thin flatbread

70

g

cashew nuts

20

g

pine nuts

5

tbsp

olive oil

vegetable oil

,

for deep-frying

2

tsp

Pul Biber

,

alternatively spicy paprika powder

some

parsley

,

chopped
Yogurt Sauce
300

g

vegan yogurt

1

clove

garlic

,

pressed or finely chopped

2

tbsp

lemon juice

2

tbsp

tahini

1/2

tsp

salt
Preparation
Use scissors to cut the flatbread into bite-sized pieces. Heat a good portion of vegetable oil in a saucepan and deep-fry the pieces of bread at a relatively high temperature. Drain on some kitchen paper or a kitchen towel.

Mix the ingredients for the sauce. Then gradually dilute the sauce to the desired consistency with a few tablespoons of water.

Simmer the already cooked chickpeas in a saucepan with salted water for another 2-3 minutes.

Put the flatbread on a large plate. Take the chickpeas directly out of the water with a cellar and distribute on top. Then pour the yogurt sauce over it and sprinkle with parsley and pul biber as desired.

Heat the olive oil in a pan. Briefly toast the cashew and pine nuts in it. Pour over the fatteh while it is still hot.
Song of the recipe:

Traditional Arabic music with a modern twist. This is exactly what the two brothers Hasan & Rami Nakhleh, also known as TootArd, do.
(Would you like to listen to all the songs for the recipe? Find them collected in one playlist here)