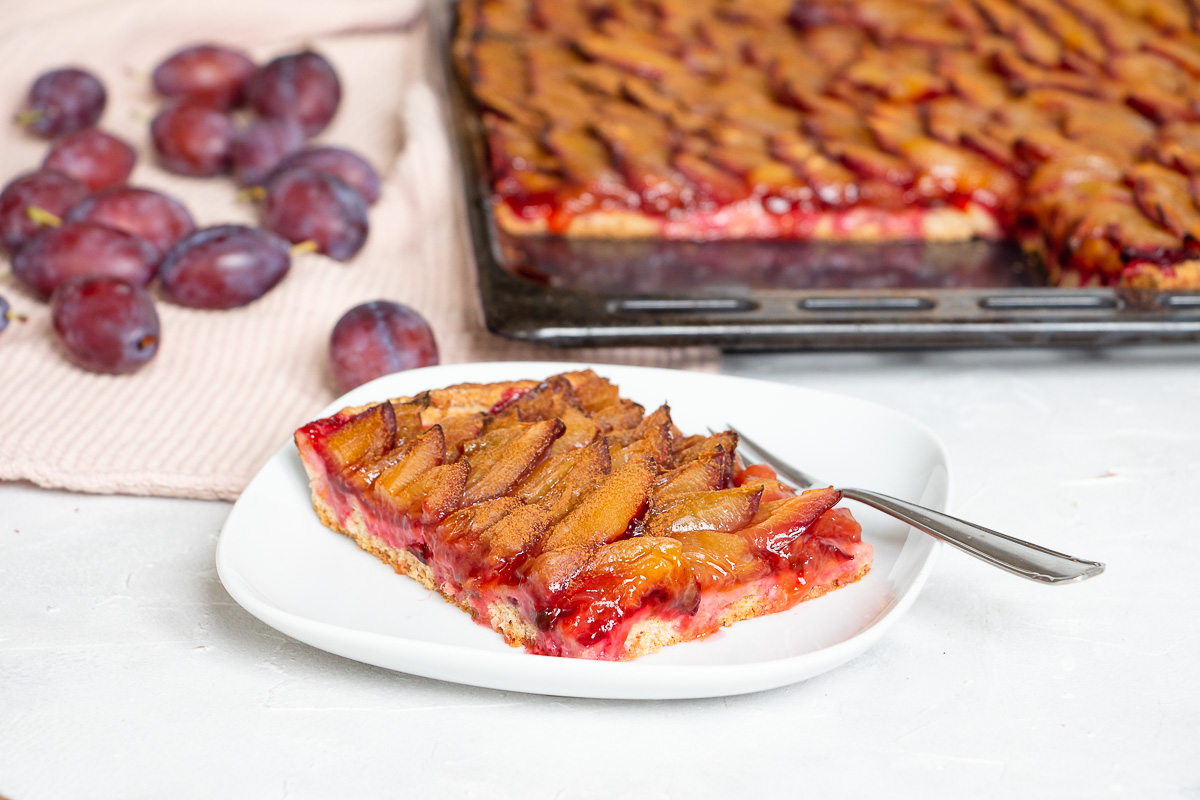 The plum season is slowly coming to an end, but we still have a delicious recipe for you that you will definitely want to dig out again next year. Because we bake vegan plum cake. And a particularly juicy variant, because that's how Lisa likes it best. With as little dry crust as possible and as many fresh plums as possible.
The secret to a perfect plum cake lies in the right ratio of fruit to dough. We strongly recommend not changing the ratio below. At first it looks like there are way too many plums, but after the baking time the ratio is perfect.
This plum cake is therefore also relatively healthy for a cake recipe, as relatively little sugar, fat and carbohydrates are used in relation to the fruit. Especially since we prepare at least half of the dough with whole-grain wheat flour. The recipe also works with 100% whole wheat or spelled flour.
If you like it a little sweeter, you can serve the cake with a bit of plant-based whipped cream. And if you notice that your plums are quite sour, you can of course just sprinkle a little more sugar on them after baking.
There are also variations for plum cakes with crumble on top. But we prefer to bake it without it. However, a few years ago we also put a recipe for plum crumble online.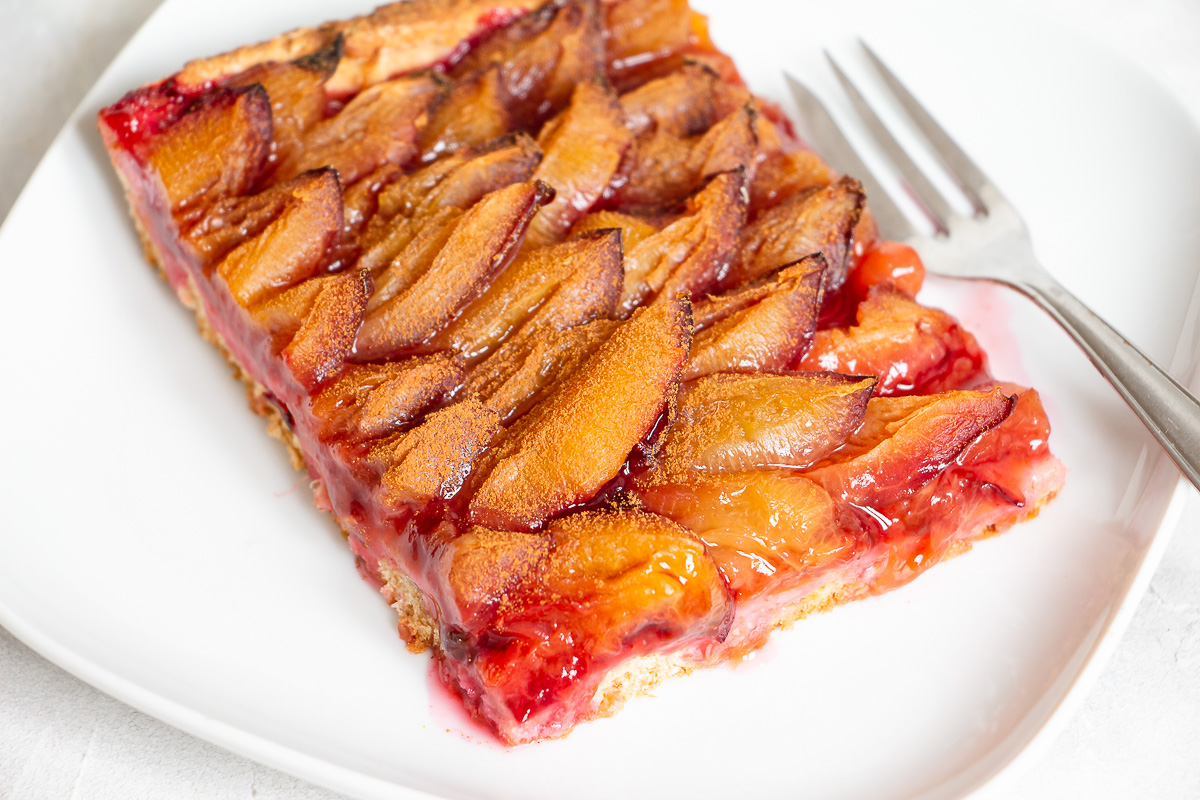 Vegan Plum Cake
Ingredients
Yeast Dough
200

g

whole-grain wheat flour

200

g

wheat flour

,

plus some more for rolling out the dough

125

ml

sparkling water

20

g

fresh yeast

70

g

vegan butter

,

plus some more to grease the sheet

40

g

syrup

,

e.g. beet syrup, maple syrup, date syrup

1

pinch

salt

2

tbsp

sugar
Cake Toppings
2,2

kg

plums

1

tbsp

cinnamon powder

2

tbsp

sugar

vegan whipped cream

,

optional
Preparation
Dissolve the yeast in lukewarm mineral water. Put the flour in a bowl and pour the yeast into the center. Knead with your hands and let rise for 15 minutes. At this point the mass is still a bit crumbly and dry.

Add melted butter, sugar, syrup and salt and knead the dough for about 5 minutes. Then cover the dough and let it rise for about 30 minutes. Use the time in the meantime to core and quarter the plums. Also grease a baking sheet.

Roll out the risen dough with a rolling pin on the greased baking sheet with the help of some flour and press a 1 cm high edge on the side. Cover with the plums tightly and overlapping. Bake in the preheated oven at 200 degrees Celsius on the middle rack for 30 minutes.

Sprinkle with cinnamon and sugar while still warm. Enjoy with plant-based whipped cream or simply pure.
Song of the recipe:

Django 3000 are from Bavaria and make folk rock. Balkan rhythms meet singing in the deepest Bavarian dialect. A wild mixture.
(Would you like to listen to all the songs for the recipe? Find them collected in one playlist here)