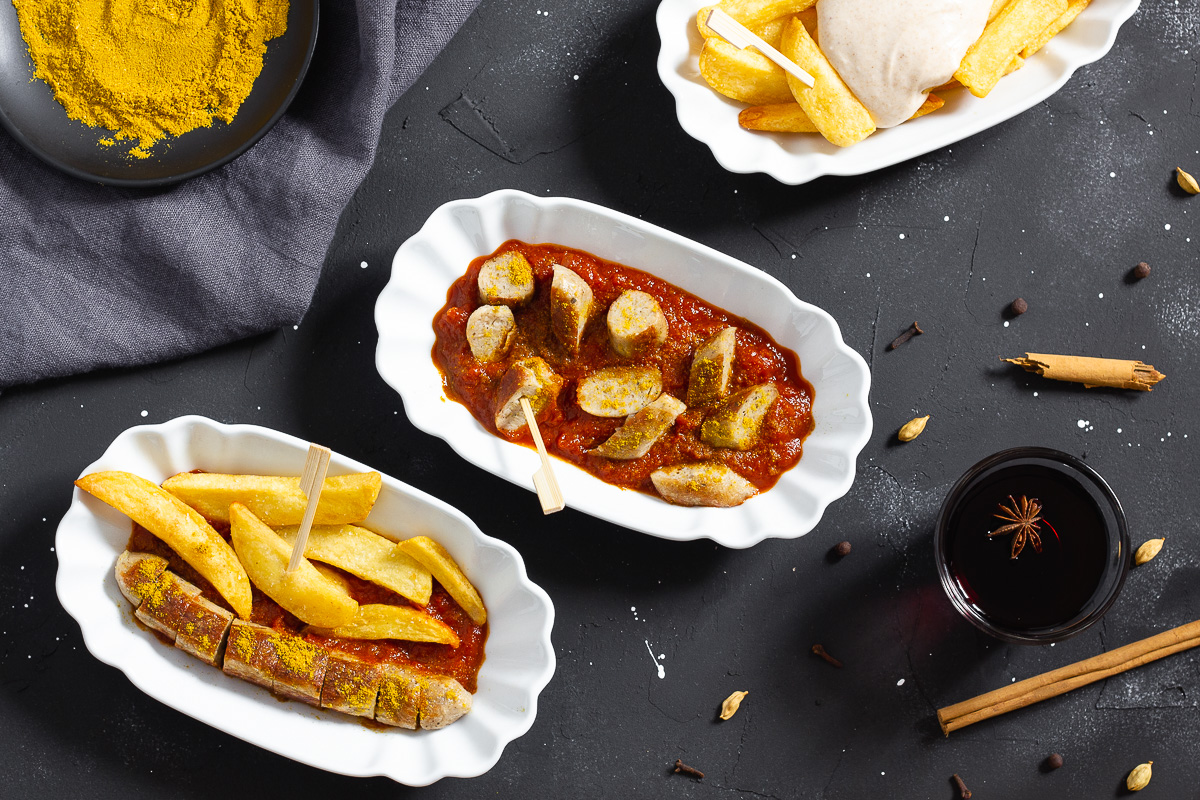 Today we're taking on a real classic. But first we put a thick knitted sweater on him, a coat, a pair of gloves and a hat. Because it's cold outside in winter. Especially when you wear your feet out standing for hours at a winter market with some mulled wine in your hand. But it's better to stay at home this year anyway. That's why we bring the winter market to your home. And we do that with a really nice combination. We bring you a wintry currywurst with mulled wine sauce. And because that's not fancy enough, we serve it with a few fries and speculoos mayo. Ooh la. Of course, everything is 100% vegan. #veganfortheplanet
For the currywurst sauce with mulled wine you need not only tomato paste but also mulled wine, of course. It provides the winter spice aromas, but also balanced sweetness and acidity. A whole apple makes sure of that as well. But on top of that you don't need a lot more ingredients. Some onion, curry powder, sugar and paprika powder. That's it. No wonder, the spices are already in the mulled wine.
For the speculoos mayonnaise we mix, who would have thought, spiced speculoos with vegan mayo. To do this, we grind the speculoos into a fine powder. This can be done either with electrical assistance of a food processor or by hand in a mortar. If you have neither nor, you can also put the biscuits in a freezer bag or something similar and then tackle it with a rolling pin. If the speculoos makes the mayo too thick for you, you can dilute it afterwards with a few drops of water.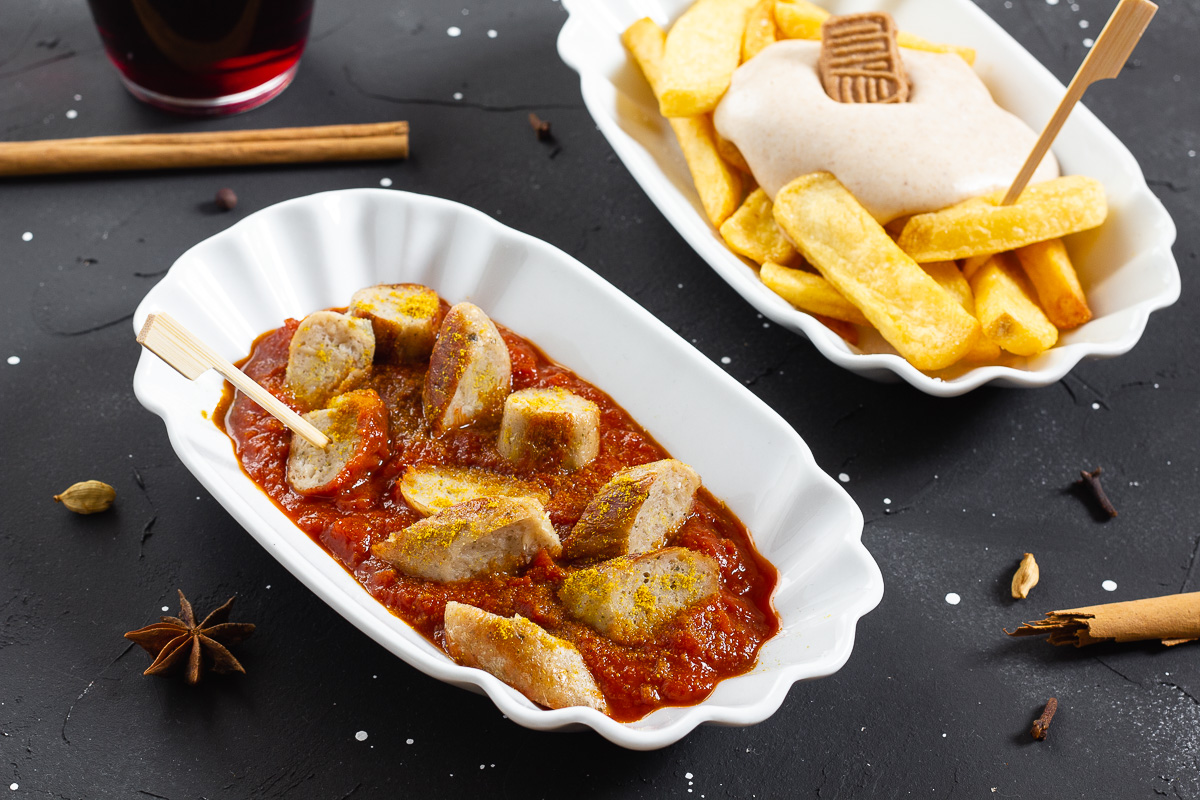 Wintry Currywurst with Mulled Wine Sauce (Vegan)
Ingredients
1

apple

1

onion

1

tbsp

sugar

150

g

tomato paste

250

ml

mulled wine

100

ml

water

1

tbsp

curry powder

,

plus some more for serving

1

tsp

paprika powder

vegetable oil
Preparation
Remove the core from the apple. Peel the onion. Dice both. Fry in a saucepan with a little vegetable oil. Add sugar and let it caramelise. Add tomato paste and let it sweat a little as well.

Deglaze with the mulled wine and bring to the boil once. Add the water and the spices, reduce the heat and simmer without the lid for at least 15 minutes.

Fry the sausages in a pan with a little vegetable oil from all sides. Cut into pieces, pour the sauce over them and serve dusted with curry powder. Our fries with speculoos mayonnaise go wonderfully with this. You can find the recipe below.
Fries with Vegan Speculoos Mayonnaise
Ingredients
800

g

fries

120

g

vegan mayonnaise

20

g

speculoos
Preparation
Prepare the fries according to your own preferences.

Grind the speculoos in a mixer or mortar to a fine powder. Mix with the mayonnaise. Dilute with a few drops of water if desired.