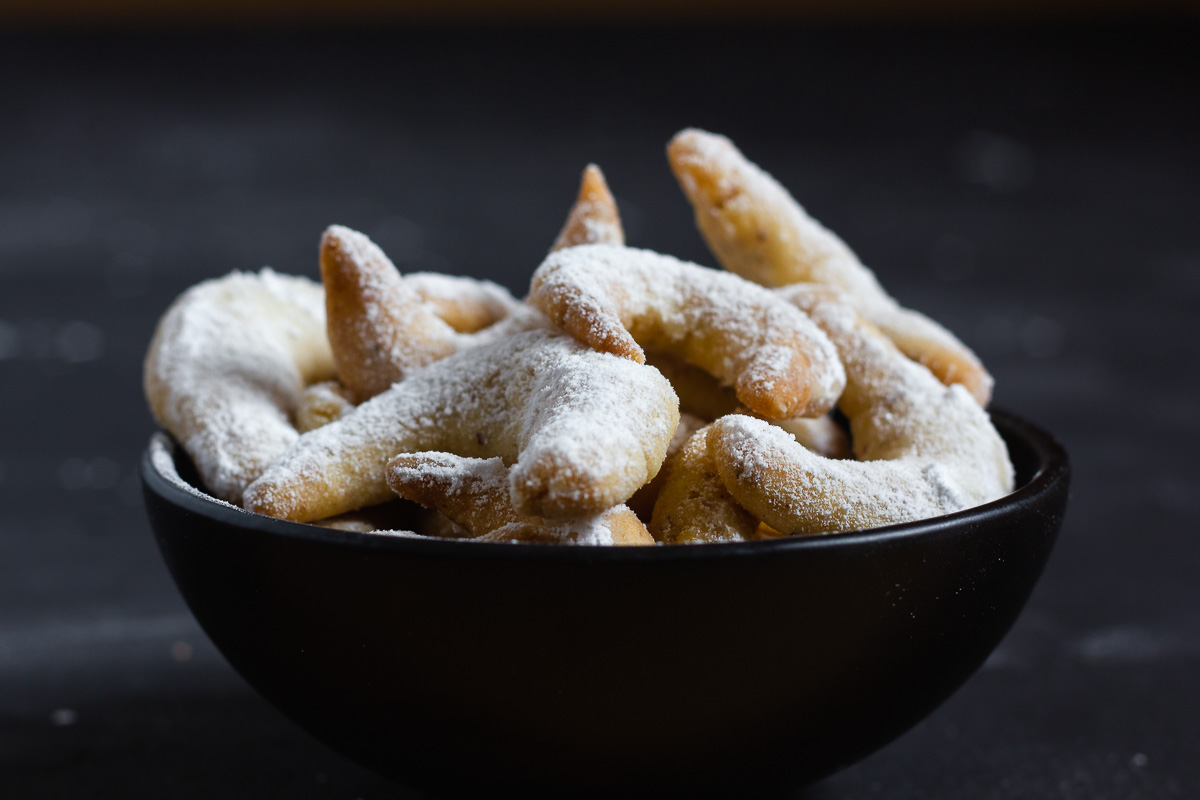 It's November and we can slowly start thinking about the Advent and Christmas season. Ooooh well. Vanilla crescent cookies (or Vanillekipferl in German) were Andi's favourite cookies, when he was small. And even if there has been no more cookie baking with the family for a long time, he still likes them very much. But he is not alone in that, vanilla crescents actually appear in the first places in all "Germans' favourite cookies" lists that can be found on the Internet. So it was finally time to upload a recipe for delicious vegan vanilla crescent cookies.
The preparation is quite simple. Basically, vanilla crescents consist of a simple shortcrust pastry in which part of the flour is replaced by ground almonds. In addition, a little vanilla flavour is added to the dough. We use homemade vanilla sugar for this. For that we wash off the vanilla pods that have already been scraped off, let them dry completely and put them in a full glass with sugar. After a while, it absorbs the aroma of the vanilla sticks. The perfect use of leftover vanilla pods.
The almonds in the recipe can also be replaced with ground nuts. If you want to do it completely without almonds and nuts, you can simply use more flour instead. Or you can toast some oatmeal and grind it finely. However, since both flour and oatmeal have less aroma than nuts and almonds, we recommend using a little more vanilla then. Or you're completely crazy and add some cinnamon powder to the dough.
But back to the classic shortcrust pastry. There is always dispute whether the butter has to be cold. We tried the recipe with warm butter, which we mixed with the sugar in advance until creamy, and it worked very well. The dough held together well during further processing and was also nice and crumbly after baking. If you are convinced to use cold, diced butter, you can of course knead it into the dough like that as well. The resting time of the dough in the refrigerator after kneading seems to be more important for the result though.
In our experience, you only have to be really careful with the dough immediately after baking. As long as the vanilla crescents have not cooled down completely, they break relatively easily. However, exactly at this point the icing sugar adheres best to the cookies. Therefore, please be careful when removing them from the baking sheet and turning them in the powdered sugar. Or you can play it safe and sprinkle the cookies with powdered sugar directly on the sheet.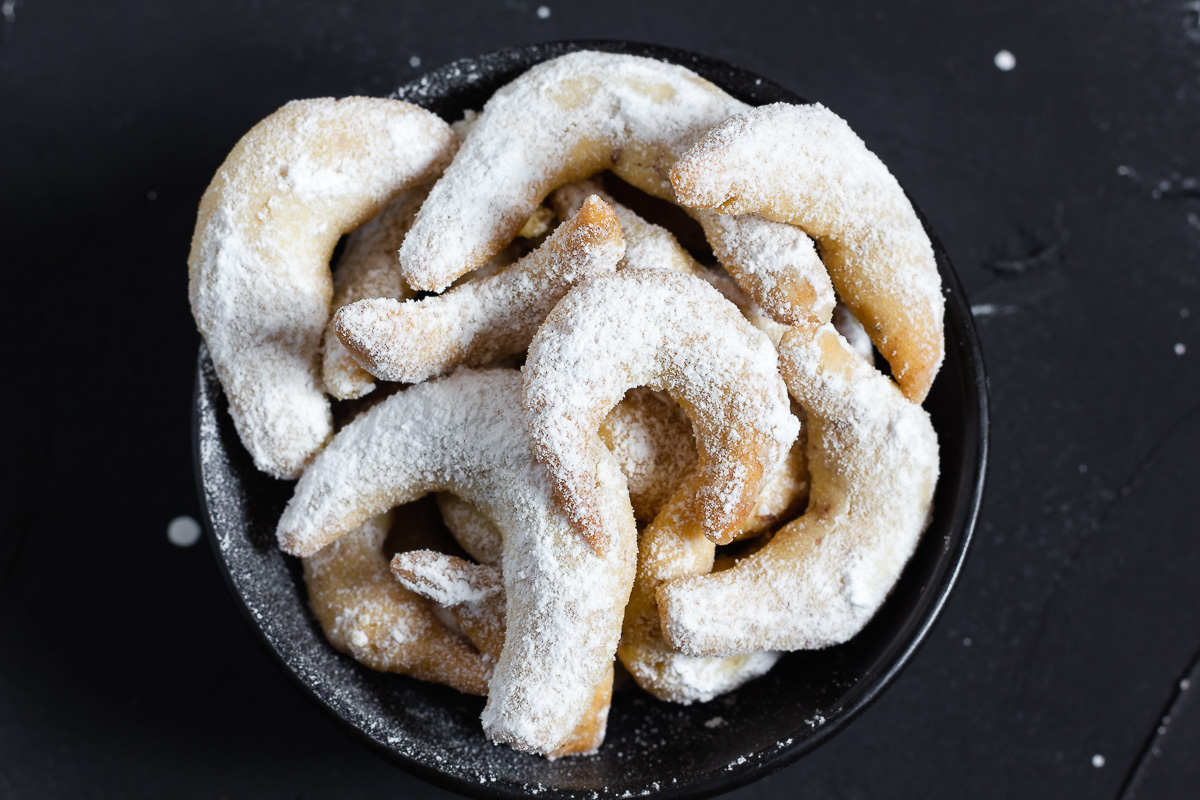 Vegan Vanilla Crescent Cookies
Servings:
1
batch (about 50 crescents)
Ingredients
200

g

vegan butter

250

g

wheat flour

100

g

almonds

,

ground

3

tbsp

vanilla sugar

60

g

sugar

3

tbsp

powdered sugar
Preparation
Cut the butter into small cubes and let it soften at room temperature. Beat with the sugar and vanilla sugar until creamy.

Mix with the flour and ground almonds and knead everything into a smooth dough. Cover and leave to rest and cool in the refrigerator for at least 60 minutes.

Take the dough out of the refrigerator, divide into quarters and roll out each one on a floured work surface into a finger-thick roll. Cut these into small pieces and roll them out into crescents between your hands.

Place on a baking sheet lined with baking paper and bake in a preheated oven at 180 degrees Celsius for approx. 12 minutes until the tips are lightly brown.

Take the baking sheet out of the oven and let it cool down for 5-10 minutes. Carefully roll the vanilla crescent cookies, which have now hardened but are still warm, in powdered sugar or simply sprinkle with powdered sugar through a sieve.