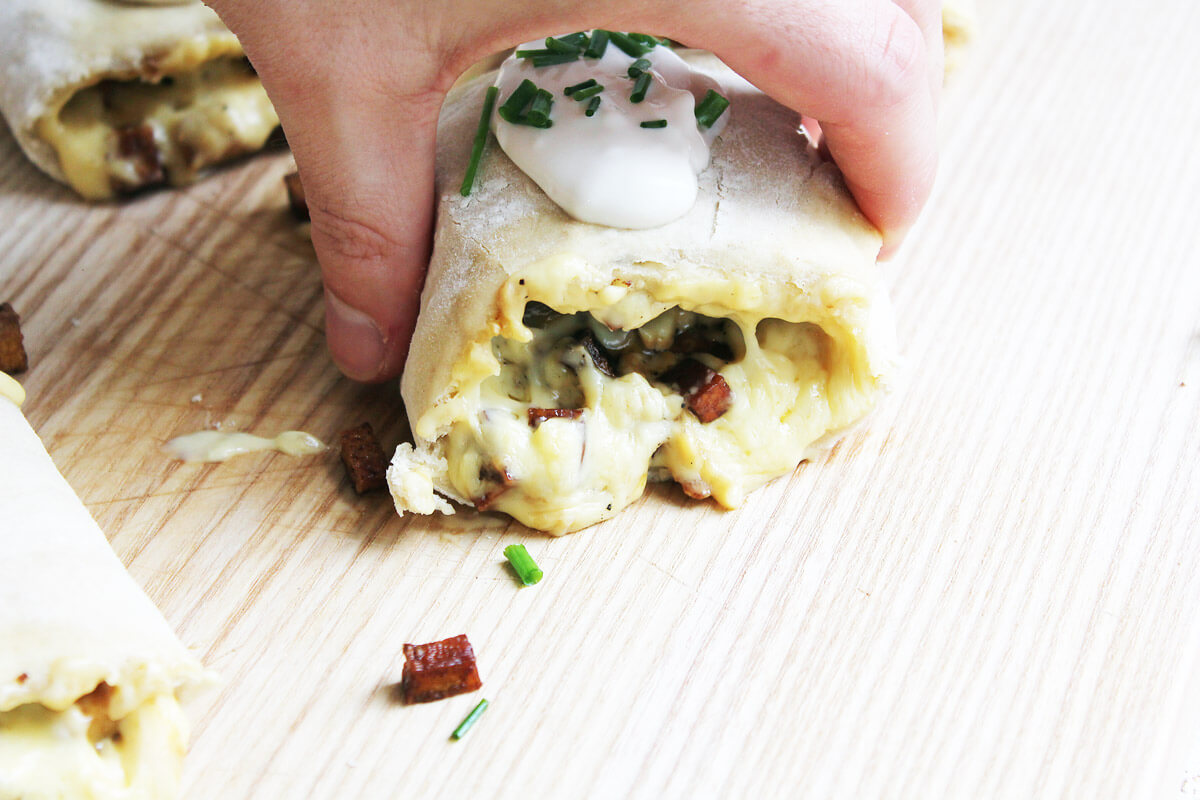 We are not sure anymore when and at which festival we had Handbrot for the first time. It could have been Southside Festival 2011. It was love at first bite for sure though. But in 2016 veganism came between us and the Handbrot food stalls, which can be found mainly at festivals and Christmas markets here in Germany. At super vegan-friendly events there now is also from time to time a purely plant-based Handbrot version. However, this version usually is downgraded so much (too little filling, no sour cream topping) that we preferred to devote ourselves to other vegan delicacies. But the days of voluntary Handbrot self-denial are over, because we today present our incredibly delicious recipe for vegan Handbrot with 3 different fillings.
Handbrot in its now known form was by the way invented in 2005, when a couple of friends started selling bread dough stuffed with cheese, ham and mushrooms under the name "Dresdner Handbrot". Unfortunately, it's not easy to find out if hand bread has already existed in a similar form before. Actually, it doesn't matter either, because what really matters is that it tastes good
Of course, for the fillings we first picked up on the two Handbrot classics. Smoked tofu (instead of ham) and mushroom make a crazy good job in the center of the yeast dough buns. Somewhat fruity, but not less delicious, is the filling of dried tomatoes and olives. If you only want to make one of the fillings, just take three times the amount of the ingredients listed below.
In order to let the vegan grated cheese melt well inside of the Handbrot, we mix it with some oil and vegan cream. So the inside is always extra juicy, no matter which filling you use.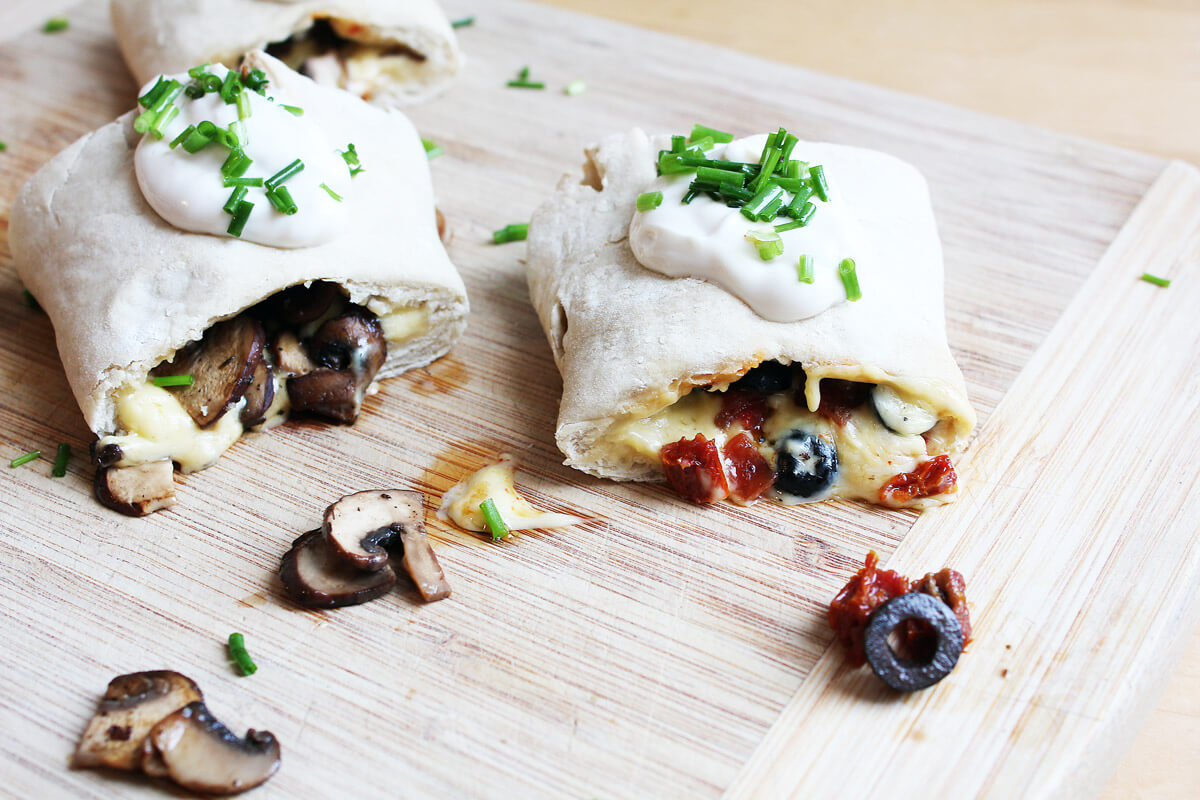 Vegan Handbrot with 3 Fillings
Ingredients
Dough
500

g

wheat flour

1

cube

fresh yeast

,

equals to 42 g

250

ml

water

,

warm

1

tsp

salt

1

tbsp

olive oil

1

tbsp

sugar
Cheese Mixture
350

g

vegan grated cheese

3

tbsp

vegetable oil

75

g

vegan cream
Smoked Tofu Filling (for 4 pieces)
80

g

smoked tofu

1

tbsp

vegetable oil

1

tbsp

soy sauce

1

tsp

liquid smoke,

optional

salt + pepper
Mushroom Filling (for 4 pieces)
150

g

mushrooms

1

tbsp

vegetable oil

1/2

tsp

thyme

,

dried

salt + pepper
Tomato and Olive Filling (for 4 pieces)
50

g

dried tomatoes in oil

40

g

black olives

,

pitted

salt + pepper
Vegan Sour Cream Topping
100

g

vegan quark

100

g

vegan cream cheese

1

tbsp

apple cider vinegar

1

pinch

salt

chives
Preparation
Dissolve the yeast and sugar in the warm water and allow to stand for 5-10 minutes to activate the yeast.

Put the flour, salt and olive oil in a large bowl. Add the yeast and knead well. Gradually add some water until a smooth and flexible dough is formed.  If the dough is too moist and sticky, add a little more flour. If it is too dry and crumbly, add a few more drops of water. Knead the dough well for 10 minutes. Let the dough rise for about 1 hour covered with a damp cloth.

Meanwhile prepare the cheese mixture as well as the 3 different fillings. For instructions see below.

Divide the dough into 3 parts. Roll out on a floured work surface into an rectangle of approx. 35 x 15 cm in size. Add the cheese and the respective filling on top. First fold the short sides, then the long sides. If possible, turn the seam downwards.

Divide the dough roll (without cutting through it) with the handle of a cooking spoon or the back of a knife into 4 equal pieces by applying some pressure. Make a cut into each piece at the top lengthwise and pull apart slightly.

Bake in preheated oven at 200 degrees top and bottom heat on a baking tray covered with baking paper for about 15 - 20 minutes.

Mix vegan cream cheese, vegan quark and apple cider vinegar to make your own vegan sour cream. Season with a pinch of salt. Put a dollop of sour cream on each Handbrot to serve. Finely chop the chives and sprinkle on top.
The different fillings:
Cheese mixture: Mix vegan cheese with vegan cream and oil.

Smoked tofu filling: Finely chop the smoked tofu. Fry crispy with oil in a pan. Deglaze with soy sauce and liquid smoke and season with salt and pepper.

Mushroom filling: Halve mushrooms and cut into thin slices. Sauté with oil in a pan and season with thyme, salt and pepper.

Tomato and olive filling: Cut dried tomatoes into small cubes and olives into thin slices. Season with salt and pepper.