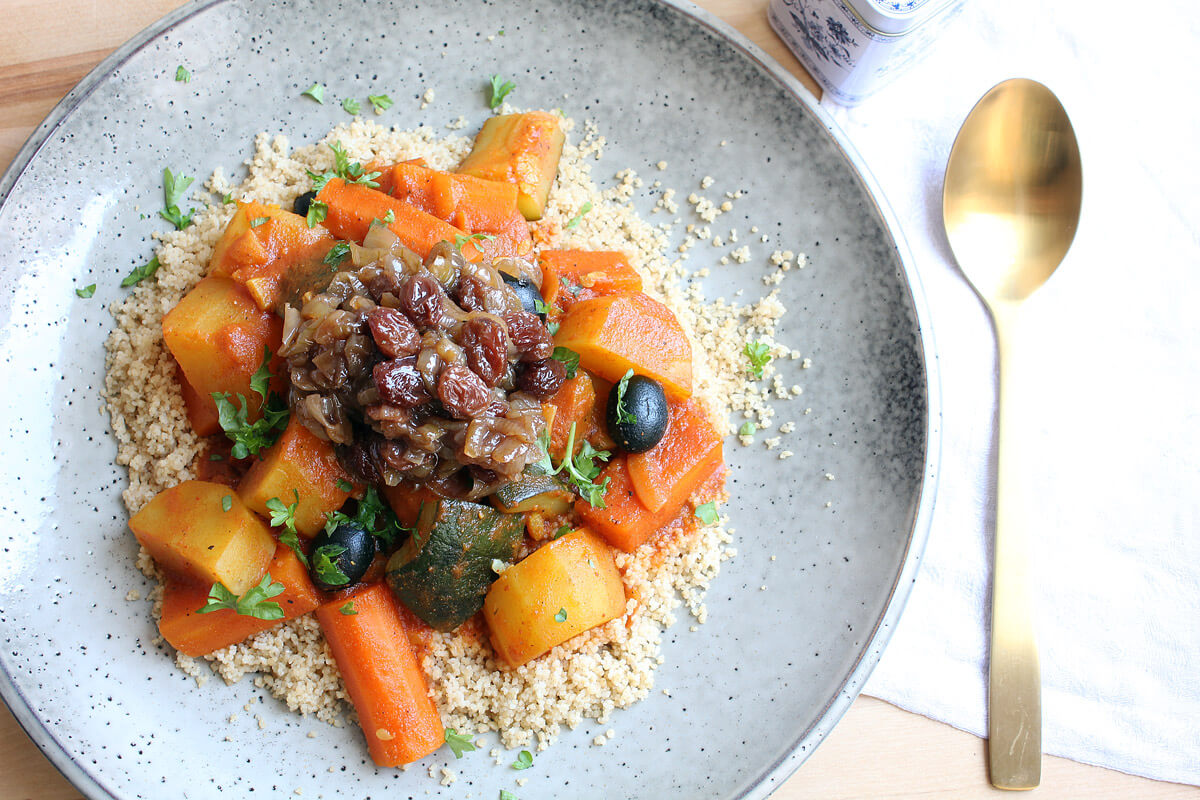 Today, a touch of North African holiday flair is on our dining table. Because we combine seasonal and year-round available ingredients such as potatoes, carrots, zucchini and olives with a home-made spice blend to a tasty stew, which tastes so not Germany. The Moroccan vegetable tagine is kind of an oriental stew and due to its fresh taste it also fits perfectly as a summer dish.
This is the basic version of the vegetable tagine, which you can find truly on every corner in Morocco, whether in Marrakech, Fez, Tanger or in the Erg Chebbi desert. As a vegan, there is not much that much of a choice, as we experienced ourselves during our trip through Morocco in 2017. But despite the overdose of vegetable tagine at that time, we still like the dish very much.
Tagine or Tajine, by the way, refers on the one hand to the earthenware pot from Morocco, which is a special form of a slow cooker. On the other hand, the meat or vegetable stews cooked in it are also called tagines. The special cooking-pot isn't needed for the preparation though. Therefore, we show you how to prepare a delicious Moroccan vegetable tagine in a regular cooking pot.
If you like ready-made spice blends, you can look for Ras el-Hanout for this dish. However, we prefer to use our own spice blend, which does not consist of too many ingredients. But not only the spices are crucial for the authentic taste. The sweet caramelised onions with raisins also help to make you feel like you are in a Moroccan medina (old town) after having just a few spoons of the tagine. Everything is served on some couscous or you just have some flatbread with it.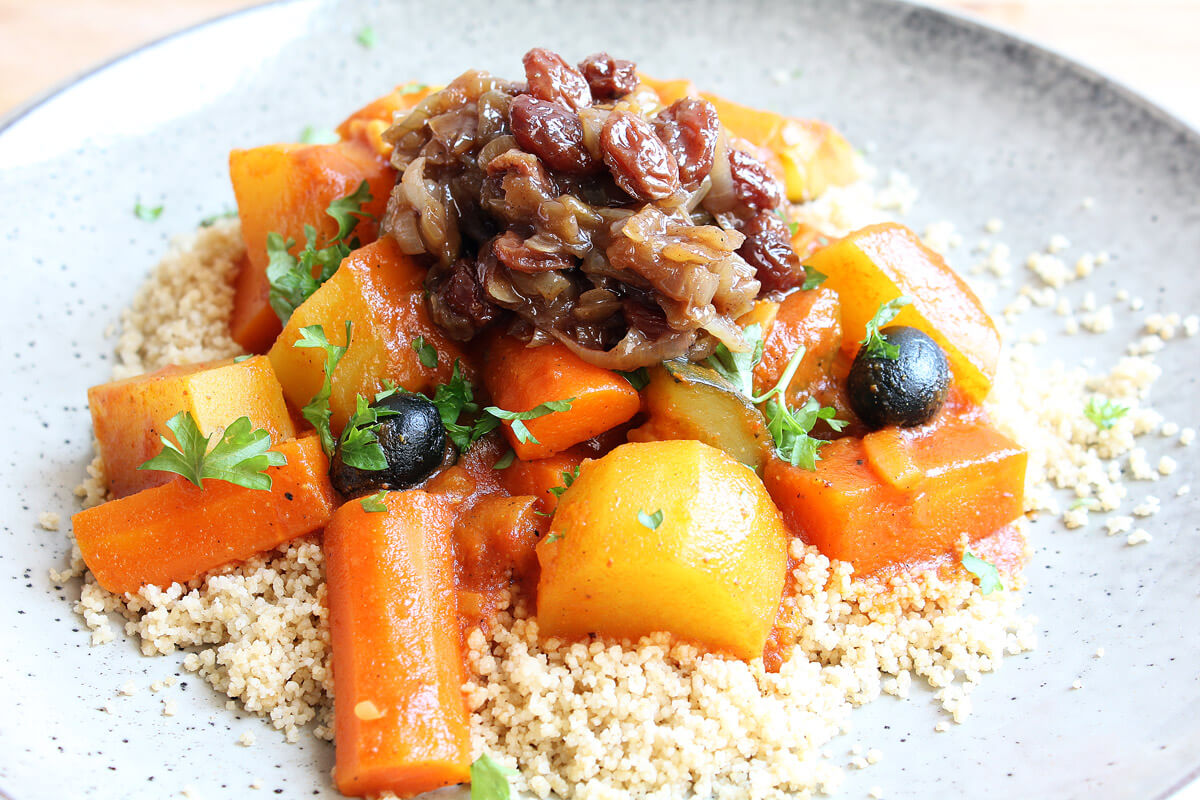 Moroccan Vegetable Tagine with Couscous (Vegan)
Ingredients
Tagine
2

potatoes

2

carrots

1

small zucchini

12

black olives

1

clove

garlic

1/2

small onion

200

ml

vegetable broth

200

g

passata

1

bay leaf

1

tsp

harissa

,

alternatively: (hot paprika paste)

2

tbsp

olive oil

fresh parsley
Spice Blend
1/2

tsp

cumin powder

1/2

tsp

coriander powder

1/2

tsp

paprika powder

1/2

tsp

salt

1/4

tsp

turmeric powder

1/4

tsp

pepper

1/4

tsp

cinnamon powder
Caramelised Onions
1

large onion

3

tbsp

raisins

1/2

tsp

cinnamon powder

1

tbsp

sugar

50

ml

water

1

tbsp

olive oil

salt + pepper
Couscous
120

g

instant couscous

1

splash

olive oil

salt + pepper
Preparation
For the caramelised onions, quarter the onion and cut into thin rings. Sweat them in a pan with the olive oil at medium temperature for a few minutes. Add the sugar and caramelise. Add water, raisins and cinnamon powder and simmer with the lid closed for at least 30 minutes over low heat. Stir from time to time. Season with salt and pepper.

Finely chop the garlic for the tagine. Cut the onion into thin slices. Cut the potatoes, carrots and zucchini into bite-sized pieces. Sauté onion and garlic in a large pot with olive oil at medium temperature. Add potatoes, carrots, zucchini, olives and bay leaf. Add vegetable broth, passata and spices and simmer at low to medium temperature with the lid closed for about 30 minutes or until the vegetables are soft.

Meanwhile, put the instant couscous in a saucepan and season with olive oil, a pinch of salt and a pinch of pepper. Pour the same amount of boiling water over it and leave to stand with the lid closed. After 10 minutes loosen the couscous with the fork.

Serve couscous with tagine and caramelised onions. Sprinkle some fresh parsley over it.