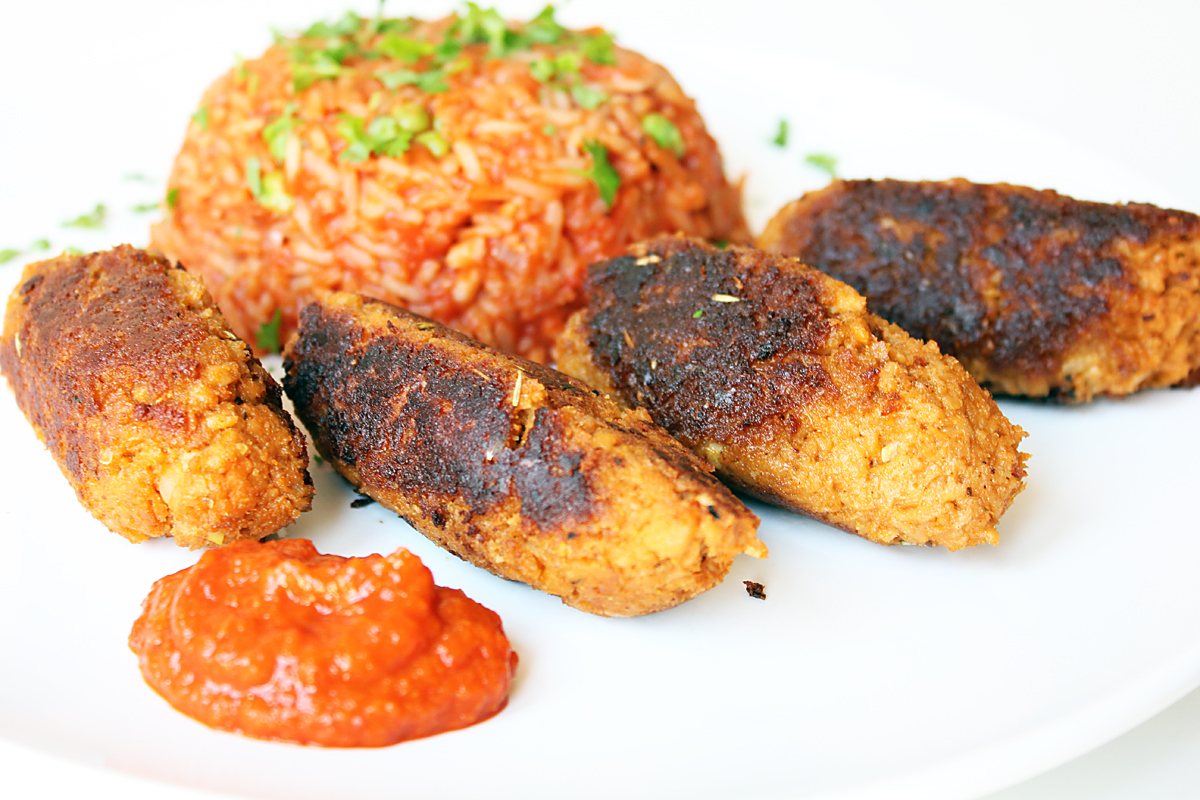 This recipe for vegan soy-based cevapcici with djuvec rice and ajvar is influenced by Croatia or the balkan cuisine in general. I did (again) some research on the internet and came up with my own version, which was pretty good right after the first try. The cevapcici came out light and fluffy. You just have to be careful flipping them over in the pan but the extra care is definitely worth it! If you already have some gyros, balkan, cevapcici or whatever seasoning at home, you can of course use this but you also find all the ingredients for the seasoning I used listed down below.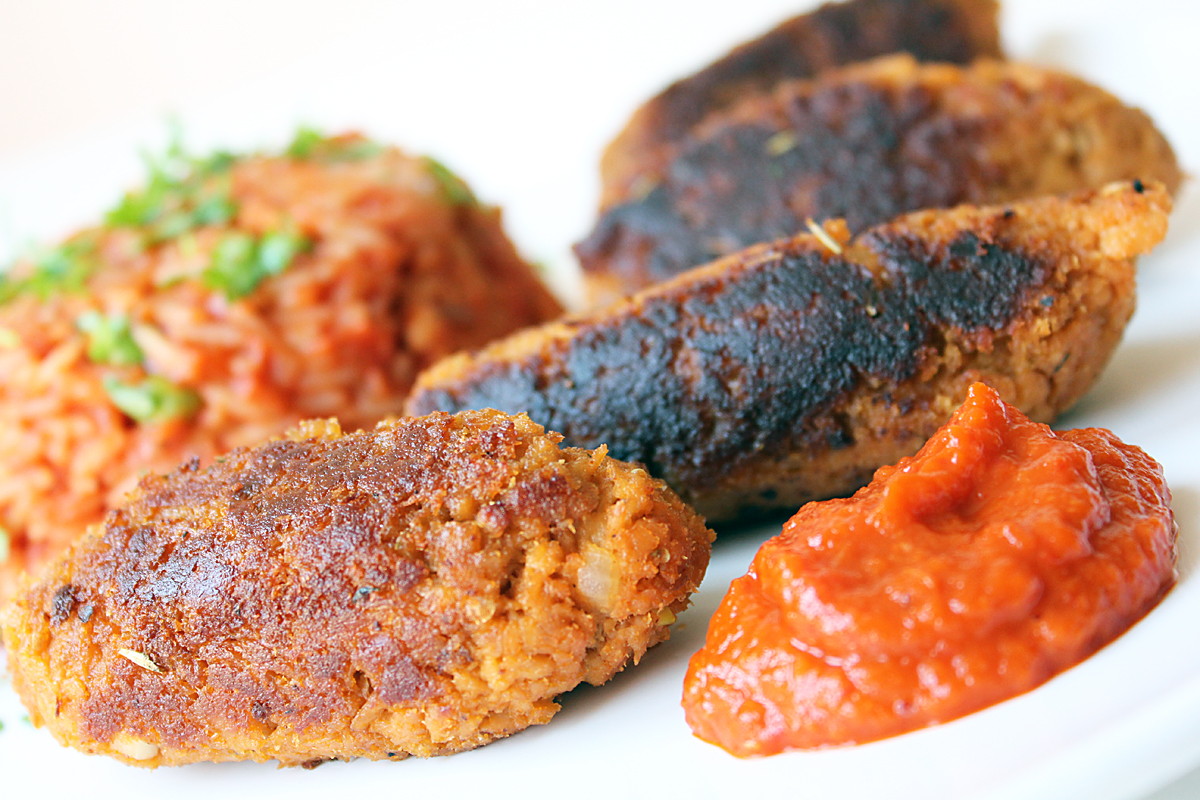 VEGAN CEVAPCICI WITH DJUVEC RICE AND AJVAR
Ingredients for 2 servings (about 1,75 Euros each):
CEVAPCICI
150 g dried soya mince
1 medium-sized onion
2 garlic cloves
1 tbsp soya sauce
1 tbsp tomato purée
1 tsp paprika powder
1 tsp dried oregano
1 tsp mustard
1 tsp sea salt
1/2 tsp black pepper
1/2 tsp dried thyme
1/2 tsp dried rosemary
a pinch of cinnamon powder
a pinch of dried cumin
1 tbsp soya flour
2 tbsp bread crumbs
1 tbsp flour
DJUVEC RICE
150 g long-grain rice
300 g tomato passata
4 tbsp frozen peas
1 tbsp ajvar (+ another 2-3 tbsp to serve)
olive oil
to season: sea salt & freshly ground black pepper
Preparation
1. Pour enough boiling water over the soya mince granules and let it soak for 10 minutes. Drain, wash with cold water and press out the excess water.
2. Finely dice the onion and the garlic cloves. Cook half of the onion and 1 garlic clove together with the minced soya and 1 tbsp olive oil in a pan over medium heat for a couple of minutes. Turn off the heat, take the pan off the heat and add seasoning (soya sauce, tomato purée, paprika powder, oregano, mustard, salt, pepper, thyme, rosemary, cinnamon and cumin).
3. Mix soya flour and 4 tbsp water in a small bowl. Add this with bread crumbs and flour to the seasoned soya mince. Mix well using your hands. Form into small sausages. You should come out with about 10 vegan cevapcici.
4. Heat 1 tbsp olive oil in a pot over medium heat. Add the remaining onion and garlic. Cook for a minute or two. Add rice, tomato passata and about 100 ml water, bring everything to a boil and let it cook over low heat for 20-30 minutes until the rice is soft. If it gets too dry before the rice is done, just add a little bit more water. Just before the rice is ready, add frozen peas and ajvar, season with salt and pepper and let it cook for another 3-4 minutes.
5. Meanwhile fry or grill the cevapcici until golden brown. Just don't forget to add enough olive oil to the pan (or to the cevapcici if you put them on you grill) and be careful flipping them over. Serve with rice and ajvar as a dip.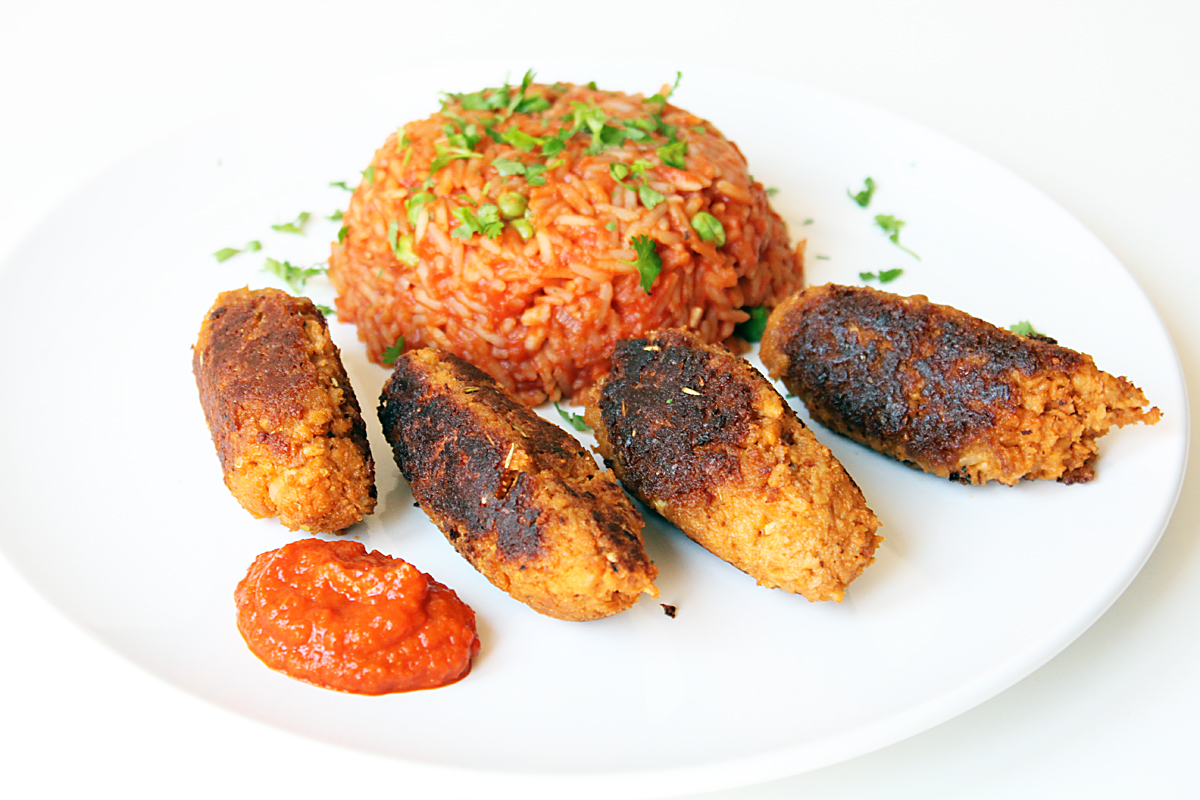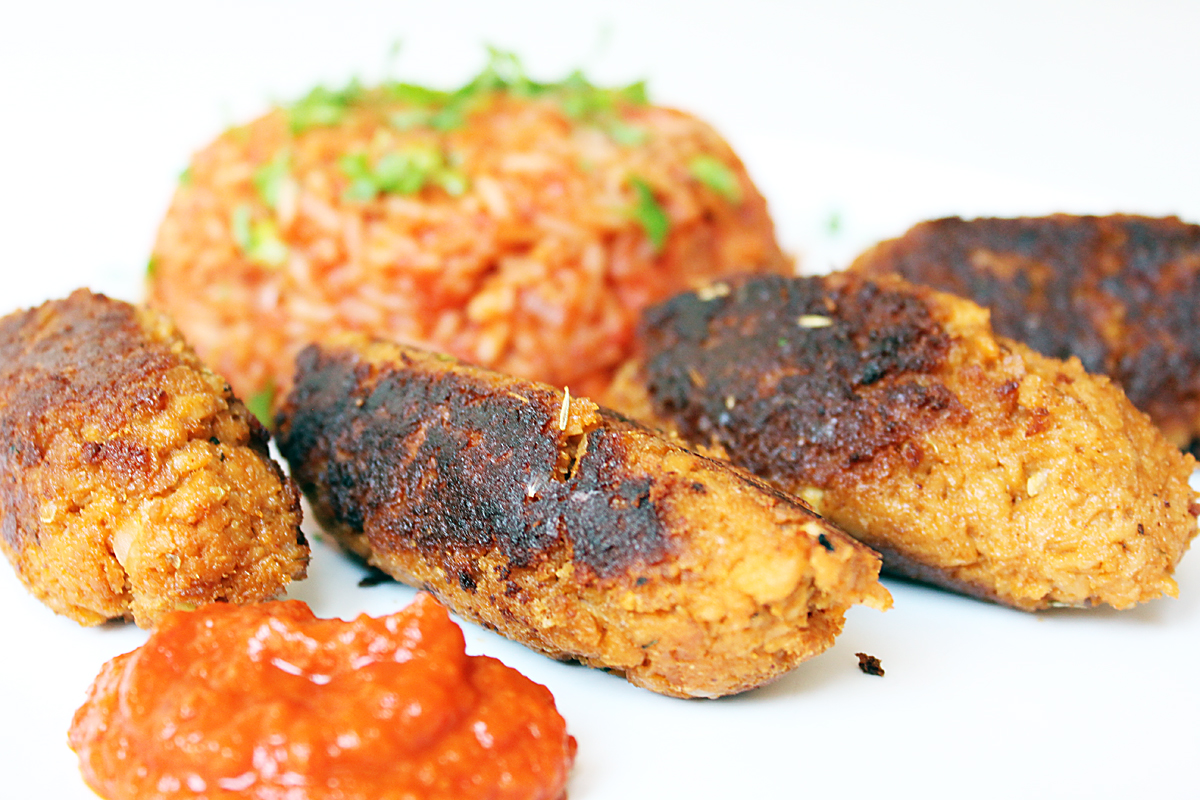 MerkenMerken
MerkenMerken
MerkenMerken