You probably all have heard of ratatouille, which is a traditional French stewed vegetable dish. Typically eggplants, zucchini, tomatoes and bell peppers are stewed with herbs and spices in a big pot or sautéed separately and mixed up later on. But another way of preparing ratatouille flooded the internet since the Pixar movie Ratatouille came out in 2007: confit biyaldi. The vegetables are sliced and layered in a spiral on top of a bell pepper and tomato sauce known as pipérade. It's certainly a little more work than just dicing/slicing and cooking the ingredients all together but it's totally worth. Just look how beautiful it is and it also tastes great. Oh, and all the ingredients are in season now, so it's a 100% local and seasonal dish.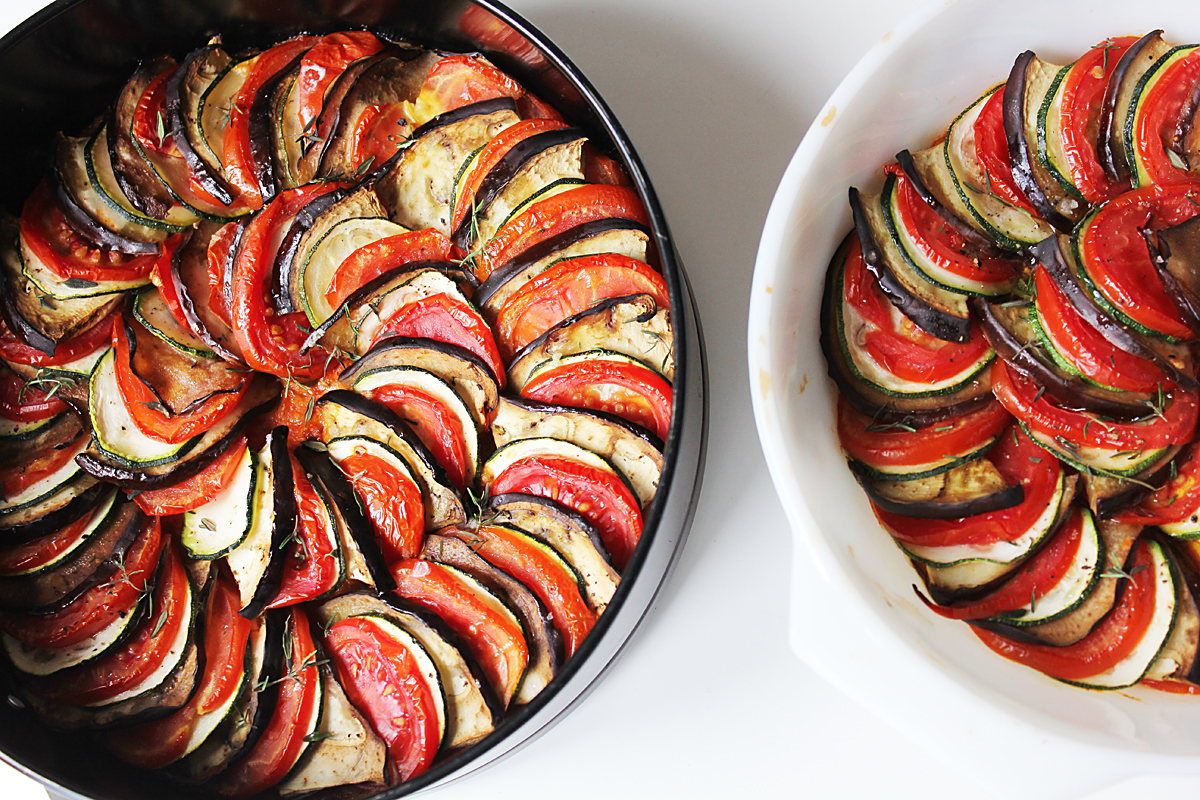 The vegetables are easiest to layer if you can find eggplants, zucchini and tomatoes the same diameter. I only had one big eggplant on hand, so I halved or even quartered it in order to match my zucchini and tomato slices. It still worked out quite well. Oh, and you can even make it more colourful than my version if you can find yellow zucchini or summer squash (yellow squash).
Ingredients for 3 servings (about 1,65 euros each):
2 small zucchini (if you can find: 1 green and 1 yellow)
2 small (or 1 large) eggplants
about 450 g tomatoes
1 red bell pepper
1 yellow bell pepper
1 onion
3 garlic cloves
150 ml tomato passata
1 tsp sugar
1 tbsp fresh rosemary needles
2 tbsp fresh thyme leaves
olive oil
sea salt & freshly ground black pepper
optional: red chili flakes

Preparation
For the sauce cut the bell peppers in half lengthwise. Cut off the stem and scoop out the seeds and membranes. Put them into the oven (cut side down!) with grill function on full whack. Wait until the skins are completely wrinkled and most parts are charred. Let them cool for maybe 5 minutes until they are cool enough to handle. Peel off the skins and cut the roasted bell peppers in small chunks. Finely slice the onion and the garlic cloves and sauté together with 3 tbsp olive oil in a pot over medium heat until soft but not browned. Add 1 tsp sugar, bell peppers, tomato passata, rosemary needles and 1 tbsp thyme leaves. Let it simmer for about 20 minutes.
Meanwhile preheat the oven to 180 degrees Celsius. Slice zucchinis, tomatoes and eggplants in 2 mm thick rounds. A mandoline works well for the zucchinis and eggplants. For the tomatoes I recommend to carefully slice them with a knife. Blend the bell pepper-tomato-sauce and season with salt, pepper and optionally red chili flakes. Spread on the bottom of a large ovenproof skillet or baking dish (or use two – just like me – if you don't have a large one!). Arrange the alternating vegetable slices layered on top of the sauce. Start at the outer edge and work your way towards the centre. Overlap the slices so the different colours are exposed. Finally sprinkle some olive oil and the remaining tbsp thyme leaves over it and season again with salt and pepper. Cover skillet / baking dish with parchment paper. Bake in the preheated oven for about 30 minutes, then remove the parchment paper and bake for another 10-15 minutes.