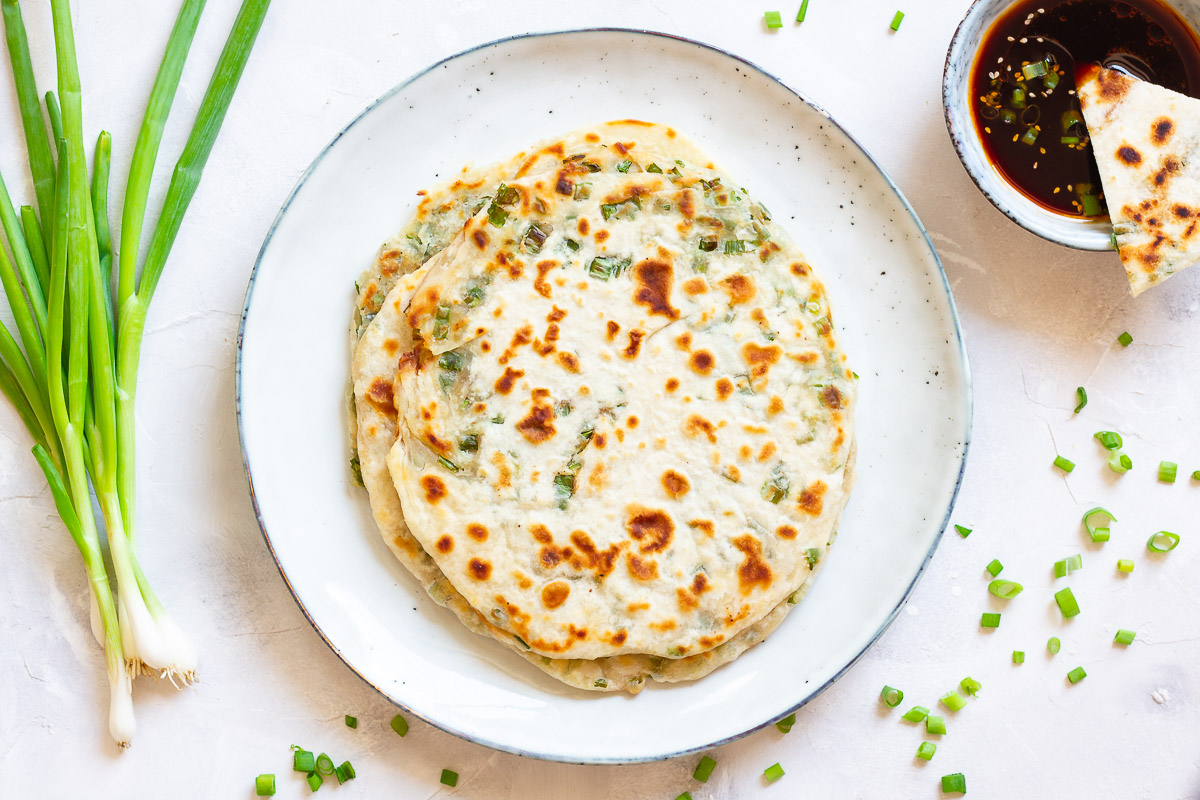 It's been a few years since Andi first made Chinese scallion pancakes. And because we are being bombarded with fresh spring onions every week through our vegetable box subscription (heeeeelp!), it not is time again. Said and done. After two quick rounds of testing, the perfect recipe was established. In addition to spring onions, all you need is a simple dough made of flour, salt and water. We're using hot water here. This means that the gluten cannot develop so strongly when kneading and the dough remains a little softer.
The preparation is then actually quite simple, even if the dough is rolled out a total of 2 times and rolled up differently 2 times. Namely first to a thin, long roll and then to a snail. That sounds more complicated than it actually is. Of course, we took a few pictures to help you. In any case, the process ensures that the pancakes have a great, flaky texture on the inside. Frying them in the pan makes them crispy on the outside.
We serve a simple but tasty dipping sauce with the pancakes. Just like the pancakes, the sauce consists of only a few ingredients. Namely soy sauce, rice vinegar, sesame oil, sugar and sriracha hot sauce. A pretty classic dip for Chinese dumplings, and for scallion pancakes of course. So delicious!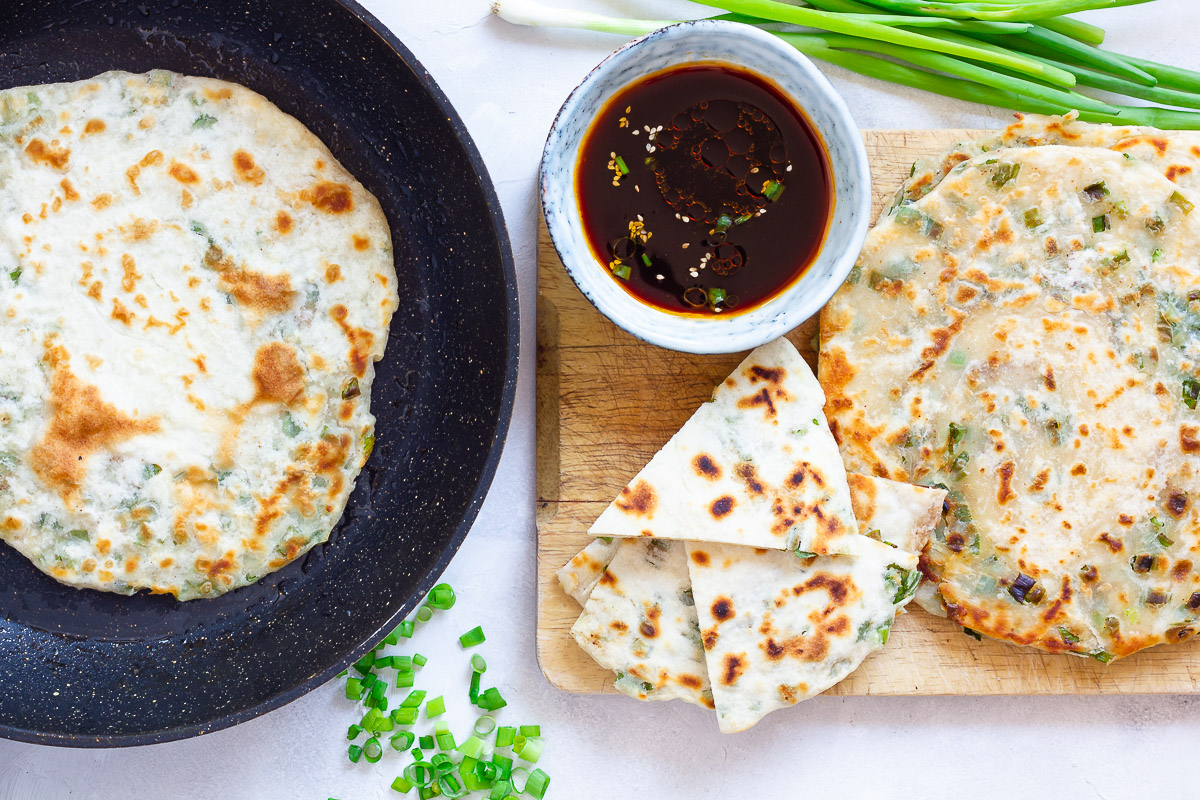 Chinese Scallion Pancakes
Ingredients
Scallion pancakes
375

g

wheat flour

,

plus more to roll out

250

ml

water

,

hot

50

g

spring onions

,

preferably the green part

1

tsp

salt

vegetable oil

Five spice powder
Dipping sauce
2

tbsp

soy sauce

2

tbsp

water

1

tbsp

rice vinegar

1

tsp

sesame oil

1

tsp

sugar

1/2

tsp

sriracha hot sauce
Preparation
Mix the flour and salt. Make a deep hollow in the middle and pour the hot water into it. Mix everything roughly with chopsticks or a fork, then knead into a smooth dough with your hands.

Shape the dough into a ball, cover with a damp cloth and let rest for at least 20-30 minutes.

In the meantime, mix the ingredients for the dipping sauce and finely chop the spring onions.

Divide the dough into 4 equal pieces. Roll out flat on a well-floured work surface, brush with a little oil and sprinkle with the spring onions and a pinch of 5 spice powder. Then roll up the dough from one side into a thin, long cigar-like roll. Then roll it into a snail (see pictures below).

Now roll out the dough snail again thinly with flour and fry it in a pan with a dash of vegetable oil over medium heat for approx. 3 minutes on each side until crispy. Serve with the dipping sauce.
Song of the recipe:

A Jamaican reggae song from the 70s goes perfectly with the Chinese food. Uh, huh, what? Well, at least the Kung Fu topic of the song is related to China.
(Would you like to listen to all the songs for the recipe? Find them collected in one playlist here)