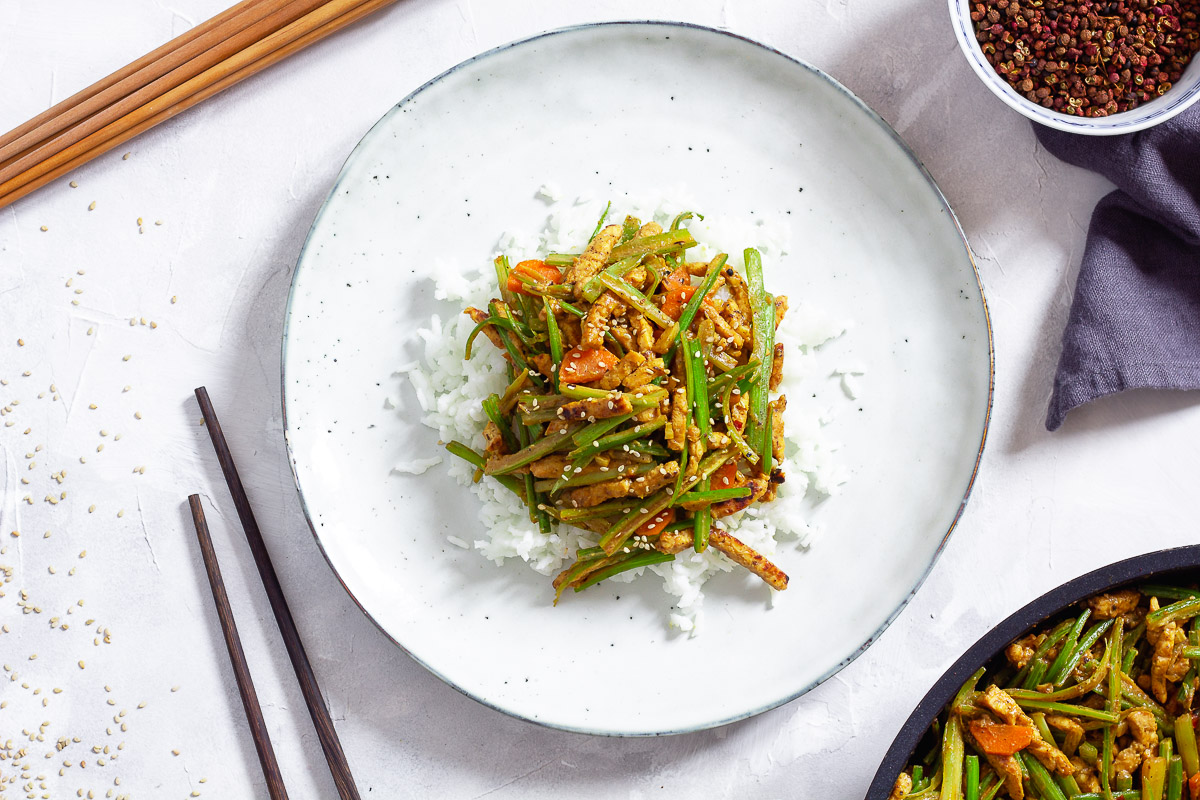 Lately there has been celery in our vegetable box quite often. No wonder, the vegetable is quite easy to grow and in season from summer to autumn (harvest time in Germany around July to October). But what to do with all that celery? Dipping (e.g. in hummus) and nibbling raw is an idea. Cutting in stews (e.g. Italian noodle & bean stew) another one. But that way you usually don't get a whole celery off all at once.
So we did some research on the Internet and came across a great Chinese stir-fry dish with celery and beef. Perfect. Asian food is always a go for us and Andi has been really into Szechuan cuisine lately. We simply replace the beef with tempeh to make the original dish vegan. Tempeh not only has a delicious nutty aroma and a high amount of protein, but is also really healthy. Your body is happy about the combination of many minerals, fiber and isoflavones (secondary plant substances) with a relatively low amount of fat and calories at the same time. Instead of tempeh you can of course also use tofu, seitan or soy meat as a source of protein. Just use, what you like best.
The preparation is then relatively easy. Tempeh is first cut into small pieces and then marinated. Meanwhile, chili, garlic, carrot and celery are also chopped up. It is important that the vegetables are cut very thinly so that they are cooked soft in the pan in just 2-3 minutes. Then gradually everything is fried and briefly simmered with the marinade. That's it. The Celery Tempeh Stir-Fry Sichuan Style is ready. We recommend rice as a side dish. But wheat or rice noodles also are fine.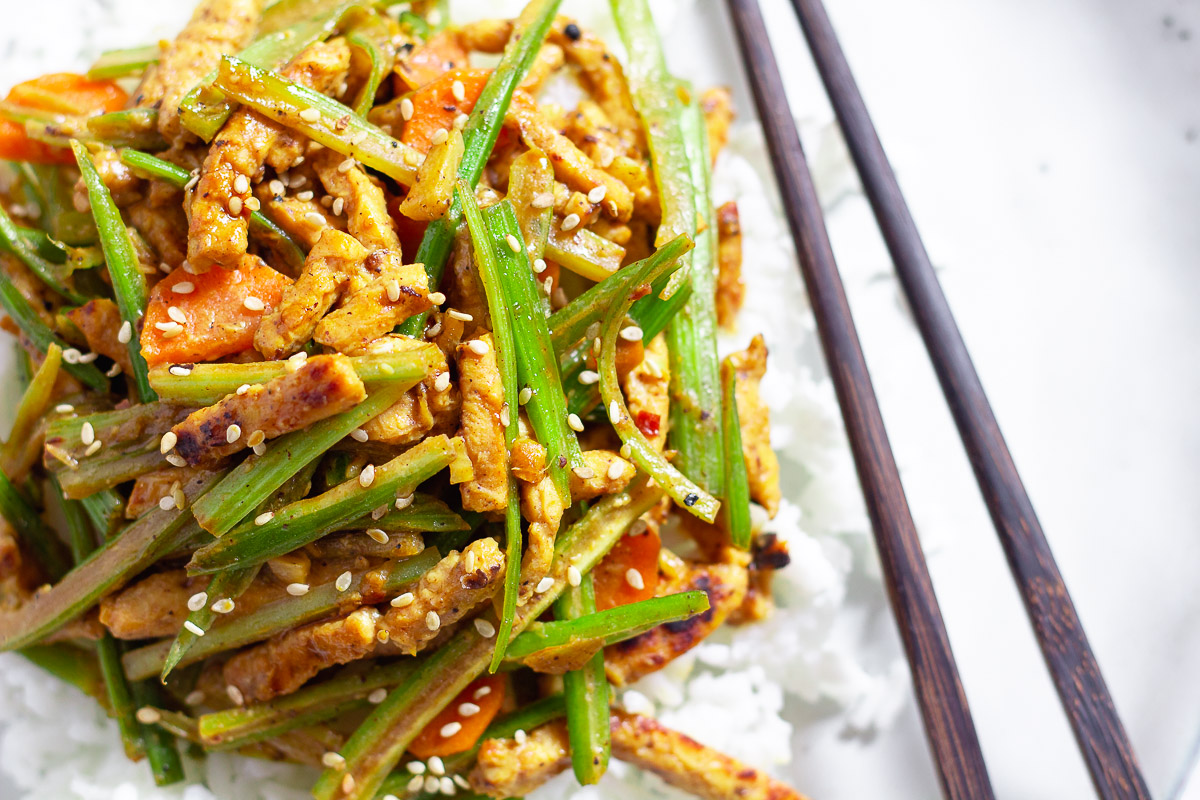 Sichuan Style Celery Tempeh Stir-Fry
Ingredients
300

g

tempeh

1

bunch

celery

1

carrot

2

cloves

garlic

1

chili pepper

1

tbsp

sesame seeds

vegetable oil
marinade
4

tbsp

soy sauce

2

tbsp

rice wine

,

e.g. shaoxing or mirin

1

tbsp

maple syrup

,

alternatively sugar

1

tbsp

cornstarch

1

tbsp

ginger

,

grated or finely chopped

1

tsp

sichuan pepper

,

ground

150

ml

water
Preparation
Mix the ingredients for the marinade. Cut the tempeh into thin strips and add to the marinade. Let it marinate for at least 15 minutes or longer.

In the meantime, finely chop chili and garlic. Cut the celery into thin strips, approx. 5 cm long. Halve the carrot and cut into very thin slices.

Remove the tempeh from the marinade, draining it as much as possible. Fry brown on all sides in a pan with a good dash of vegetable oil at a relatively high temperature.

Add chili, garlic, celery and carrot with another dash of vegetable oil. Fry for about 1 minute while stirring. Add the marinade and, if necessary, a dash of water and simmer for 2 minutes.

Serve sprinkled with sesame seeds. We recommend rice as a side dish.