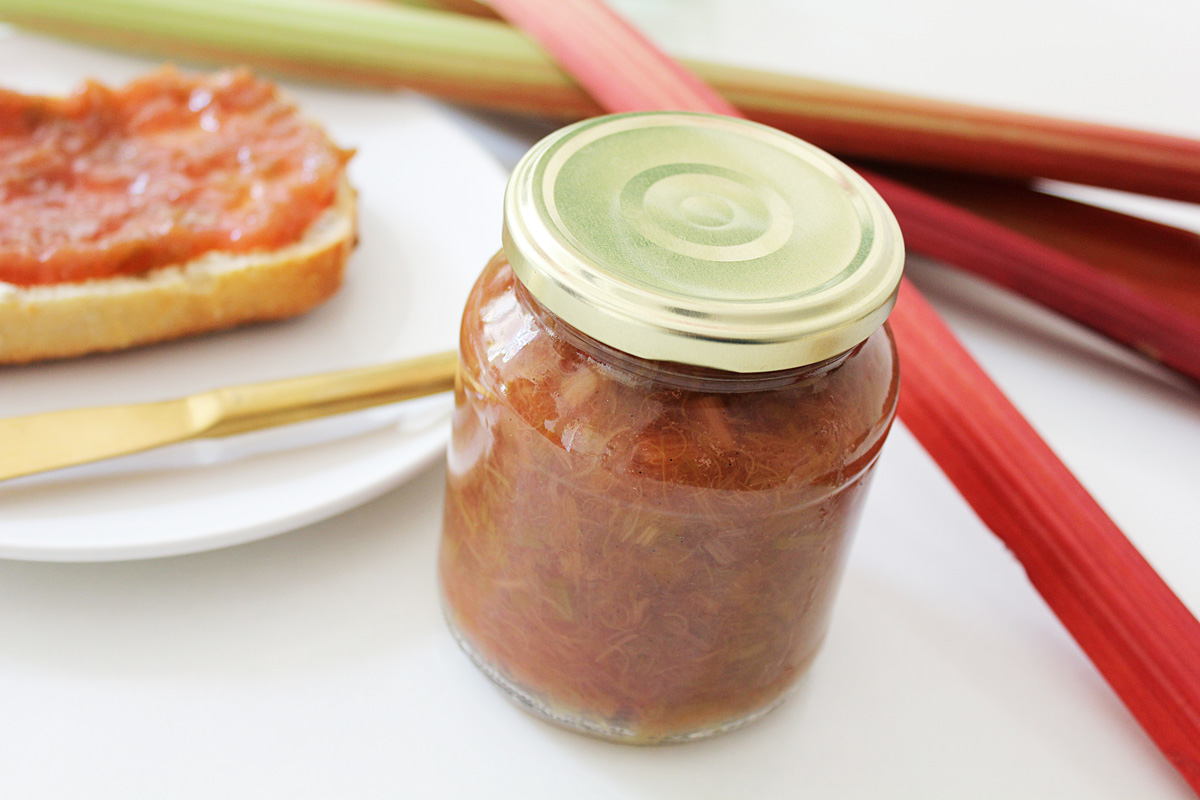 Rhubarb season here only lasts from April until June. The plants are not harvested after, so they can regenerate for the next year. That's why recipes to preserve the tasty rhubarb are so precious, so you can enjoy it also later in the year. This vegan rhubarb & vanilla jam can be prepared in large amounts and is relatively cheap although using fresh vanilla. So you have always a jar of rhubarb pleasure on hand, either for your breakfast roll or as a present for friends.
You don't have to peel the rhubarb or remove the strings for the jam. It will do, if you just wash the stalks to remove the coarsest dirt and then trim off the ends. Super easy!
Rhubarb & Vanilla Jam
Ingredients
750

g

rhubarb

500

g

cane sugar

5

g

agar-agar

juice of 1/4 lemon

1/2

vanilla pod
Preparation
Wash the rhubarb, cut off the ends and and cut into 1-2 cm thick chunks. Halve the vanilla pod lengthwise and scrape out the pulp.

Bring rhubarb, sugar, lemon juice, vanilla pulp and the scraped vanilla pod to a boil in a large saucepan over high heat. Reduce the heat and let it simmer for about 10 minutes. Don't forget to stir!

Meanwhile sterilise the jam jars or atleast rinse them with boiling water. I had my jars and lids cleaned in the dishwasher before, so right before using them again I just fill them with boiling water and leave them like this for about 10 minutes. That's it!

When the rhubarb is soft, stir in the agar-agar (follow package instructions!) and let everything boil for another 5 minutes. Remove the vanilla pulp and carefully put the jam into the jars, making them as full as possible. Seal the jars while hot, turn them upside down and let them cool completely. You can keep the rhubarb & vanilla jam in the fridge for a couple of months.