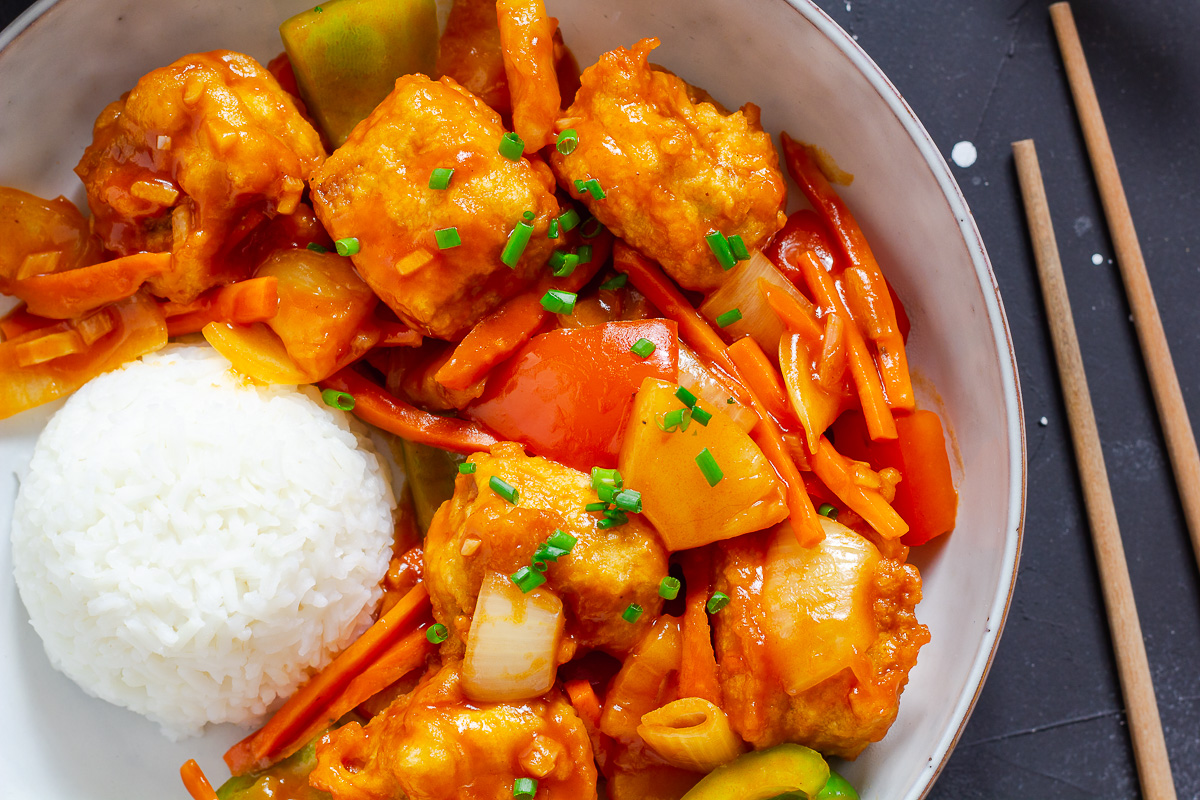 Our sweet and sour tofu is the vegan alternative to sweet and sour pork (or sweet and sour chicken). Tofu cubes deep-fried in batter meet some vegetables and a relatively thick sweet and sour sauce with pineapple. As an exception, we use canned pineapple here. The pineapple juice from the can is used directly for the fruity sauce, in which especially the balance between sweetness and acidity is important.
The sweet and sour tofu also evokes childhood memories for Andi. Because in the 90s and early 2000s, in addition to Italian and Greek eateries, there was always a Chinese restaurant in every small town. Thai or Vietnamese cuisine was still completely unknown in Germany at that time. And so the family went to the China restaurant every now and then, where dishes such as Peking soup, fried noodles, fried duck and sweet and sour pork were served. Often from the all-you-can-eat buffet.
And even if the dishes from Chinese restaurants and snack bars, that are still widespread in Germany, are probably not always super authentic, this dish is actually also available in the People's Republic. It's called Gu Lao Rou and comes from Canton Cuisine, from the Guangdong Province in southern China. Here and there you will definitely find differences in taste between the preparation in China and Germany, but at least the basic principle is originally Chinese.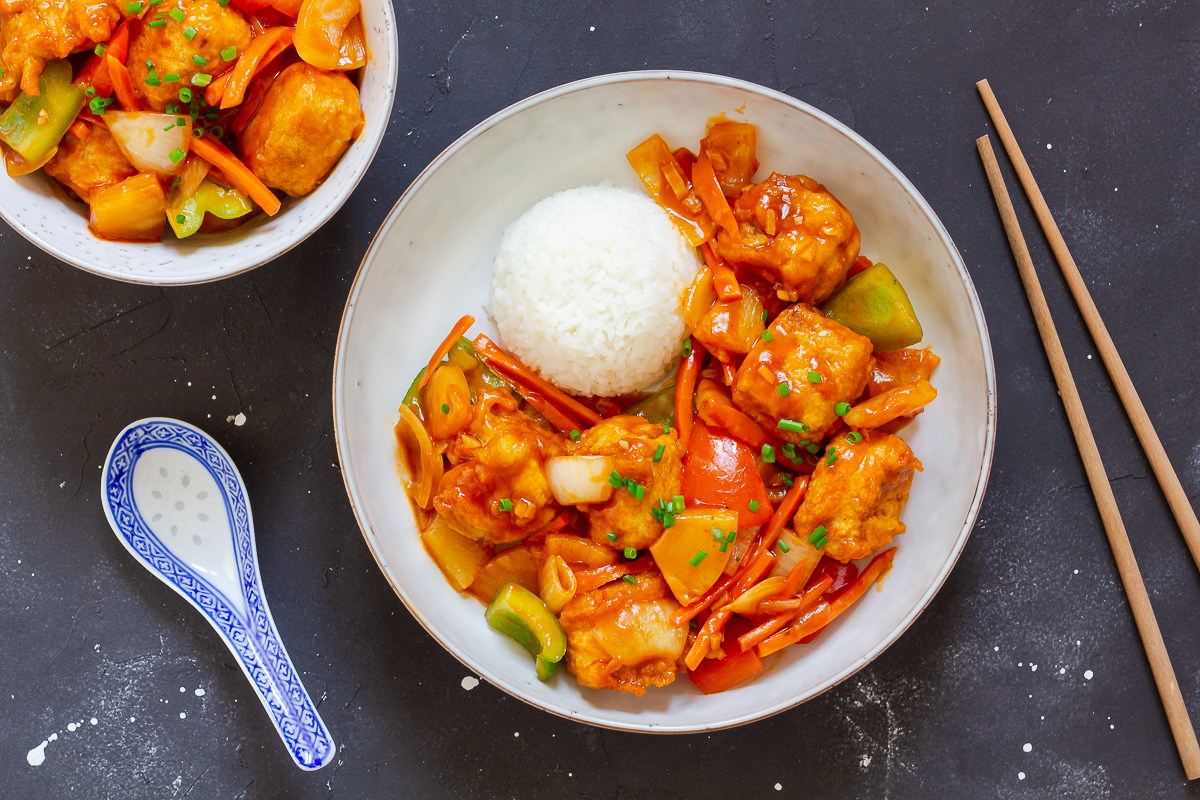 Sweet & Sour Tofu
Ingredients
Vegetables + Sauce
1/2

bell pepper

,

red

1/2

bell pepper

,

green

1

carrot

1

onion

1

clove

garlic

,

small

3

slices

pineapple

,

canned

5

tbsp

pineapple juice

,

from the can

5

tbsp

rice vinegar

,

alternatively apple cider vinegar

3

tbsp

ketchup

2

tbsp

sugar

1

tbsp

soy sauce

1

heaped tsp

cornstarch

50

ml

water

Vegetable oil
Deep-Fried Tofu
300

g

tofu

1

tbsp

soy sauce

5

tbsp

flour

,

plus a little extra

4

tbsp

cornstarch

1

tsp

baking powder

1/2

tsp

salt

110

ml

water

,

cold

Vegetable oil

,

for deep-frying
Preparation
Roughly dice the tofu and marinate in the soy sauce. Turn it every now and then.

Mix flour, cornstarch, baking powder, salt and water into a relatively viscous dough and allow to sit.

In the meantime, prepare the other ingredients: clean or peel the carrots and cut into thin strips. Cut the bell pepper, pineapple and onion into bite-sized pieces. Finely chop the garlic.

Mix the ketchup, soy sauce, rice vinegar, sugar, cornstarch, pineapple juice and water to a smooth sauce. Add the pineapple pieces.

Flour the tofu cubes well on all sides, then pull them through the batter and deep-fry them in a saucepan with hot oil for a few minutes until golden brown. Remove and drain on some paper towel or a cloth.

Heat a pan with a dash of vegetable oil over medium to high temperature. Fry the garlic, onion, bell pepper and carrot for about 1 minute. Then add the sauce, bring to the boil briefly and simmer for another 1-2 minutes. Fold in the deep-fried tofu. Serve with rice.
Song of the recipe:

Pineapples are in my head. Nothing more to say. Except that Glass Animals are an incredible English indie band and you should definitely check them out.
(Would you like to listen to all the songs for the recipe? Find them collected in one playlist here)