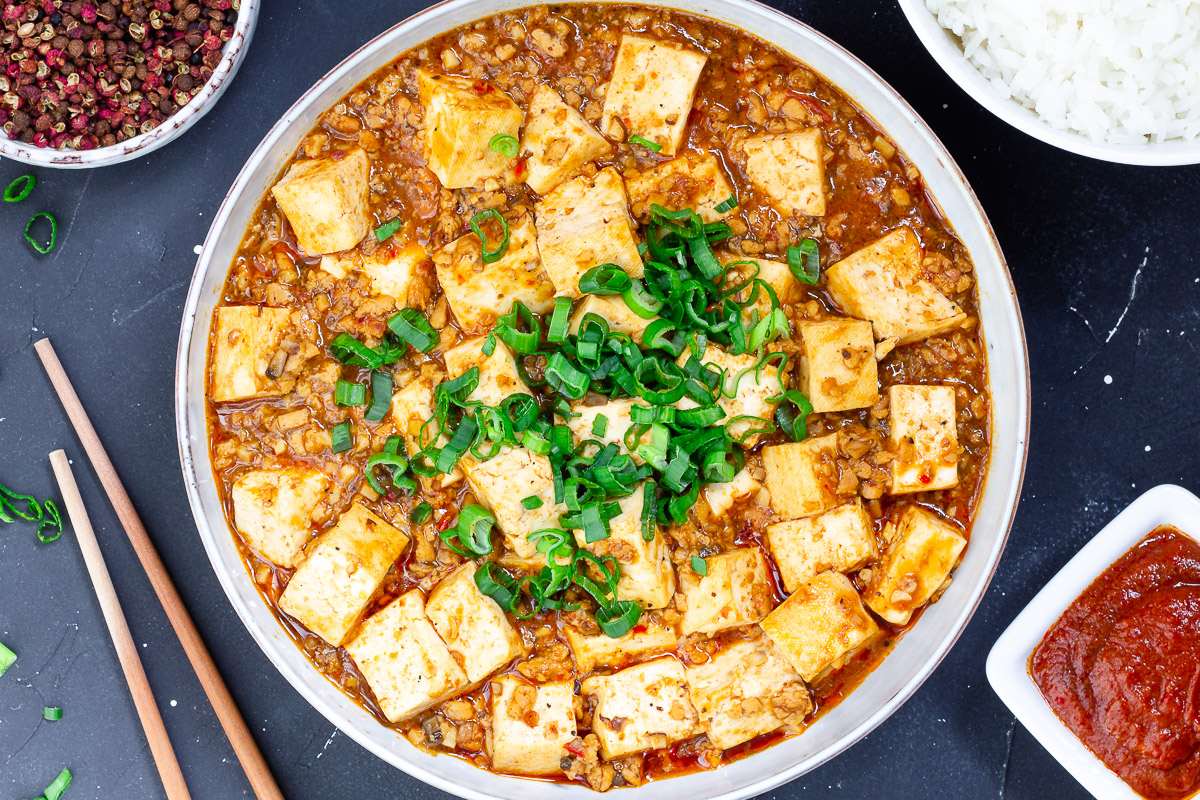 Vegan Mapo Tofu is perhaps the best way to eat tofu. At least the best way for fairly natural tofu. We promise you that it still won't taste boring. Because the tofu is allowed to simmer in an incredibly flavourful sauce. No wonder that the dish Mapo Tofu, invented in the 19th century, is still one of the most popular and well-known dishes of Sichuan cuisine.
And those who follow the blog closely know by now that we have a great deal of culinary love for the Chinese Sichuan region. Not only that Andi shoves loads of Dan Dan noodles into his mouth every week. Or that Lisa now even uses Spicy Chilli Crisp (a slightly firmer variation of Szechuan chilli oil) as a bread topping. With Kung Pao chicken and celery with tempeh, we also have other recipes on the blog that use Sichuan pepper, which tastes so special. And not only does it have its very own aroma, it also has a slightly numbing effect on the lips and mouth. This may be irritating at first, but it quickly becomes addictive.
By the way, as soft as possible natural tofu is best suited for Mapo Tofu. Here in Berlin, this type of tofu is available, for example, from a local producer in organic shops and Asian supermarkets. We generally consider Asian grocery shops to be the best source for finding this type of tofu. Silken tofu would also be a conceivable alternative. Here, however, you have to be particularly careful. If necessary, any other tofu will do as well.
In addition to Sichuan pepper, one ingredient is essential for Mapo Tofu Sauce: a Chinese chilli bean paste called Doubanjiang (or Toban Djan). If you can't find this paste in the Asian market, you could also look for ready-made Mapo Tofu Sauce. You can then replace the chilli bean paste and the fermented beans with this. In the really well-stocked Asian shops, we have always found at least one of the sauces or pastes, e.g. in a jar from Lee Kum Kee.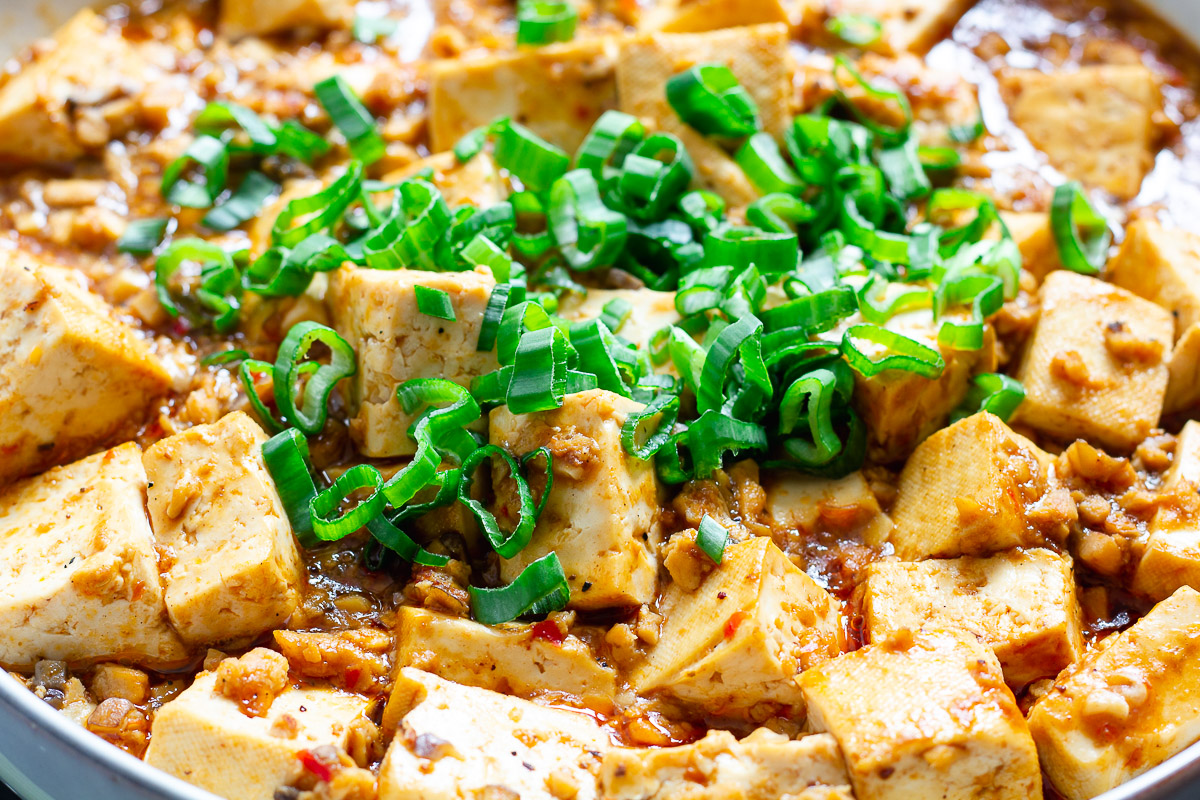 Vegan Mapo Tofu
Ingredients
450

g

tofu

,

soft

40

g

dried soya mince

50

g

mushrooms

1

clove

garlic

1

slice

ginger

,

about 1 cm thick

2

tsp

Sichuan pepper

1.5-2.5

tbsp

chili bean paste (Doubanjiang / Toban Djan)

,

depending on how spicy you want it

1/2

tbsp

fermented black beans

1

tbsp

soy sauce

1

tbsp

cornstarch

1

tsp

sugar

1

tsp

sesame oil

1

spring onion

,

green part only

vegetable oil
Preparation
Pour boiling water over the dried soya mince in a saucepan and let it steep for 5-10 minutes. Drain, rinse with cold water and squeeze out excess liquid.

Cut the tofu into cubes that are not too small. Blanch the tofu cubes in a pot of lightly boiling salted water for 1-2 minutes and carefully remove.

Finely chop the mushrooms, garlic & ginger. Grind Sichuan pepper.

Fry the soy mince in a large pan with a generous dash of oil over medium-high heat. As soon as it takes on some colour, add the mushrooms, ginger, garlic and Sichuan pepper. Also fry everything briefly. Add the chili bean paste and also fry briefly. Pour in 400 ml of water and season with soy sauce, fermented beans, sugar and sesame oil.

Add the tofu cubes and simmer for about 5 minutes so that the tofu can absorb the aroma. Don't stir vigorously, just gently push everything back and forth from here on. Mix the cornstarch with twice the amount of cold water until smooth and add. Let it boil for about 1 more minute.

Cut the spring onion into thin rings. Serve the Mapo Tofu sprinkled with it. The dish goes best with rice.
Song of the recipe:

Today we have an absolute 80s classic for you. Because we just can't get enough of these delicious Sichuan dishes.
(Would you like to listen to all the songs for the recipe? Find them collected in one playlist here)