The colder it gets outside, the bigger gets the desire for hearty dishes. At the same time the number of freshly and regionally available vegetables shrinks. That's why sauerkraut lands on our plates more often. This time it plays the main role together with spaetzle. Sauerkraut spaetzle with smoked tofu are prepared super fast, if you use store-bought spaetzle. So this recipe is decent, when it has to go fast on a weekday evening. If you prepare the spaetzle on your own this tasty dish turns into a culinary delight!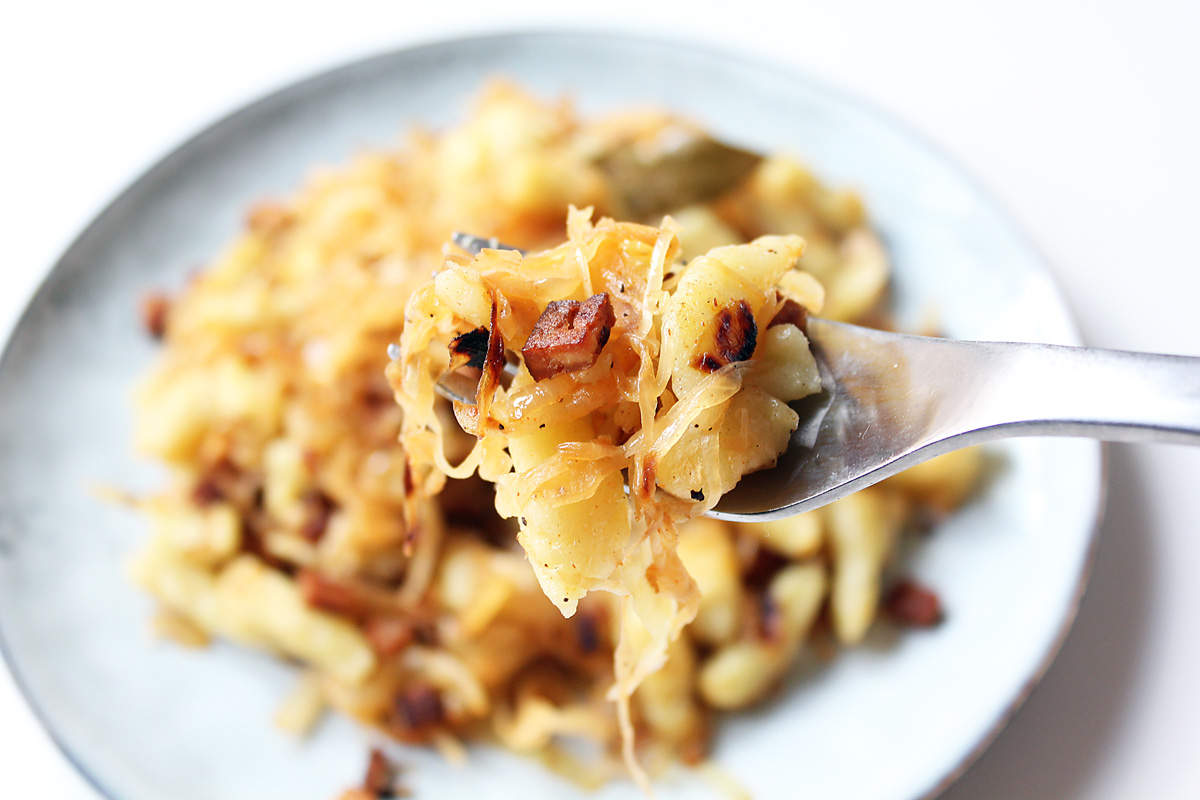 Sauerkraut is not just yummy but rich in vitamins and healthy lactic acid bacteria, which boost your immune system. You can buy it fresh, e.g. from a local farmer, but you can also buy it ahead it cans or jars. The canned kraut isn't that healthy anymore because of pasteurisation, but it still beats convenience food by miles. And if you have some left over sauerkraut, you have a good reason to prepare some incredibly tasty reuben sandwiches the next day.
SAUERKRAUT SPAETZLE WITH SMOKED TOFU
Ingredients for 2 servings (about 1,85 Euro each):
300 g vegane spaetzle
100 g smoked tofu
2 medium-sized onions
200 g sauerkraut
1 bay leaf
1 tsp caraway seeds
1/2 tsp paprika powder
about 4 tbsp vegetable oil
salt and pepper
optional: 1 pinch of smoked salt
Preparation
1. Dice the smoked tofu and fry in a small pan with 1 tbsp vegetable oil until crispy. Then take it out of the pan and season with a pinch of (smoked) salt.
2. Meanwhile peal, quarter and finely slice the onions. Fry in a large pan with 2 tbsp vegetable oil. When the onions start to turn brown, add sauerkraut, bay leaf, caraway seeds and paprika powder. Fry for at least another 5 minutes.
3. In the meantime fry the spaetzle in the small pan with 1 tbsp vegetable oil. Add spaetzle and smoked tofu to the large pan and mix well. Season with salt and pepper and enjoy your vegan sauerkraut spaetzle with smoked tofu.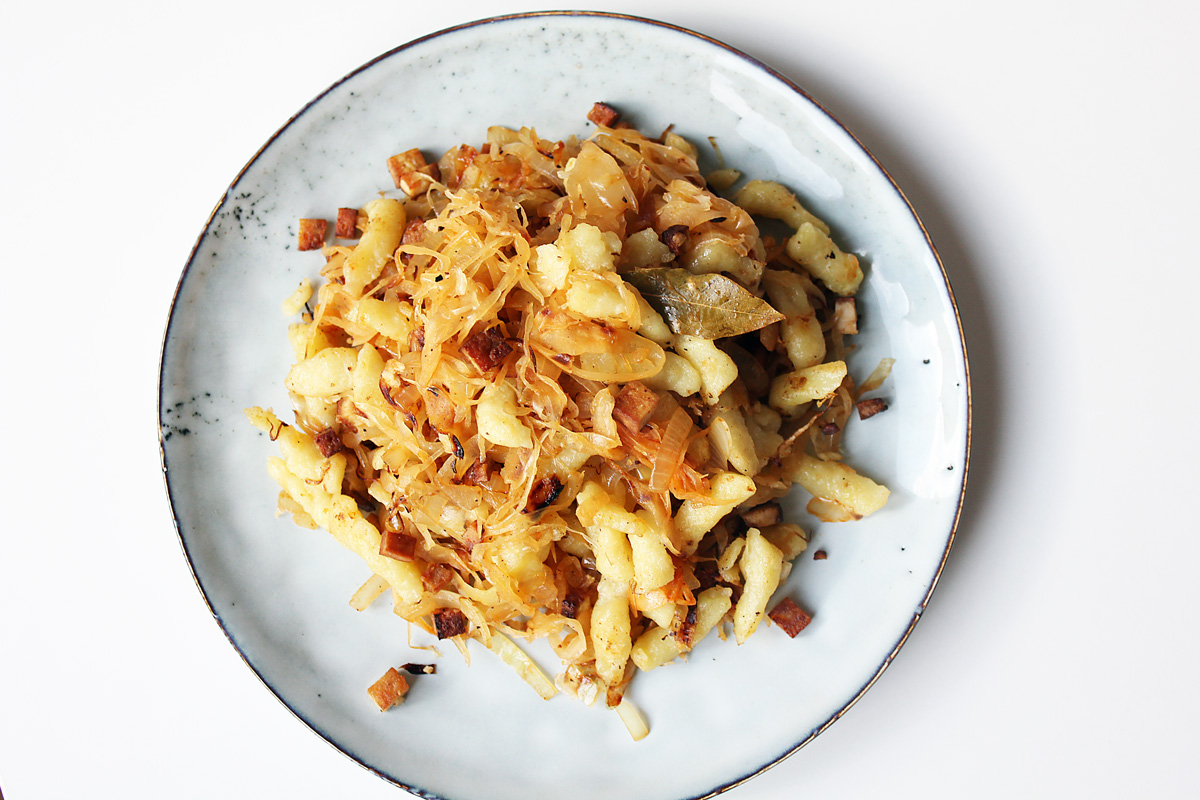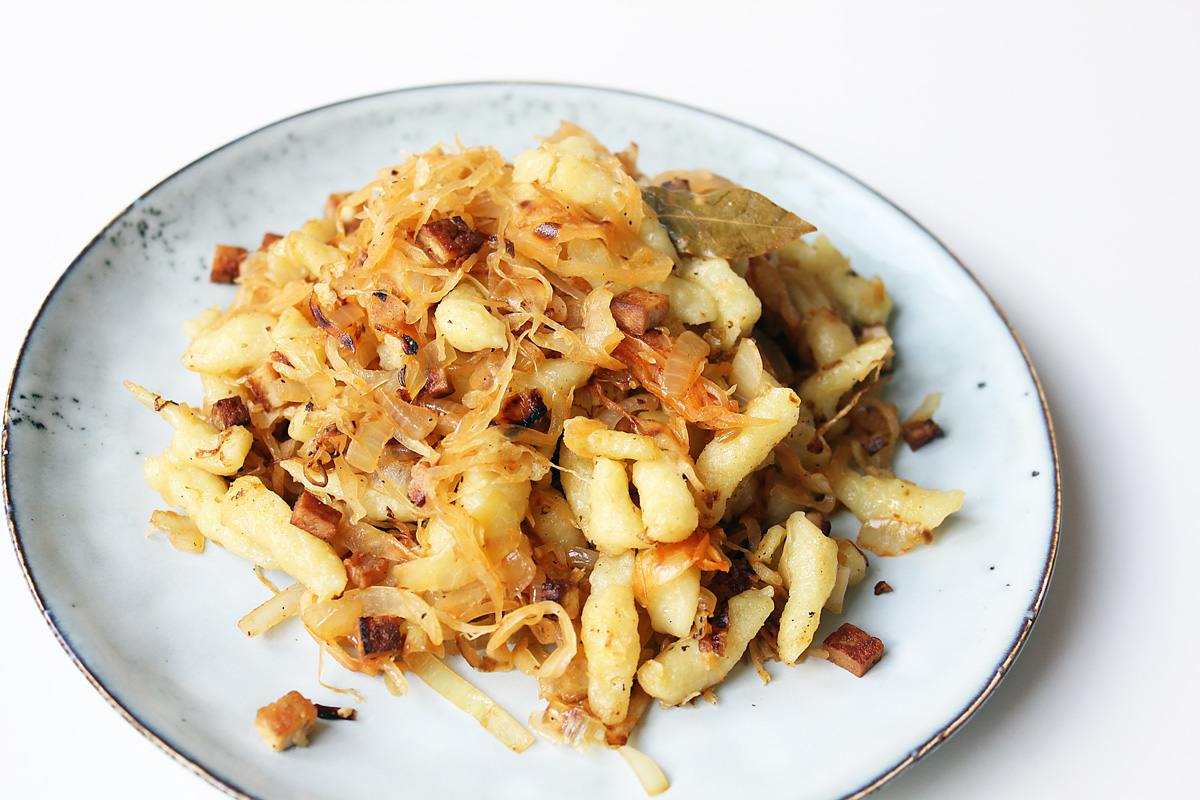 MerkenMerken
MerkenMerken