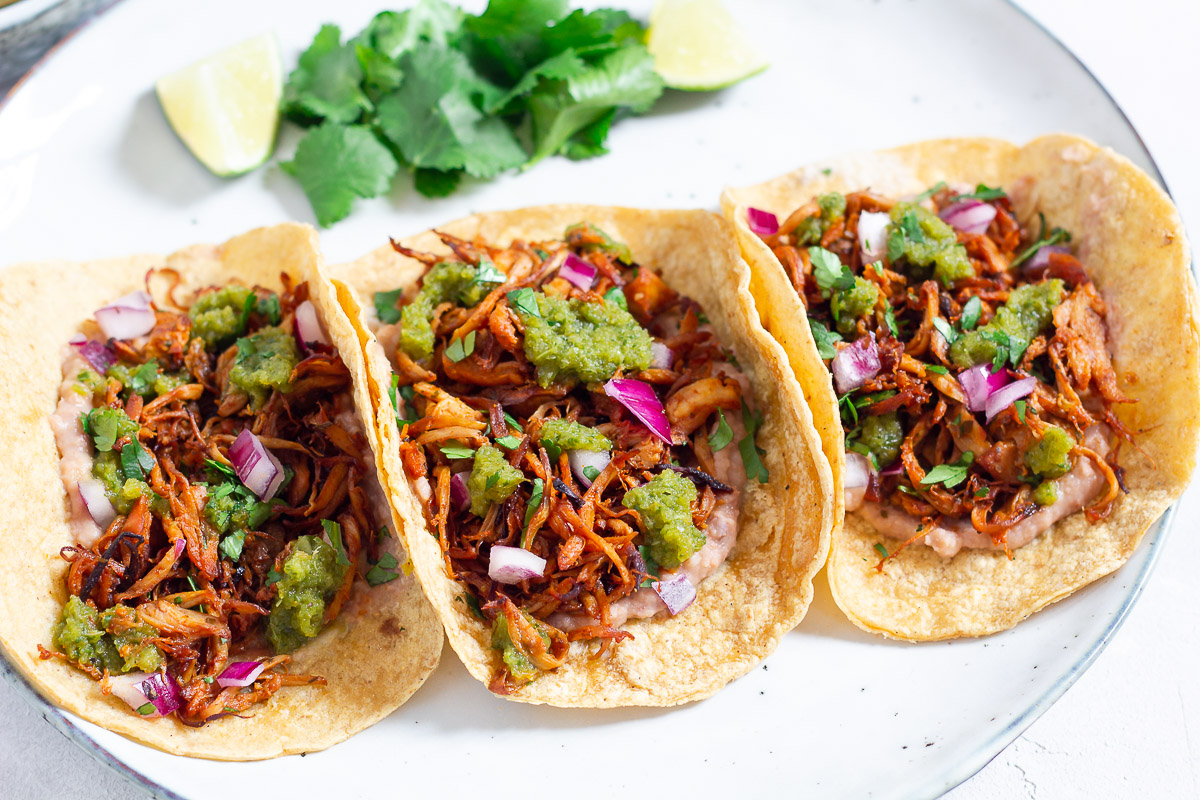 Carnitas actually means something like "small meat" and describes pork cooked in fat, which is then usually served pulled in tacos. Regularly with a salsa, a few diced onions, coriander and fried beans. We keep this tradition. For our vegan carnitas tacos, however, instead of pulled pork, we pack tasty pulled mushroom in the Mexican corn tortillas.
We use king oyster mushrooms for this. These are mushrooms that mainly consist of thick, fleshy stems. These can easily be pulled into fibers with a fork. The perfect starting point for vegan pulled pork. Especially since king oyster mushrooms have the strongest umami taste of all mushrooms. At least that's what we read. If you don't like mushrooms, you can of course use our pulled jackfruit recipe for the filling too.
We mix a quick salsa verde with the picked mushrooms. The green sauce in Mexico is usually made based on tomatillos. But they're really hard to find in Germany. We are therefore making a much simpler green chili sauce with jalapeños and cilantro. It's also very tasty and the ingredients should be available almost everywhere. If you don't like the heat, you can use milder chili peppers instead of the jalapeño pepper rings or replace some of them with regular green peppers.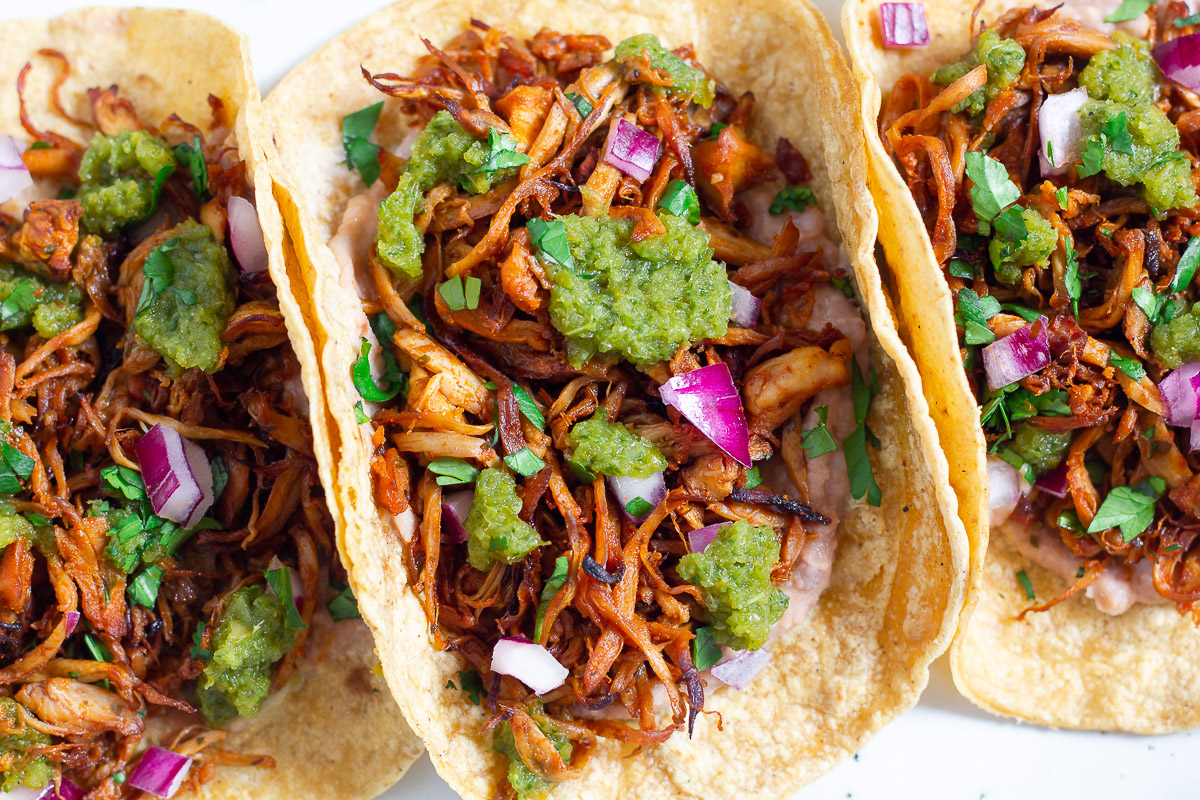 Vegan Carnitas Tacos with Pulled Mushroom
Ingredients
Pulled Mushroom
300

g

king oyster mushrooms

1

clove

garlic

,

chopped

100

ml

cider

2

tsp

smoked paprika powder

1

tsp

cumin powder

1

tsp

oregano

1

tbsp

soy sauce

1

tbsp

olive oil

salt + pepper
Salsa Verde
40

g

pickled jalapeño rings

1/4

onion

1/2

clove

garlic

1

tbsp

lime juice

6

stalks

cilantro

1/4

tsp

sugar

salt
For Serving
6

corn tortillas

,

approx. 13 cm in diameter

6

tbsp

refried beans

,

or mashed beans

1/4

red onion

1/2

lime

cilantro
Preparation
For the salsa, roughly cut all the ingredients and blend them (including the cilantro stalks) in a food processor or with the help of a hand blender. Season to taste with salt.

Preheat the oven to 200 degrees Celsius for the pulled mushroom. Use a fork to pluck the stalks of the king oyster mushrooms into fibers. Cut the hats of the mushrooms into thin strips. Place in a large baking dish with all the other ingredients and mix well. Bake in the oven for about 45 minutes. Mix the mushrooms every now and then so that they brown evenly. If you like, switch on the grill function briefly at the end. Take out of the oven and season with salt and pepper.

Finely dice the red onion. Gently heat the refried beans in a small saucepan. Also briefly heat the corn tortillas in the oven or in a pan without fat.

First coat each corn tortilla with a tablespoon of refried beans. Then put pulled mushroom, salsa and diced onion on top. Serve sprinkled with cilantro.
Song of the recipe:

Ana Tijoux is a French born rapper with Chilean roots. She has so many good songs that it was extremely difficult for me to decide which song to choose. But since she is also known for her political commitment, the choice fell on Antipatriarca, which means "against the patriarchy". A message we fully support.
(Would you like to listen to all the songs for the recipe? Find them collected in one playlist here)