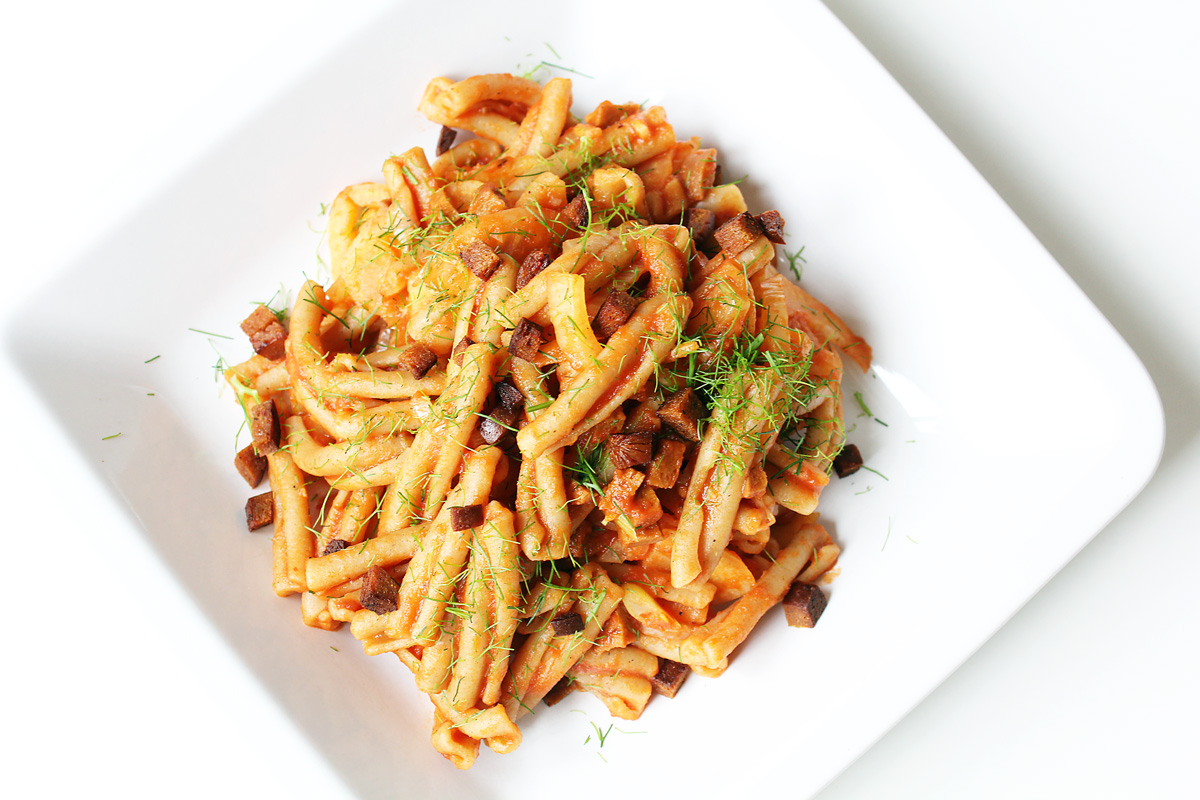 Many people have a negative image in mind when thinking about fennel. Because fennel is often associated with fennel tea and therefore with illness. But fennel is so much more. The fennel bulb is a great vegetable, which can be find on Italian but also French menus regularly. So why not cook an easy fennel pasta yourself, which needs only a few ingredients but delivers a great taste away from bog-standard tomato sauce? This pasta dish is vegan of course, prepared in only 30 minutes and costs less than 2 euro per serving.
In this recipe the fennel is combined with a hot vegan merguez sausage, which complements the fennel flavour well. Instead of the vegan merguez, you can of course use (smoked) tofu, seitan or tempeh. If so, I would recommend to add some cayenne for the heat and maybe a bit of cumin and paprika as well.
Easy Fennel Pasta
Ingredients
250

g

pasta

1

bulb

fennel

,

small

60

g

vegan merguez (hot sausage)

,

alternatively smoked tofu, seitan, etc.

1

clove

clove

1

tsp

fennel seeds

1

can

tomatoes

,

400 g

olive oil

salt and pepper
Preparation
Finely dice the merguez. Fry in a saucepan (or a large frying pan) with a splash of olive oil on medium to high temperature. When crunchy,  take out 1/3 and put aside to use as a topping in the end.

Meanwhile pound the fennel seeds in a mortar and finely dice the garlic clove. Halve the fennel bulb, remove the stalk and finely slice. Chop the fennel green and put aside for later use. Add garlic and pounded fennel seeds with another splash of olive oil to the merguez and fry for a minute. Add fennel and canned tomatoes, season with salt and pepper and let the sauce simmer on low temperature for about 20 - 25 minutes with a lid on.

Cook the pasta according to package instructions in salted water until al dente. Save some of the cooking water when draining the pasta. Add with pasta to the sauce. Season the pasta again if necessary. Serve sprinkled with fennel green and crunchy merguez.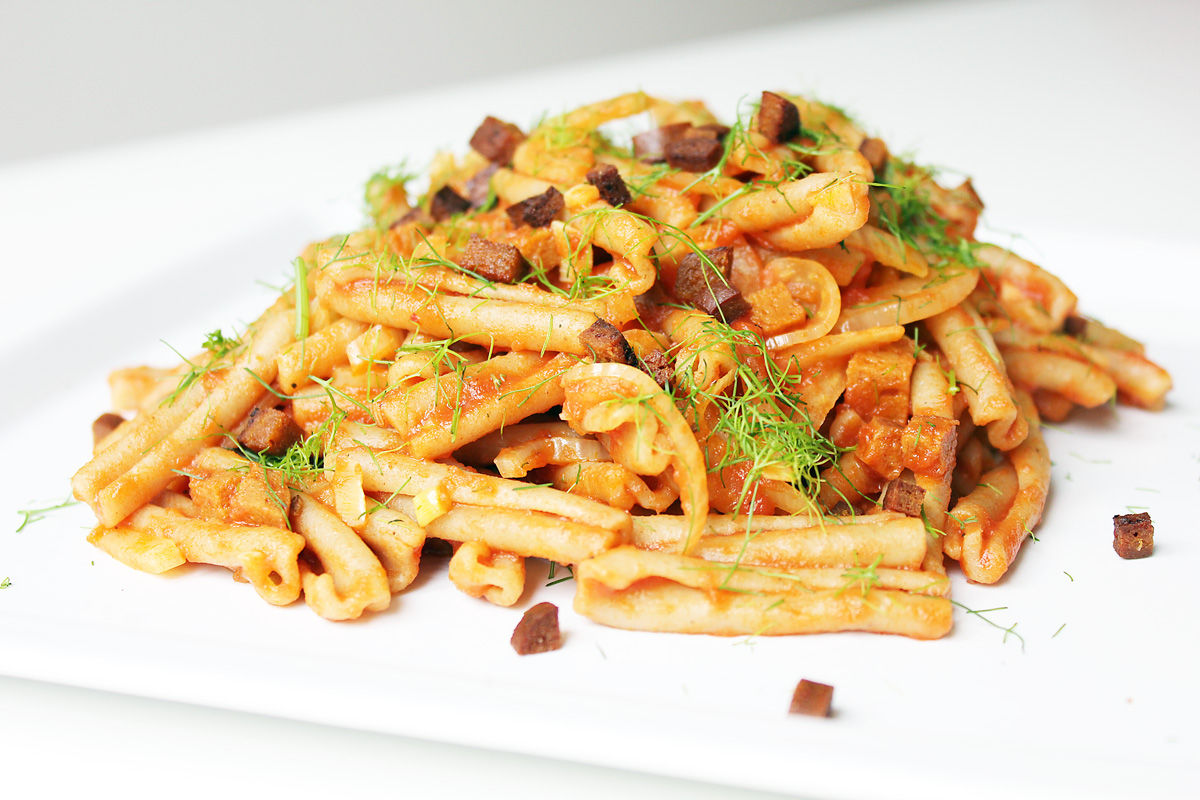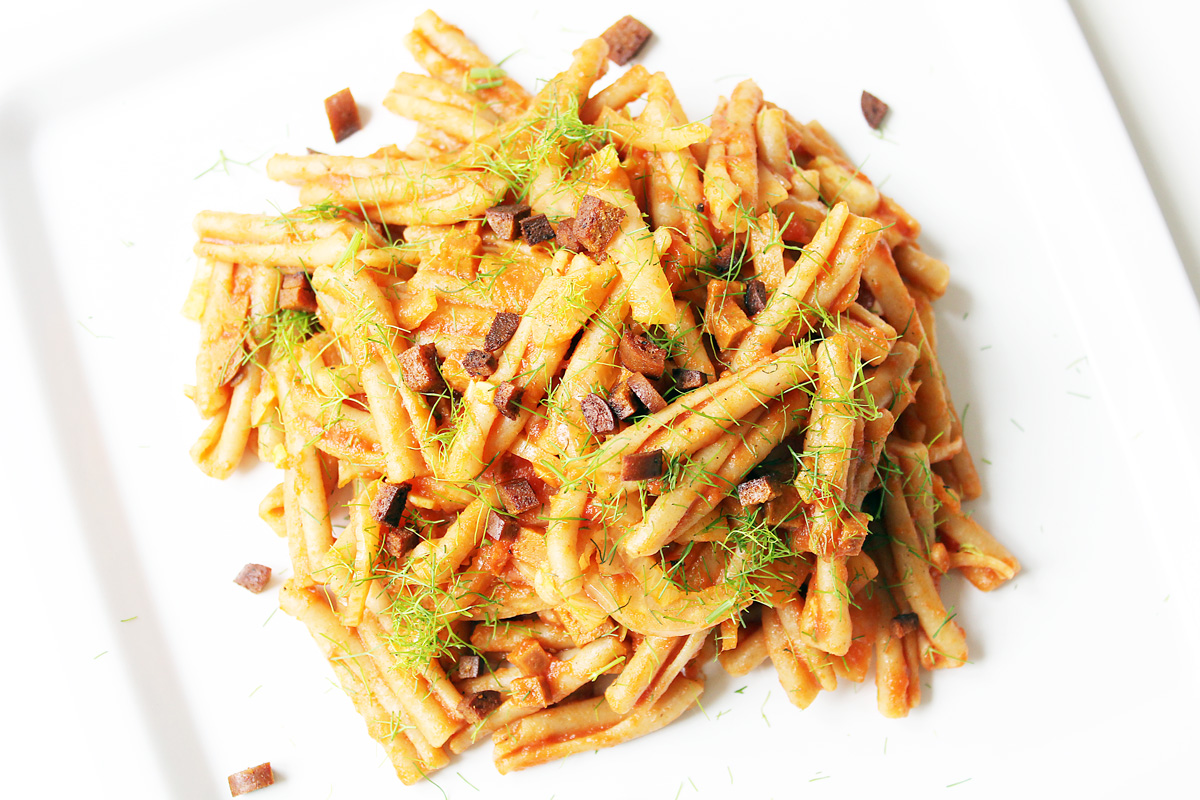 MerkenMerkenMerkenMerken
MerkenMerken