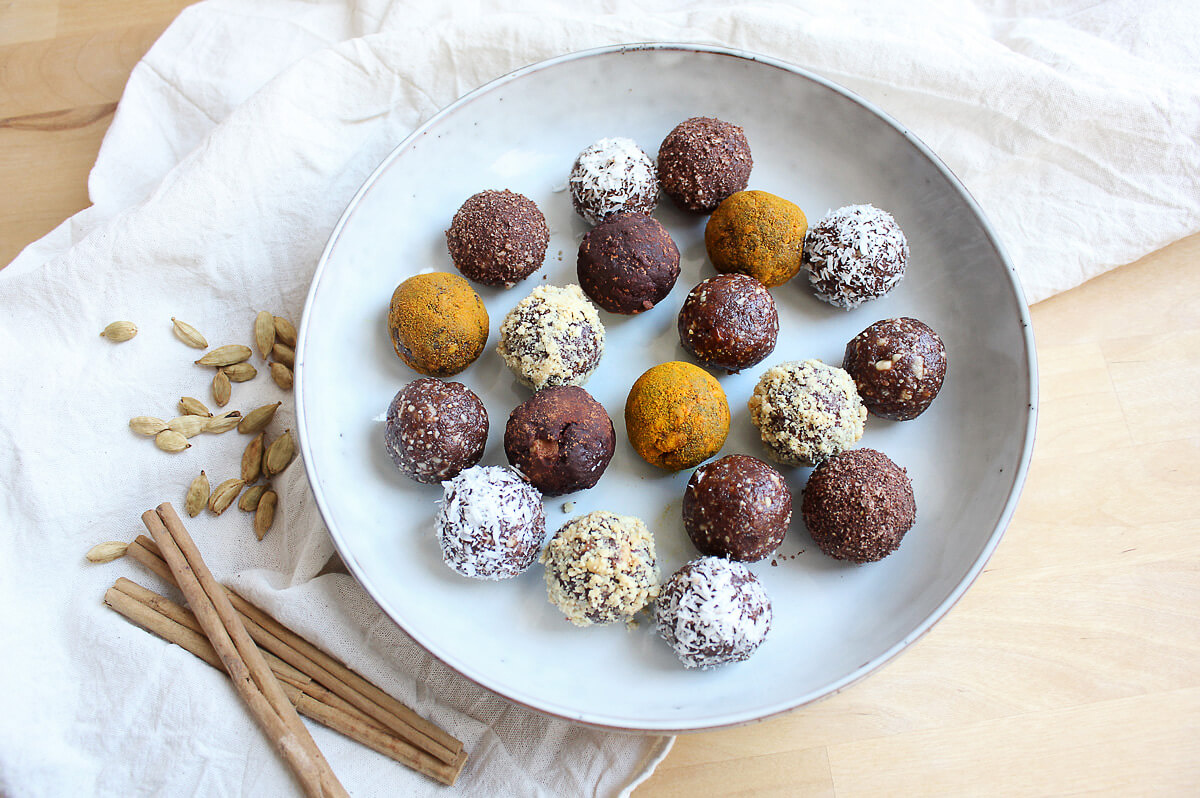 Energy balls are a relatively healthy little treat. Sure, thanks to the dates and nuts they contain a lot of sugar and fat in a natural way. But first of all, nuts contain a high amount of unsaturated fatty acids, which are essential for the human body in moderate amounts. And secondly, the vegan date balls also contain many healthy nutrients such as proteins, fiber, vitamins and minerals. An easy victory for the energy balls, if you would like to compare them with candy bars and such things.
The preparation from fresh dates can be quite a hustle depending on the kitchen equipment. Turkish and Arabic shops often offer inexpensive blocks of date paste. It not only saves you money, but also time and effort to stone the dates, puree them (which is often not so easy) and finally clean the sticky kitchen appliance. With the purchased date mixture, energy balls are a real quick recipe that conjures up delicious pralines in just a few minutes. The coconut oil makes the mass supple and the decorative and tasty toppings adhere even better to the surface of the balls. They are perfect as a dessert, with tea and coffee or as a power food for workouts and trips. The energy balls stay fresh and enjoyable in the refrigerator for one or two weeks easily.
Incidentally, the ingredients can be stored in stock at home. Thus, this quick recipe is also suitable as a homemade last minute gift.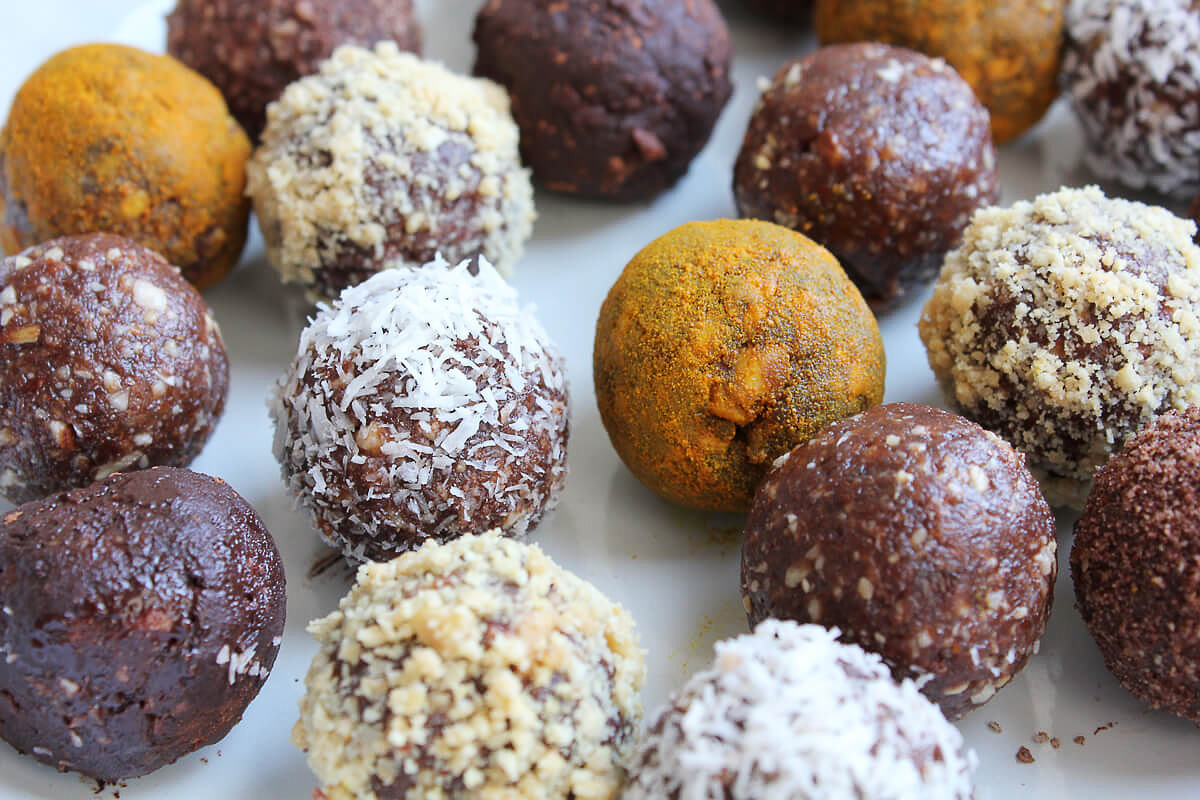 Energy Balls With Dates
Ingredients
Energy Ball Mixture
220

g

date paste

100

g

nuts

,

hazelnuts and almonds

30

g

peanuts

2

tbsp

coconut oil

,

alternatively rapeseed oil

3

tbsp

cocoa powder

1

tbsp

cinnamon powder

1

tbsp

cardamom powder

1

tbsp

ginger juice

,

optional
Toppings
1

tbsp

grated coconut

1

tbsp

ground peanuts

1

tbsp

ground hazelnuts with some cocoa powder

1

tbsp

cocoa powder

1

tbsp

tumeric powder
Preparation
Roast the nuts in a pan and grind them relatively finely. Knead the ground nuts with the remaining ingredients to an even mixture.

Roll balls with a diameter of approx. 2 cm from the mass between your palms.

Cover the balls with any toppings of choice. The best way to roll nuts and grated coconut is on a plate with the palm of your hand. Cocoa and turmeric powder adhere best without mess if the balls are circled in a jar with the powder until the surface is completely covered.