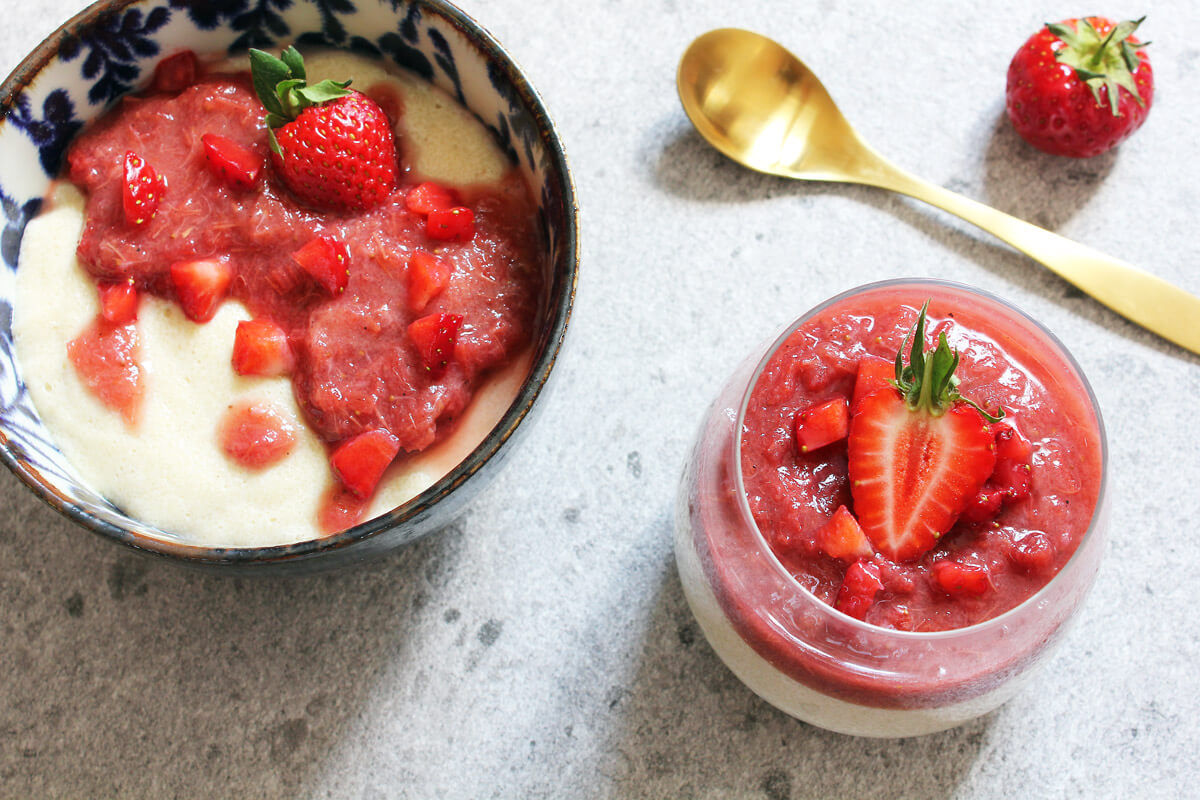 For many, semolina pudding (or semolina porridge) is one of those typical childhood memories that evokes a feeling of security. Warming semolina pudding, served mainly in winter, cooked with love by the parents or grandma. And no, a really good semolina pudding not only tastes good as a warming meal in winter, but also fits wonderfully in summer. We'll prove it to you today. Because our vegan semolina pudding is served summer style with strawberries and rhubarb.
We make a quick compote from strawberries and rhubarb with a little sugar and lemon juice. It can still be a bit chunky. Or you blend it. Your compote, your choice! For the freshness, some of the strawberries are allowed to jump "raw" on the semolina pudding. Instead of rhubarb and strawberries, you could theoretically also use raspberries and blueberries. In combination, they also have a great ratio of sweetness to acidity.
The semolina pudding is prepared very quickly. Simply boil up some vegetable milk with sugar and salt, stir in the soft wheat semolina, let it steep, done. At least that's how the basic version works. If you want to enjoy your semolina pudding extra creamy, you should whisk up some of aquafaba and lift it under the pudding. Et voilà, semolina pudding de luxe! Aquafaba is kind of a vegan whipped egg white that can be made from the cooking water of chickpeas (or other legumes). Here we already wrote a few words about it last year. But don't you worry, your semolina pudding will not suddenly taste like chickpeas with it.
Vegan Semolina Pudding with Strawberry Rhubarb Compote
Ingredients
Semolina Pudding
500

ml

vegetable milk

50

g

soft wheat semolina

1

tbsp

beet sugar

1

pinch

salt
Aquafaba (Optional)
about 50

ml

chickpea liquid

,

drained liquid reserved from a glass of chickpeas

1/4

tsp

cream of tartar

1/4

tsp

lemon juice
Strawberry Rhubarb Compote
100

g

rhubarb

150

g

strawberries

2

tbsp

beet sugar

1

tbsp

lemon juice
Preparation
Wash, clean and finely dice the rhubarb. Place in a saucepan with sugar, lemon juice and 5 tablespoons of water and bring to the boil slowly. Simmer for about 10 minutes with the lid on.

In the meantime, clean the strawberries and cut them into bite-size pieces. Set aside one third. Add the other two thirds to the rhubarb. Let the strawberry rhubarb mixture simmer for a few more minutes until everything has collapsed into a compote. Puree or leave them chunky as desired.

Bring the vegetable milk to a boil together with sugar and salt in a saucepan while stirring. Stir in the semolina and let it simmer very briefly. Take the pot off the stove and let the semolina pudding sit with the lid closed for about 5 minutes.

Whip the Aquafaba with an electric whisk and stir gently under the semolina pudding. Serve with the strawberry rhubarb compote and fresh strawberries.