Bœuf or beef stroganoff is one of the classics of Russian as well as French cuisine. The core principle of the dish works just fine without expensive fillet of beef and basically without any fake meat as well. The tasty mushrooms already make a yummy combination with the stroganoff sauce itself. If you choose to use oat cream or rice cream instead of soya cream, the vegan mushroom stroganoff is not only plant-based, but soy-free as well. I already tried the different cream combinations and can't decide what my general favourite is. But just try yourself, what suits you best.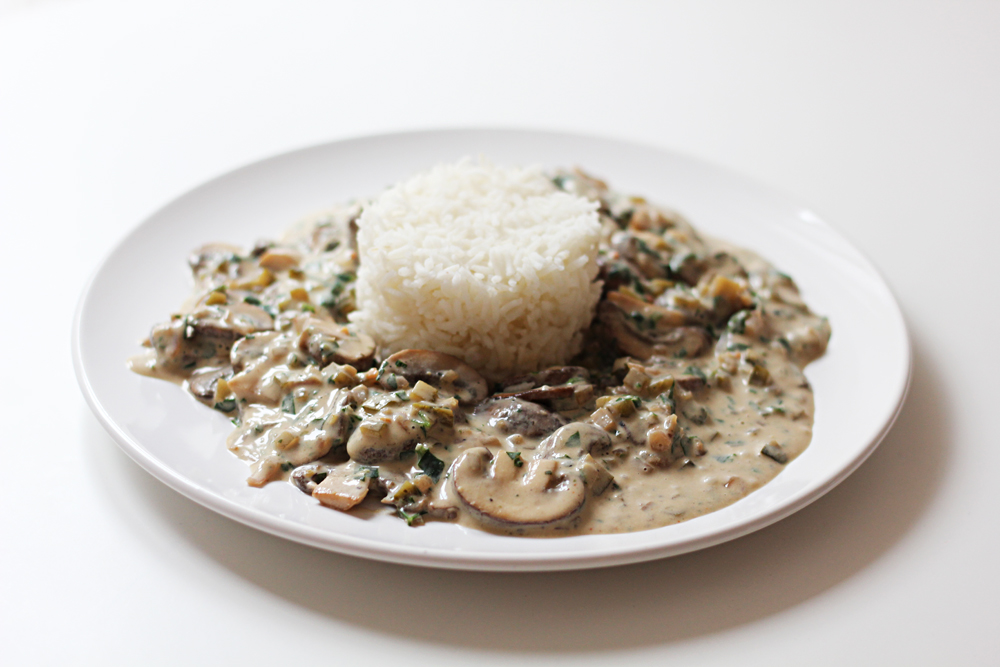 If you can get your hands on a vast amount of mushrooms on sale, this tasty recipe is super cheap. If not, it's still way cheaper than ordering at a restaurant, takeaway or delivery service. And keep in mind: the vegan mushroom stroganoff is ready in just 15 minutes.
VEGAN MUSHROOM STROGANOFF WITH RICE
Ingredients for 2 servings (2,50 Euro each):
500 g brown mushrooms (for a premium version: exchange half of it by yellow boletuses or chanterelles)
200 ml vegan cream
200 ml vegetable stock
100 ml (dry) white wine (or: lemon juice)
1 medium-sized onion
4 cornichons (small gherkins)
1 tsp mustard
140 g basmati rice (about 1/2 cup of rice)
sea salt & freshly ground black pepper
4 tbsp chopped parsley
Preparation
1. Bring the rice with twice the amount of water (so here it's 1 cup rice and 2 cups water) and a pinch of salt to a boil. Reduce the heat to a minimum (depending on your stove even the residual heat can be enough), cover the pot and let it simmer until all of the liquid has absorbed.
2. Meanwhile clean the mushrooms with a dry brush and trim off the stem. Then finely slice. Peel, halve and finely dice the onion. Dice the baby pickles as well.
3. Heat a large pan over high heat. Fry the mushrooms without any oil for 2-3 minutes. Add onion and baby pickles. Reduce the heat and deglaze with white wine. Let all the wine cook away. Then add vegetable stock,vegan cream, mustard and parsley. Season with salt and pepper. Your perfect vegan mushroom stroganoff is ready to serve!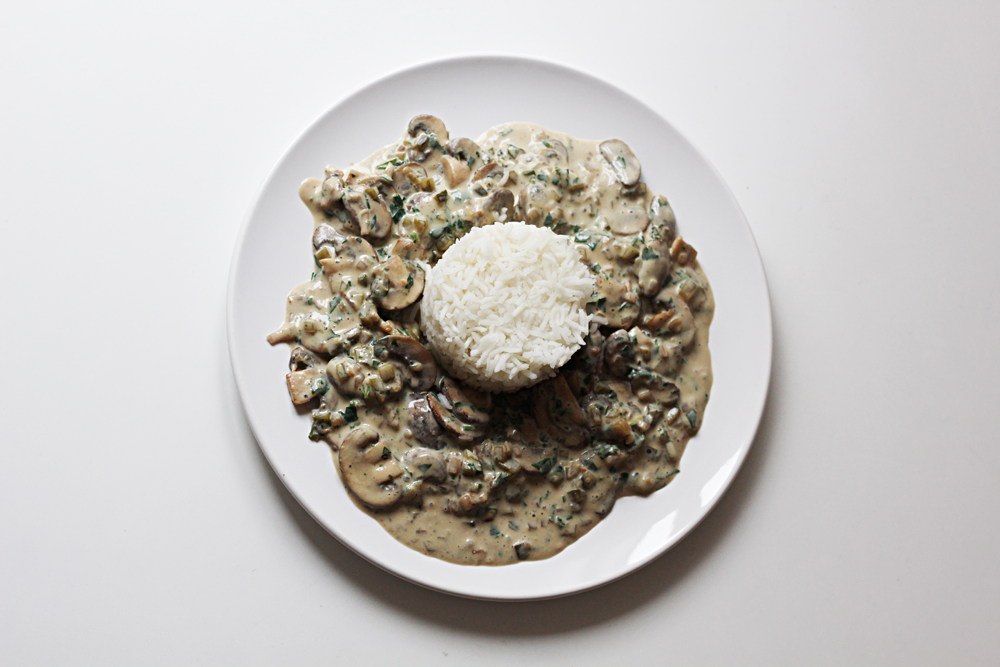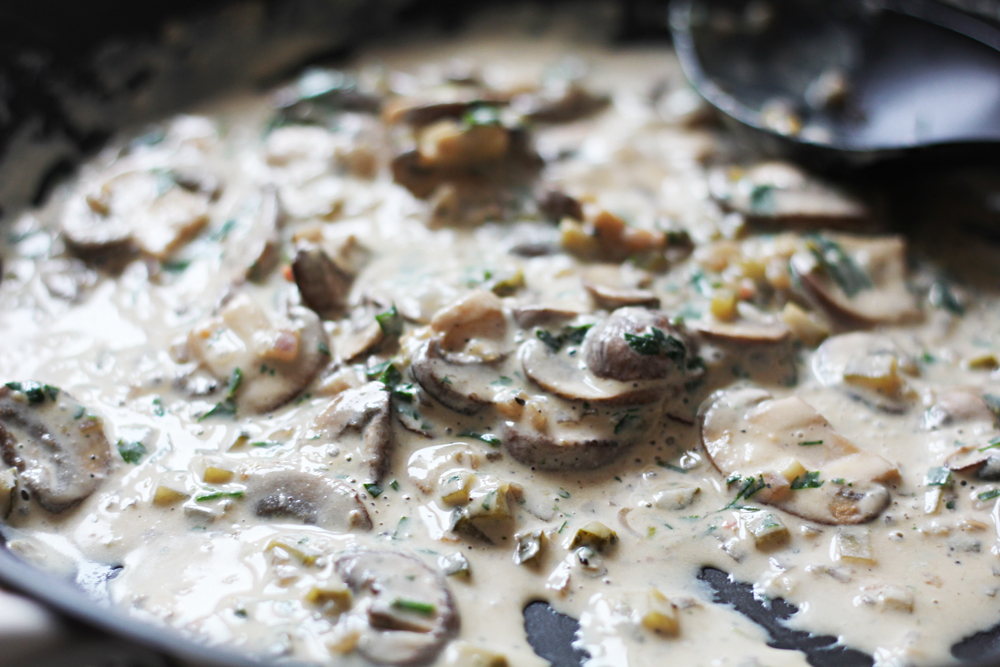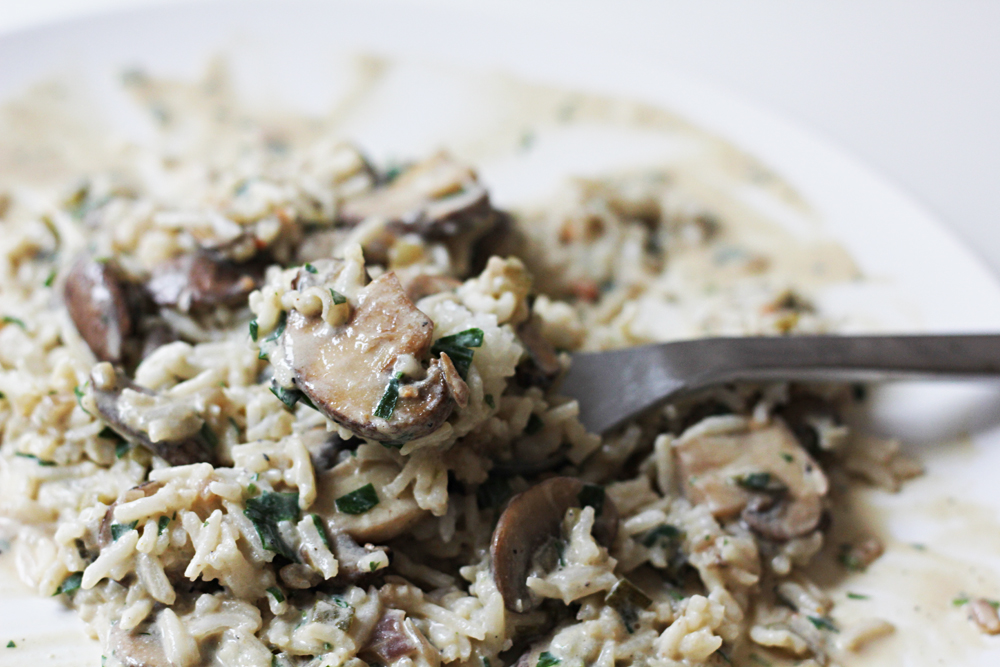 MerkenMerken
MerkenMerken