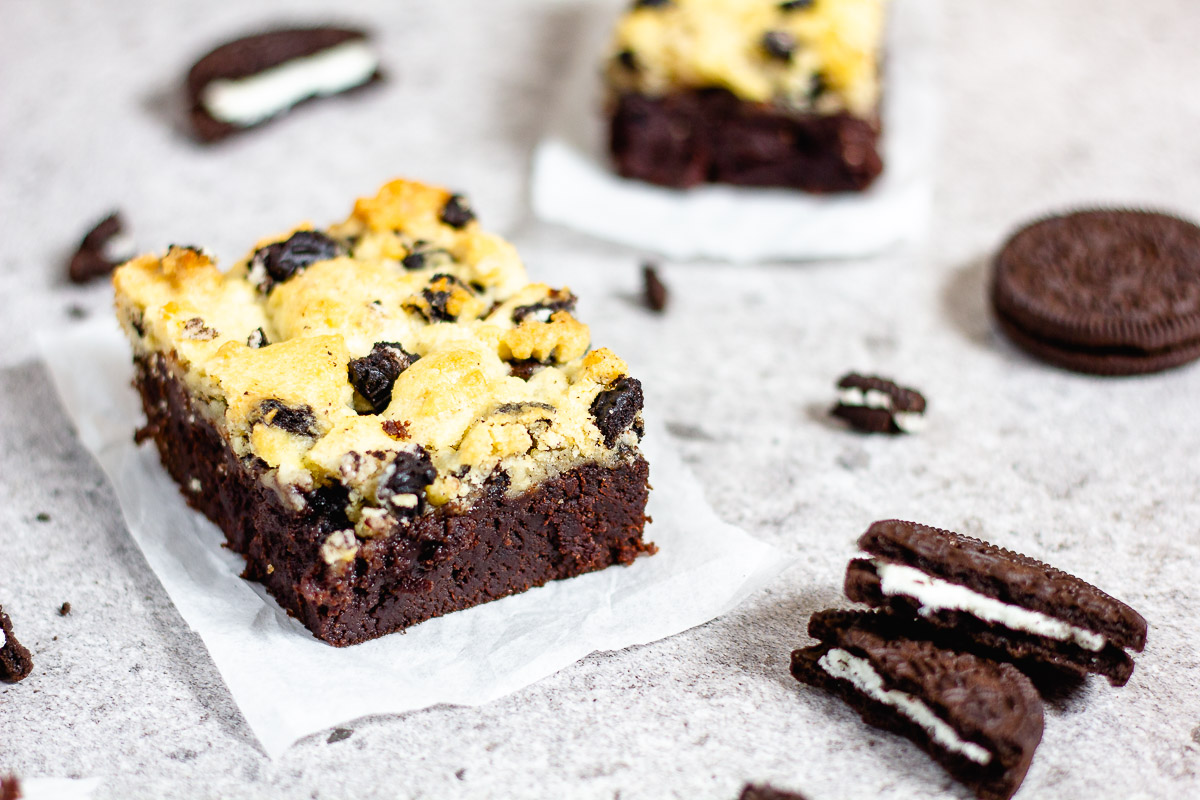 First of all: No, Brookies are neither related by blood nor by marriage to the Wookies. They have nothing to do with the Star Wars universe at all. Neither do we, sorry. The word Brookie is composed much more of the terms brownie and cookie and thus describes a sweet treat. Basically the perfect recipe if you can't decide again whether to bake brownies or cookies.
The great thing about Brookies is that the two doughs can easily be baked together. The preparation is therefore not as elaborate as you might have thought. You first mix a brownie batter and put it in a baking pan. Next, you prepare a cookie dough and put it on top of the brownie batter. Now everything can be put in the hot oven for about 25-30 minutes. There you go, the vegan Brookies are ready to eat.
On the bottom is a juicy chocolate layer that is nicely fudgy. On top the crispy cookie dough. Together the perfect dessert. At least if you ignore the calories. Oopsie! You can't eat much of this mighty sweet anyway. So it's best not to cut the pieces too big and start with a small bite.
And because regular Brookies aren't exciting enough, we've come up with a little something special. Instead of conventional chocolate chips, we put Oreos in the cookie dough. Yep, Oreo Original (and Oreo Double) are vegan and are great as a baking ingredient. If, for whatever reason, you want to do without the oreo pieces in the cookie dough, you can of course replace them one-to-one with chopped chocolate or chocolate drops.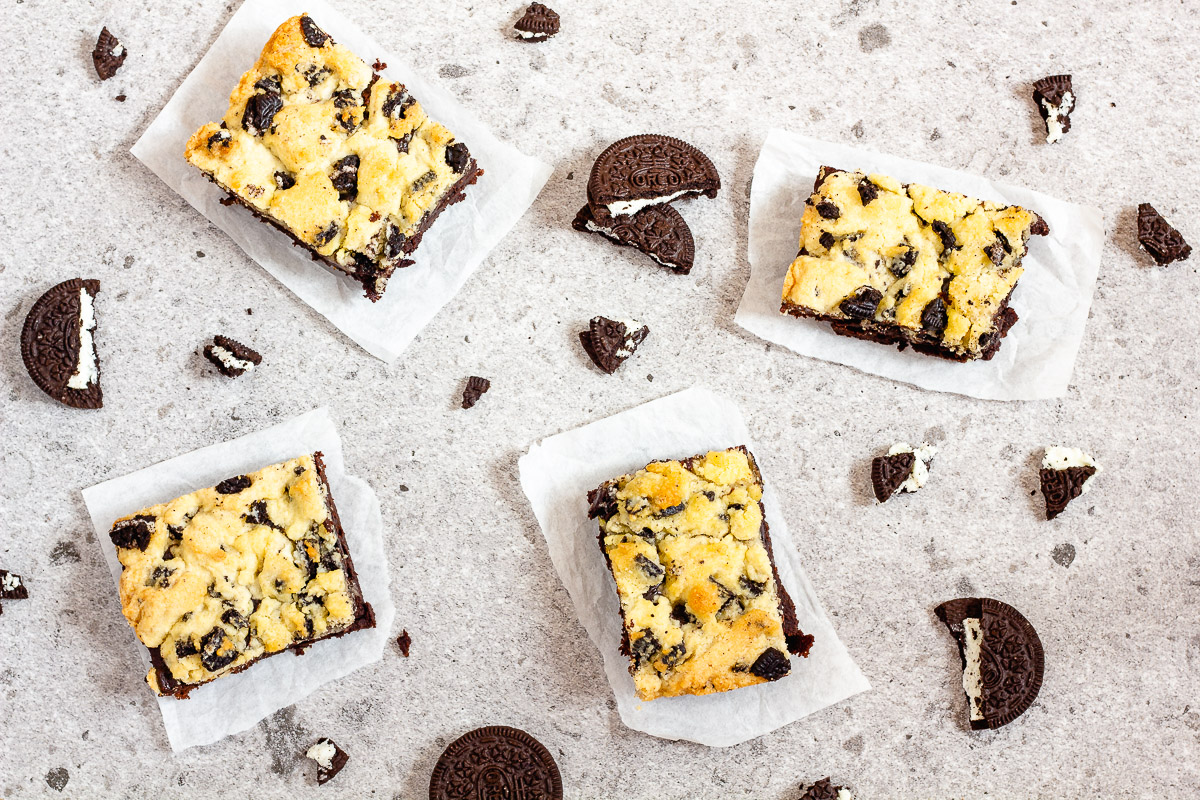 Vegan Oreo Chunk Brookies
Ingredients
Brownie Batter
200

g

wheat flour

200

g

sugar

150

ml

canola oil

60

g

cocoa powder

100

g

dark chocolate

100

g

applesauce

200

ml

plant milk
Oreo Chunk Cookie Dough
175

g

wheat flour

100

g

sugar

100

g

vegan butter

,

soft

2

tbsp

applesauce

1

tsp

baking powder

60

g

oreo cookies

,

roughly chopped
Preparation
For the brownie batter, melt the chocolate in a water bath. Mix all dry ingredients in a large bowl. Add the remaining ingredients and stir only briefly until a relatively homogeneous mixture is formed. Do not stir longer than necessary.

Grease a rectangular baking dish (approx. 28 x 19 cm in size) and pour the brownie batter into it.

For the cookie dough, stir together the sugar, vegan butter and applesauce until light and fluffy (this step is also called creaming). Add flour, baking powder and oreo pieces and mix briefly until a relatively homogeneous mass is formed. Again, don't stir any longer than necessary.

Spread the cookie dough piece by piece on the brownie dough. Smaller gaps in between are ok, as the cookie dough still melts slightly.

Bake in the oven at 180 degrees Celsius for about 25-30 minutes. Better do the chopstick test before removing from the oven. When the dough no longer sticks, the Brookies should be done. Let cool down before cutting.